Valentino's Spring 2019 Collection Is a Garden in the Middle of a Desert
Who doesn't love pretty clothes?
It seems that, in an age dominated by streetwear and the so-called Instagram brands, there are fewer and fewer designers focusing on making, well, just plain pretty clothes. It's almost as though people fear that it's less interesting — less cool — to make the kinds of clothes that make women swoon. 
Pierpaolo Piccioli is not one of those designers. His talents exist in a plane where he can appeal to both the streetwear trend and the intellectual fashion crew while still producing the kinds of beautiful pieces which strike right at the emotional heart of his customers — feminine without being girly, pretty without being precious, smart without being pretentious.
Looking for examples? The Valentino Spring 2019 collection was packed full of them. The show opened against a simple backdrop of palm trees and cacti with a suite of all-black ensembles, the better to highlight Piccioli's skills with both volume play and tailoring: a billowing evening gown, a slinky feathered dress, a full-sleeved mini dress with a leather cape, a lace pajama set, a frilled tulle blouse with a wide-legged suit. Strip away all of the color and most of the embellishment, Piccioli says, and there is still so much here for women to love. 
Those looks gave way to fresh, summery whites — pleated dresses and oversized shirting — and then to reds, that most classic of Valentino shades. But Piccioli also knows his way around color palettes, and it was the explosion of brights and jewel tones that lead to the most breathtaking looks of the day: a berry colored top with a burnt-orange skirt, a white shirtdress hand-detailed with thousands of oxblood and aqua-hued beads, a mint feathered shirt with fuschia-sequined pants. Valentino is not a house particularly celebrated for its accessories (beyond the ubiquitous Rockstud) but there was something alluring about the heavy gold earrings and the feathered sandals proposed for the season. (Whether the oversized straw hats will set off another Jacquemus #HatGate remains to be seen.)
Towards the end, there was a group of completely embellished dresses, covered in everything from matte sequins to bright metallic beading, that will be worthy of every cover and fashion editorial they accrue come spring. Every day looks? Perhaps not. Revolutionary? Not particularly. But they were precisely of the kind of beautifully-made clothes that now seem so rare this side of haute couture — and in a world which is sometimes quite literally on fire, that's worth celebrating. Judging by the near-standing ovation Piccioli received at the end of the show, the fashion industry is doing just that.
Click through the gallery below to see Valentino's Spring 2019 collection in full.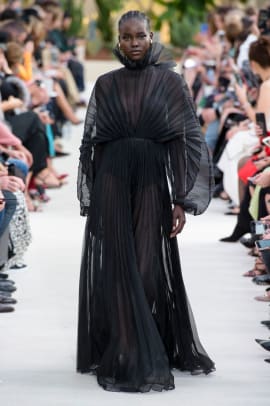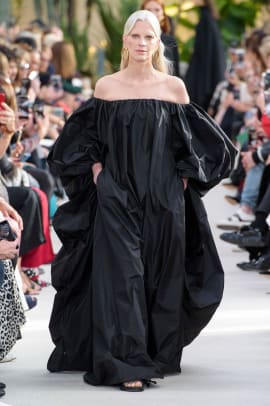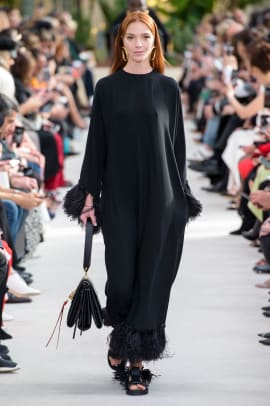 Sign up for our daily newsletter and get the latest industry news in your inbox every day.