Versace Served up Clashing Prints and Early-Aughts Clubwear for Spring 2019
On the more commercial side of things, there were elegant evening dresses, sneakers and logo T-shirts aplenty.
Without fail, the crowd at Versace's Friday night show in Milan each season provides one of fashion month's best people-watching opportunities. Donatella Versace's fans and top customers from around the world turn up in droves wearing head-to-toe ensembles by the Italian brand, looking — for back of a better term — super extra. From skin-tight party dresses with platform pumps to signature scarf-print separates in a rainbow of brilliant colors, the invited guests truly get into the Versace spirit, embodying the house's unofficial motto of "more is more."
For the Spring 2019 event, which took place in front of an audience that included the likes of Nicki Minaj, Rita Ora, Rosie Huntington-Whiteley, Anna Wintour and Chiara Ferragni, even the most ostentatiously decked-out guests had some competition from the runway itself. The floor of the Palazzo delle Scintille was covered in wall-to-wall carpet, patchworked with power-clashing stripes and plaids in shades like safety orange, slime green, neon yellow and electric blue. Versace's never been known for its subtlety, but much like the outfits that lined the front row, the pattern play was a lot to take in visually. The exact same could be said of the collection that followed, but we mean that in the best way possible.
Continuing the Cher Horowitz-inspired aesthetic that helped make the label's Fall 2018 range a hit, the show kicked off with plenty of plaids, skirt suits and scholastic touches like blazers, loafers and varsity cardigans, all of which came in mixed prints. Because Versace (and most of its competitors) are making a killing off of nostalgia, the collection was heavy on the '90s and '00s references: Ruched leather miniskirts and dresses looked like they'd been plucked right out of early-aughts young Hollywood paparazzi shots; a spaghetti-strap silk camisole was layered over a blouse in a clashing pattern; a low-slung handkerchief skirt and crop top were styled with a belly chain; and the iconic scarf motif appeared on everything from tights to sexy, body-con dresses to retro oversized denim.
Of course, because it is 2018, both logos and sneakers appeared several times throughout the show, though they were styled in interesting ways: Bella Hadid and Josephine Skriver, for instance, wore decidedly evening-appropriate dresses, which were paired with sneakers instead of stilettos or platforms. Speaking of eveningwear, for those customers who don't like to turn up the sartorial volume as far as those in the front row, there was a series of silky, sexy (yet sophisticated) black dresses, worn by Irina Shayk, Kendall Jenner, Emily Ratajkowski and '90s supermodel Shalom Harlow that were mostly free of the rest of the collection's eye-popping frills. 
Whether or not shoppers are old enough to have seen this season's core themes the first time they came around, there will plenty of fun stuff for everyone at Versace come spring.
See every look from the Versace Spring 2019 collection in the gallery below.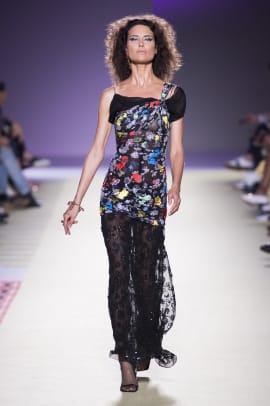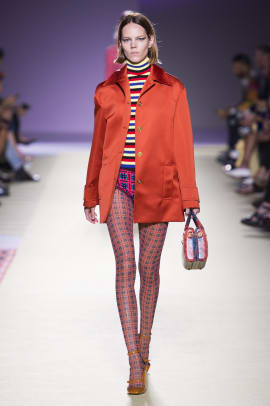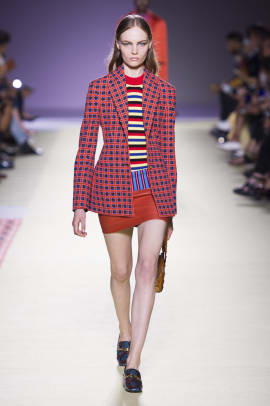 Want the latest fashion industry news first? Sign up for our daily newsletter.