Victoria Beckham's Spring 2019 Collection Marks a New Chapter
The designer celebrated her 10th anniversary with an intimate show for family and fans during London Fashion Week.
As anyone in the fashion industry will tell you, taking a brand to the 10-year mark is a major accomplishment that not just anyone can achieve. Of course, Victoria Beckham is not just anyone — being already famous certainly helped get her eponymous brand off the ground — but her fame isn't what has turned her namesake from another celebrity fashion line to a legitimate and well-respected business. And while she may be celebrating hitting her 10th anniversary, she's not resting on her laurels.
"I feel proud of me and my team," Beckham says after her Spring 2019 show. "This feels like a new chapter. I've got new investors, I've got a new CEO working — he started two weeks ago — there's so much more now that I can do."
On deck for Victoria Beckham is expansion into more categories, exploration of new retail opportunities and an increased focus on digital. But first, she's taking a victory lap around London. Beckham, who typically presents her collections at New York Fashion Week, brought her runway show to London for the first time ever this season. "It's great to be back," she says. "I've had family members here that have never been to a show of mine. They've never seen what I've done, so it's great to feel part of London Fashion Week."
In addition to her preternaturally good-looking family, Beckham is making her loyal customers a part of the festivities, as well; there's a T-shirt signing event later on Sunday, and intimate breakfasts and lunches with Beckham herself. Women flew from as far as Mexico and Australia to attend the runway show, from which they can pre-order directly following. 
As for what they'll be pre-ordering, Beckham presented a Spring 2019 collection filled with easy, chic basics: loose white suits, cigarette pants slit up the front, elegant flats, sleek blazers and fitted knits. There were subtly-sexy lace camis and tight florals. Beckham loves the tension between masculine and feminine elements, so dresses were styled over pants and white tees paired with gold brocade trousers. She's also keenly aware of how her customer shops, and when the Spring 2019 collection will actually hit stores, so there were versatile outerwear and pieces intended for layering.
"I travel, my customer travels, so taking into account, yes, it's a summer collection, but when does the summer collection drop in stores?" she explains. "You can buy a vast majority of the collection when it drops in stores — that's important to me as well."
It's been a fantastic decade for Beckham, to be sure, and it seems like she's really been hitting her stride in recent months: There was a hilarious video with British Vogue to coincide with her cover story that was peppered with Spice Girls references, and her first-ever ad campaign that harkens back to the quirky Marc Jacobs ad in which Beckham posed inside a giant shopping bag. Does she finally feel settled enough in the fashion industry to let her sense of humor shine through?
"I don't think it's that I feel now is the right time; I feel that with social media as it is, I can really connect with my customer, whereas before social media, it was just paparazzi pictures of me and then the media writing what they wanted to — which most of the time, was that I was a little unhappy," Beckham says. "And that's okay! But I like to have fun with Instagram and with all my social media platforms."
She's got loyal followers and customers, a growing fashion business and another beautiful collection under her belt. But while she'll be taking a break to party for the rest of the week, one thing is for sure: Beckham isn't slowing down anytime soon. "I would never become too relaxed. For me, once I've got over one collection, it's about what can I do next, how can I challenge myself next," she says. "I'm never going to relax — I love what I do, and I'm still very excited."
See every look from Victoria Beckham's Spring 2019 collection in the gallery below.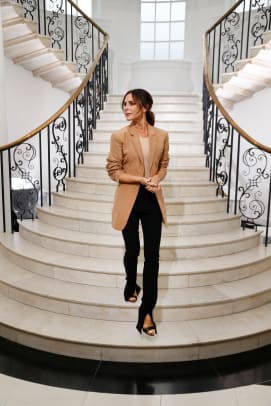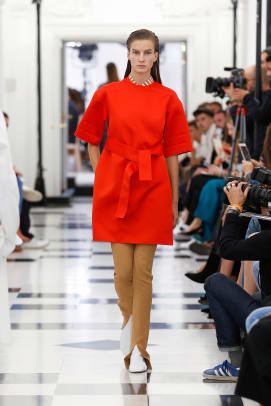 Disclosure: The BFC covered Fashionista's travel and accommodations to cover London Fashion Week. 
Stay current on the latest trends, news and people shaping the fashion industry. Sign up for our daily newsletter.