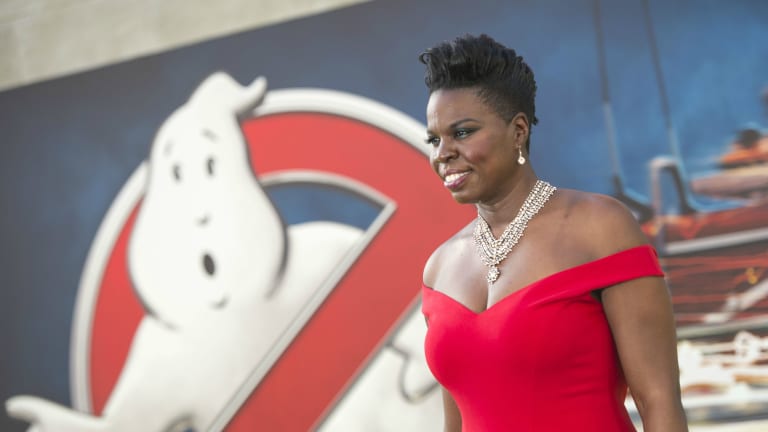 The Fashion Industry Struggles at the Intersection of Race and Size on the Red Carpet
Stylists are still facing challenges when it comes to dressing non-white, non-sample-size clients.
You might remember, two summers ago, when Leslie Jones tweeted that she could not find a designer to dress her for the "Ghostbusters" premiere. "It's so funny how there are no designers wanting to help me with a premiere dress for movie," she wrote. Christian Siriano responded with a hand waving emoji, and just a few weeks later, Leslie Jones appeared on the red carpet at the TCL Chinese Theatre in a gorgeous, siren-red gown — custom, of course — from Siriano himself. The designer later tweeted, "It shouldn't be exceptional to work with brilliant people just because they're not sample size. Congrats aren't in order, a change is." 
Unfortunately, Leslie's conundrum is not unusual. It's a problem that Melissa McCarthy, Ashley Graham and Christina Hendricks, among others, have faced. It may well be a problem that young celebrities like Yara Shahidi, Zendaya and Lupita N'yongo have faced in their rise to fame. ("I fought for Zendaya for years," stylist Law Roach once told Fashionista.) But starlets like Gabourey Sidibe, Mindy Kaling or Octavia Spencer face both sizism and racism when trying to acquire high-end designer pieces.
In a widely shared piece by Lindsay Peoples Wagner for The Cut on being Black in the fashion industry, stylist Jason Bolden, who has worked with Ava DuVernay and Taraji P. Henson, as well as Kaling and Shahidi, reveals a similar dynamic. "I have a brown girl who's killing it. So I asked brands if they will partner with me to dress her. The answer: 'Oh, no. Pass,'" he says. "An Oscar-nominated woman who is sample size isn't right for the brand, but then I see them work with someone who has no career, no fashion profile. It's bizarre."
Related Articles 
"Regardless of their success, being both plus-size and a woman of color makes it challenging to be dressed by designers who simply want nothing to do with non-white women that are above a size 2," says Dominque Norman, a writer, educator and activist who focuses on body positivity. 
A subsequent problem is that there's a belief among some in the fashion industry that women of color only buy brands and products that cater specifically to their demographic. When Julee Wilson left HuffPost to later become the fashion and beauty director at Essence in 2016, she had to explain to some of her industry contacts that she could still work with them, even though she now worked at a magazine for African-American women. "Black women not only wear Tracy Reese and use Dark and Lovely; we also wear Chanel. We use Estée Lauder, too," Wilson says she had to explain.
As an editor, Wilson has personally witnessed brands refusing to lend to Essence, presumably because they are skittish about being associated with the magazine's demographic. However, she credits brands like Prabal Gurung and Coach, and retailers like 11 Honoré, for championing inclusivity across the board. 
The red-carpet struggles of celebrities like Leslie Jones are inextricably linked to the difficulties many, non-sample-sized "real" women also face when shopping. The average American woman wears a size 14, yet sample sizes run from 0 to 4, all while high-end fashion brands still notoriously kowtow to a demographic of thin, white and moneyed women. Why? 
The more complicated answer lies in the design process, which historically has skewed in favor of one particular (namely, thin) ideal. Celebrities work with stylists, who typically broker the borrowing of garments from design houses; celebrities who are not white, especially those who don't conform to fashion's traditional sample size, are less likely to be able to benefit from borrowing privileges. In these cases, designer pieces are often bought and altered. 
If a big-name starlet joins forces with a successful designer, enough resources can be pooled to create a custom piece. For example, the emerald green gown that Spencer wore to this year's Oscars was a custom piece designed by Brandon Maxwell, another designer who has led the charge for more inclusive sizing and casting. 
Mindy Kaling has found a workaround by working with "The Mindy Project"'s costume designer, Salvador Perez. Before working with Kaling, Perez had years of experience designing garments for Hollywood productions, including "Titanic" and "Stargate." Prior to working with Bolden more exclusively, much of what you had seen Kaling in, whether on- or off-screen, was custom-made by Perez. Even when she wore a designer piece, Perez more often than not had altered it in some way to fit Kaling perfectly.
According to Siriano and Perez, many of these issues can be nipped in the bud in design school. Learning how to construct a garment is important; if you are trained well, you should be able to create a garment for any body type. Siriano emphasizes that students need to use dress forms in a greater range of sizes, and draw on croquis that reflect actual women's bodies. Most importantly, it requires a change in how your view your potential clientele. "Be open to working with a diverse clientele from the very beginning," says Siriano. "Make it part of your brand ethos." 
The resolve seems simple enough: If fashion companies worked with a wider of range of (fit and runway) models, that would translate into more options in showrooms. But creating clothes in a wider range of sizes costs more money, a cost that many (especially up-and-coming brands) might not find to be viable — though that's not always the case. Chromat, designed by Becca McCharen-Tran, has been on the forefront of LGBTQ+ representation, body positivity and racial diversity since its launch in 2010.
"Designers make clothing for the community that they surround themselves with," says McCharen-Tran. Chromat's runways, for its part, are always among the most inclusive of New York Fashion Week, and the brand has cultivated a diverse following of #ChromatBABES who include Whoopi Goldberg, Amandla Sternberg and even Beyoncé. 
The racism and sizism within the fashion industry reflects the biases of our society as a whole, so it's hard to place blame on a single source. Siriano believes that it's more of an industry-wide problem — whether that be editors, model or agencies — but he would challenge his peers to push themselves to do better. Designers, in his opinion, are powerbrokers who wield purse strings and can dictate who wears what simply by making it. "If you make a dress in size 14, you can force a modeling agency to provide a model who wears a size 14," says Siriano.
Though it may be cost prohibitive to have samples in every available size, Siriano works with models of various body types so that there are options for everybody in every collection. "There is something for everybody. We never have to turn a customer away," says Siriano. His democratic design approach has contributed to the growth of his business and attracted a new, previously underserved demographic to his brand. It may seem like a no-brainer, but accessibility for luxury brands can translate to a higher bottom-line.
But despite a handful of designers who have answered the call for greater size and racial diversity, many starlets still encounter difficulties when trying to acquire high-end designer pieces. Everyone agrees there is a change afoot — it's just evolving at a snail's pace. 
Homepage photo: Leslie Jones in Christian Siriano at the Los Angeles premiere of "Ghostbusters" on July 9, 2016. Photo: Valerie Macon/AFP/Getty Images
Stay current on the latest trends, news and people shaping the fashion industry. Sign up for our daily newsletter.