Life Really Is a Beach at Chanel's Spring 2019 Spectacular
Karl Lagerfeld built an actual, functional seaside, complete with lapping water, inside the Grand Palais.
It's easy, theoretically, to veer the way of a beach-themed runway show for the spring/summer season. In fact, one designer, Thom Browne, has already done so this Paris Fashion Week. But it's another task altogether to construct a physical beach, complete with lapping ocean water and plush white sand, into which models and showgoers alike can sink their feet if they're so inclined. 
Such is the case for Chanel, where no expense is spared and no detail is too minute. Last season, for Fall 2018, the French house flew in trees, soil and moss for an autumnal spectacular; for Spring 2018, it built a waterfall, and for Fall 2017, a functional rocket. And so, for Chanel's Spring 2019 extravaganza, the powers that be again took it up to an 11.
On Tuesday morning in Paris, showgoers entered the French house's traditional venue of the Grand Palais and were greeted by a gargantuan backdrop of a azure-sky coastline with mountains in the background, the expanse of which was flanked by two full-size, thatched-roof docks hanging over the waterfront. Crystal-clear waves rippled, propelled by hidden machinery, not 10 feet from the front row. Male models, clad in preppy, umbrella-printed uniforms, sat atop lifeguard chairs.
The clothes fit the setting, each look a lavish interpretation of Karl Lagerfeld's envisioned beach uniform. But rather than more verbatim interpretations of sun-soaked vacation wares (like, say, nautical bikinis and PVC visors), Chanel's latest pieces were most remarkable in the subtleties. 
Models first entered the venue from stage right, stomping barefoot through the water. At the other side of the Grand Palais, they walked up a short flight of stairs and slipped their feet into a clear pair of lucite slide sandals (Chanel-branded, naturally) which awaited them to walk back around on the boardwalk. Later in the show, models nonchalantly held their own sandals in one hand, as if running over to grab a spritz from the snack shack. The accessories were delightfully beachy, with straw baseball hats, umbrella-patterned silk scarves and delicate crossbody bags in the shapes of beach balls and seashells.
Then, the clothes: Certain looks were closer to resortwear than anything else, like a gauzy, bikini-strapped bodysuit worn with a silk sarong or a white tweed midi skirt embellished with crystalized palm trees. One particularly literal look featured a sporty, one-piece bathing suit styled with denim culottes and a cropped cardigan.
But there was plenty else for those who prefer to enjoy the seaside from the confines of the nearby watering hole. The tweeds were, of course, bountiful — some coming in candy-colored magentas, hazy seafoams and creamy peaches — and adorning the likes of structured jackets and billowing culottes. The same goes for the jewelry: low-slung, silver hip belts spelling out Chanel; new, seemingly vintage-inspired varieties of quilted backpacks and belt bags; drop earrings that read "CHA" down the left ear and "NEL" down the right.
The parade concluded with Chanel's more formal eveningwear, entirely in a black-and-white color palette and coming in various uses of tulle, silk and sequins. These looks would not, perhaps, appear out of place on the chicest of guests at an intimate destination wedding in St. Lucia.
Lagerfeld took his final bow, to a standing ovation, together with Chanel Fashion Studio Director Virginie Viard. The pair lingered on a dock before disappearing off into the skyline, and just like that, our trip to the beach was over. At least we're still getting the sand out from between our toes.
Click through the gallery below to see Chanel's Spring 2019 collection in full.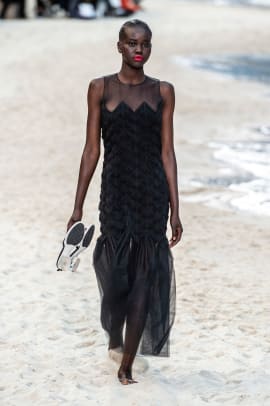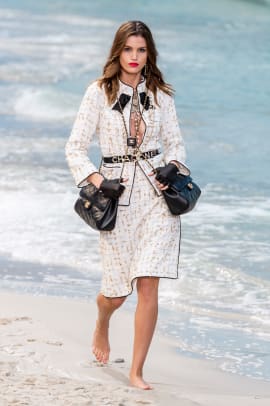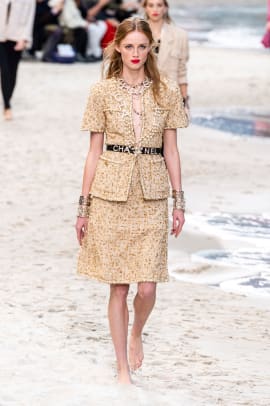 Sign up for our daily newsletter and get the latest industry news in your inbox every day.