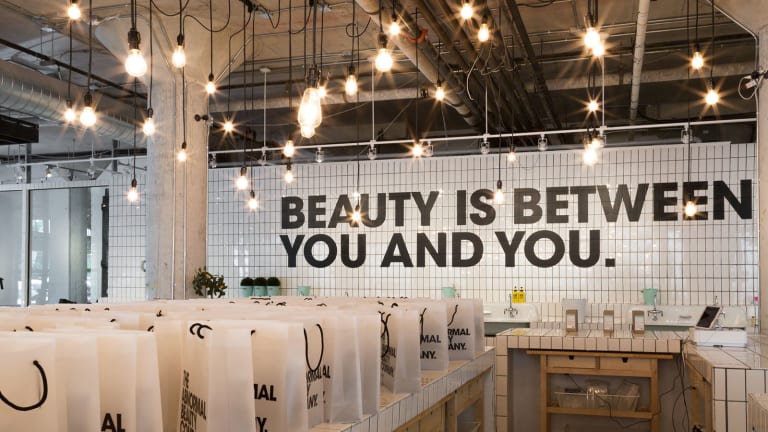 An Exhaustive Timeline of All the Deciem Drama Over the Years
A look at how Brandon Truaxe built a successful beauty company — and then forged a rocky path toward dismantling it.
In the beauty industry, marketing is well-oiled machine. Announcements are made at perfectly calibrated times with meticulously planned social media strategies that have been devised months in advance. To see any brand stray from the carefully curated shelfies, flatlays and close-up-product-texture shots can feel genuinely surprising.
But for the past year, Brandon Truaxe, the founder and CEO of beauty company Deciem has seeming thrown away that playbook, instead turning to Instagram to regularly incite one drama after another.
Even to a casual social media bystander, it's been exhausting. So Truaxe's recent announcement that he'd be abruptly shuttering Deciem — the umbrella corporation under which fan-favorite brands like The Ordinary and Niod fall — entirely, followed by reports that minority shareholder Estée Lauder was awarded an injunction to remove Truaxe from his position are almost unsurprising.
What follows is a comprehensive look at how we got to this point.
2013: Serial beauty entrepreneur Brandon Truaxe launches Deciem, an umbrella beauty company with 10 sub-brands.
Aug. 2016: Deciem debuts The Ordinary, a line of lab-sample-esque simple skin care at unprecedentedly low prices. When it launches a foundation in Spring of 2017, it incites a frenzied waitlist of 25,000 people.
June 15, 2017: Estée Lauder invests in Deciem, becoming a minority shareholder with a 28 percent stake in the brand.
Dec. 2017: The Ordinary launches in Sephora.
Early Jan. 2018: A small skin-care scandal is sparked when members of Reddit's avid skin-care boards discover a social media ad for The Ordinary taking an obvious stab at competitor Drunk Elephant, which reads "one would have to be drunk to overpay for Marula," the brand's hero ingredient.
Jan. 24, 2018: Things take a more worrisome turn when Truaxe posts an Instagram video in which he declares that he has canceled all future marketing plans and will speak to customers directly.
Jan. 28, 2018: Shortly thereafter, Truaxe apologizes to Drunk Elephant founder Tiffany Masterson via Instagram (unsurprisingly), and announces a $25,000 donation to Save The Elephants.
Feb. 2018: Redditors discover bad reviews for the company on Glassdoor dating back to 2015 with complaints about disorganization, high turnover rates and yelling, among other concerns. (Racked reported on this in detail.)
Feb. 1, 2018: Truaxe announces that he'll no longer use the title CEO and instead dubs himself "worker," because "responsible people don't need CEOs."
Feb. 4, 2018: While traveling in Morocco, Truaxe posts a series of videos showing litter floating in water and announces (via Instagram caption) changes to Deciem's packaging, and thus, the end of a partnership with "Peter of Mong Packaging," who he then offers to sponsor to come to Canada and work at Deciem. So begins a trend of Truaxe conducting internal business affairs via the social media platform — for all 370,000+ followers to see and comment on.
Feb. 6, 2018: In a since-deleted post, Truaxe uses Instagram to publicly end Deciem's partnership with cosmetic surgeon Dr. Tijion Esho, with whom it had launched a brand of lip products. Elle spoke to Dr. Esho a few months later, who said he'd never received any payment — or closure — with regards to the fiasco.
Feb. 2018: Truaxe's co-CEO Kilner is suddenly let go after having worked with the company for five years. In an email to Racked, Truaxe says certain employees were terminated because they did not "subscribe to [his] peaceful values."
March 23, 2018: While traveling in London, Truaxe takes to the company's Instagram feed to post about a "racist' Incident at the Ham Yard Hotel in London. In the caption, he threatens legal action and says that the company has "allocated $100,000 to promote this post on Facebook and Instagram."
March 25, 2018: In a piece penned by David Yi, beauty website Very Good Light asks, "Is The Ordinary the Donald Trump of beauty?" It describes Truaxe as "erratic if not narcissistic" and presents the following argument: "If Twitter is Donald Trump's weapon of choice to send out mind-numbing vitriol, Brandon Truaxe's is Instagram, where his friends, family and foes all wait with bated breath to see what else his sticky fingers can attach himself to."
April 4, 2018: A photo of a person who appears to be homeless outside Deciem's Fifth Avenue location goes up on the company's Instagram, upsetting many followers on social media.
Truaxe also abruptly lets go of the entire U.S.-based Deciem corporate staff, a questionable move considering the company had been signaling a major U.S. expansion.
April 5, 2018: Kilner speaks to Elle in a profile telling her side of the story. "I still don't fully understand what happened," she says, and also adds, "It's his choice. His decision. I don't think you get fired from a job when you're doing a good job. But with Brandon, it was never [just about] business. It was much more personal."
Related Articles
April 25, 2017: Truaxe posts two consecutive Instagram videos (which have since been deleted) expressing concern about missing luggage, concern for his own safety, and asking followers to contact the police on his behalf. In the first, he is walking away from a man named Jonathan who is heard saying, "Brandon, you'll end up getting killed." Truaxe replies, "This is abuse. Please tell them I was getting sued and this is going to go on the Deciem Instagram account in exactly one minute."
April 26, 2018: Truaxe posts a video addressing concerns about his mental health, calling those who'd voiced concern "idiots."
July 3, 2018: Kilner rejoins the company in her former position as co-CEO and Truaxe posts a selfie of the two with the caption: "Our co-worker is back—but never behind. We love you, @nicolalkilner. You'll always be our only 🐌—and always stronger than any 🐅 can ever hope to be or become. 🧡💛🌕😜"
Oct. 8, 2018: Truaxe posts an Instagram video (geotagged "The White House") announcing the forthcoming shutdown of Deciem. He says, becoming increasingly emotional, "almost everyone at Deciem has been involved in a major criminal activity, which includes financial crimes and much others." He continues: "You have no idea what a solider I've been... for more than 13 years, I've been made fun of as a porn actor, as a fucking drug dealer... it's all ending now." He tagged a wide-ranging group of people and brands, including British beauty blogger Caroline Hirons, Too Faced, It Cosmetics, Tim Cooke, George Clooney and "all of 'Hollywood.'" 
The Deciem website's homepage is now replaced with an entirely red screen.
Oct. 11, 2018: Truaxe posts a series of screenshots of emails from Estée Lauder Companies lawyer Mark Gelowitz on the basis of violated terms of the shareholder agreement. The corporation takes official legal action to remove Truaxe from Deciem entirely, revoking his power to hire or fire employees, post on social media, or serve as CEO (or "worker"), and instate Kilner in his place.
Estée Lauder replies to Fashionista's request for comment with the following statement: "We can confirm that we have commenced legal action in this matter. We cannot comment further on this pending litigation at this time."
Truaxe posts nine additional Instagrams, including photos from the Doubletree Hotel where he is apparently staying in Amsterdam, and screenshots of his response to Gelowitz.
Oct. 12, 2018: WWD reports that a Canadian judge granted the injunction filed the previous day by the Estée Lauder Companies, which sought to have Truaxe removed from the company's board and as CEO. In the interim, Truaxe's co-CEO Kilner will take on the CEO role, and Deciem operations are "expected to resume as soon as possible." Presumably, the stores Truaxe had closed will re-open and the company's website will be reinstated.
Deciem's Instagram account is no longer active and its posts appear to have been deleted.
Oct. 15, 2018: WWD reports that the "the plan to return to business as usual" for Deciem. Kilner remains interim CEO and Andrew Ross, executive vice president of strategy and Pasquale Cusano are Deciem's only current board members, according to the publication. 
The company's website has been reinstated and its stores are all expected to reopen promptly.
Oct. 16, 2018: Deciem's Instagram has been reinstated and the company posted a lengthy message speaking directly to its fans:
We make beautiful products. But the reality is that before beautiful products, we are a team of beautiful humans with deep hearts invested so heavily and lovingly in DECIEM. This love is what makes weeks like the last one so difficult.

Following the court ruling on Friday we have now reopened all stores, offices, factories and warehouses. Together, we are committed to serving our customers, partners and everyone involved in this journey to the best of our humble abilities, and we are ready for the next part of our story to begin.

Brandon will always be the founder of DECIEM. We will take the passion and values he has instilled within us as we continue to grow the brands we have created with transparency, integrity, authenticity, function and design.

Thank you from the very bottom of our hearts to each and every person who has continued to support our journey. We look forward to sharing what's to come with you. 🐒❤
Oct. 20, 2018: After Truaxe was removed from his position at Deciem, he took to his personal Instagram account to post a series of confusing images, some of which included screengrabs of emails he had sent to Estée Lauder executives of a threatening and graphic nature. 
In part, the email from Truaxe read:
l'll be in your hometown in a few hours. Please advise if you prefer silicone-based or water-based lubricants for my approach into your criminal, destructive cunts, for the most politically-correct wording. You have now illegally removed access to my phone, email, and social channels. I'm confident that you know the world will have never seen a downfall greater than that of the fraudulent empire ELC, the Lauder family, and those related have built.
In response, Estée Lauder has sought (and been granted) a restraining order against Truaxe, reports Vox. 
Nov. 29, 2018: Stephen Kaplan has rejoined Deciem as its chief operating officer, reports WWD. Kaplan, formerly the company's chief financial officer, left in February upon the firing of Kilner, who has also returned in July and has been serving as Deciem's sole interim CEO since October.
Dec. 13, 2018: In an interview with WWD, Kilner discussed the next phase of Deciem's business, which includes relaunching The Ordinary in Sephora stores in January. She says she's focused on "doing things which are more thought through" and "[making] sure that our people were where they need to be... that they were happy, they were feeling comfortable, they were inspired again — that's where most of my focus has been." Meanwhile, Deciem is continuing its brick-and-mortar expansion, with new stores coming in New York, Chicago and London in the coming months, as well as in Los Angeles, Copenhagen, Madrid, Dublin, Paris and Berlin later in 2019.
Homepage photo: Deciem
Never miss the latest fashion industry news. Sign up for the Fashionista daily newsletter.