Now That Hedi Slimane Brought His Aesthetic to Celine, What's Next for Saint Laurent?
How much longer will Anthony Vaccarello be able to follow the blueprint his predecessor laid out before customers seek out the original?
It's been three extremely long days since Hedi Slimane presented his debut collection for Celine at Paris Fashion Week, and in that time, everything that could possibly be said on the matter has been recorded for posterity. The general consensus among both critics and outspoken consumers on social media is that, despite the crushing disappointment felt as the Phoebe Philo era came to a sudden, screeching halt, his return to form was to be expected. 
Slimane has a singular vision that he's carried with him from Dior Homme to Yves Saint Laurent (which, under his leadership, became Saint Laurent) and now to Celine, and that's clear in his extracurricular projects — specifically, his black-and-white photography that mostly captures white, hip, attractive and skinny model-types doing things like partying, smoking cigarettes, playing instruments and generally brooding. 
However played out (and tone-deaf) this strung-out-rocker-glam image may be, it's proven itself to be a profitable one. After Slimane was hired to head up Saint Laurent in 2012, parent company Kering (then PPR) steadily reported strong earnings. Not only did Slimane's critically panned ready-to-wear start to sell out as soon as his first designs hit stores, but he also built a brilliant accessories business, thanks to his simple-yet-desirable leather handbags, Chelsea boots, pumps and more devoid of conspicuous branding or embellishment. 
In the first half of 2013, Saint Laurent did a reported $255 million in sales — up $32 million from the first half of 2012 — and this sort of quantifiable success would only continue under Slimane's vision. Kering called Saint Laurent its fastest-growing brand after results for the first half of 2014 came in (Saint Laurent's sales were 320.6 million euros), which were followed by consistent revenue spikes in double-digit percentages. And in 2015, Kering revealed that the French house's revenue had doubled in the three years since Slimane became creative director. 
This sort of commercial success — especially in such a short period of time — is rare in the fashion industry, especially in an era when luxury brands are struggling to adapt to the digital age and capture both the attention and the dollars of millennial and Gen-Z customers. So, it was surely a huge blow to Kering's corporate bigwigs when Slimane announced that he was stepping down from the helm of Saint Laurent in 2016. 
Days later, designer Anthony Vaccarello was named as his replacement, leaving his post at Versus Versace (and eventually putting his eponymous brand on hold) in order to fill the very large shoes left by Slimane. Though Saint Laurent quickly scrubbed its social media and appeared to be setting Vaccarello up with a clean slate, his subsequent collections for the label didn't stray too much aesthetically from those of his predecessor. From the monochromatic ad campaigns featuring models like Anja Rubik, to the short, sexy, super-skinny party-ready silhouettes, to the overall rock 'n' roll attitude, it was clear from the outset that Vaccarello was, at least on some level, trying to work within the profitable parameters that Slimane laid out for him.
Last week in Paris, Vaccarello unveiled his Spring 2019 offering for Saint Laurent in the shadow of the Eiffel Tower, with models walking on a water-covered runway lined with palm trees painted white. This set choice was interesting considering that Slimane, whose love for Los Angeles is well-documented, would make his return to Paris days later; the retro-rocker feel of the collection heavily recalled Slimane's rebrand of Saint Laurent, too. 
This tinged the Celine debut on Friday with a sense of déjà vu: Not only had we seen these clothes on Slimane's runways during his Saint Laurent years — something Diet Prada and others were quick to call out — we saw them on the runway just a few days prior at Vaccarello's show. It's easy to say that "Hedi was just doing Hedi" at Celine, and who can fault Vaccarello for adopting an "if it ain't broke" mentality at Saint Laurent? But if there's only room for one Hedi Slimane vision on sales floors (and on the Paris Fashion Week schedule), how will this play out for Saint Laurent in the seasons ahead?
When Slimane took over Saint Laurent in 2012, he essentially recreated the brand in his own image with a few nods to the brand's heritage — dropping the Yves, overhauling the aesthetic and ripping out every retail store to fit his specifications, which surely cost Kering millions upon millions of dollars. But the change resulted in significant revenue spikes, with the reverberations being felt to this day. While plans to revamp the Celine retail stores have yet to be revealed, subtle branding changes (dropping the accent, for instance) and early marketing materials like the teaser campaigns and fashion show invites feel distinctly Slimane — from the model casting to the black-and-white photos to the typeface. If customers are looking for his signature vision, what's the likelihood they won't abandon loyalty to the Saint Laurent he drew them to in favor of his new post? And when retailers already stock (and see successful sell-throughs of) Saint Laurent, which brand will they invest more heavily in to avoid product and aesthetic redundancy?
"Saint Laurent is about to look like the student's copy," Wall Street Journal fashion columnist Christina Binkley said on Twitter on Friday after I posed the question of whether Slimane's fans would jump ship from Saint Laurent in order to shop his creations for Celine. She continued: "[Saint Laurent's] problem is that it's very Hedi. But it has too much sex and not enough horror. [Vaccarello's] girls are toys. Hedi's girls are lost souls and outcasts who don't give a f#@& anymore." Why buy a watered-down, reminiscent version of Slimane's designs when you could just as easily get them directly from the source? 
This might prove to be especially true in the men's department: Slimane's cult following among those in search of impeccably tailored skinny suiting will surely follow him to Celine, where he debuted the label's first range of menswear. This is where the designer has an opportunity to capture a brand-new customer, without the challenge of winning over the Philophiles who previously flocked to Celine for the minimalist, feminine clothing and accessories that are no longer there. 
In recent years, both Kering and Celine parent company LVMH have seen immense success in complete brand resets and high-profile hires. One needs to look no further than Alessandro Michele's transformation of Gucci, Demna Gvasalia's overhaul of Balenciaga and Virgil Abloh's menswear appointment at Louis Vuitton for proof. Hiring Slimane at Celine was a very smart — if not slightly calculated — move by LVMH, which is undoubtably banking on stealing his customer base away from one of its competitors. 
Vaccarello is clearly well-loved by a certain leggy subset of the population (supermodels seem to truly relish in wearing his clothes), but aside from his ability to make already-sexy people look slightly more sexy, what about his vision can help drive Saint Laurent forward and satisfy its customers now that Slimane has a new platform of his own? Will the brand continue to use the visual language developed by its former creative director until it stops making money, or by then will it be too late? Is there the option to pull a Gucci or Balenciaga-esque reset when it's been less than a decade since the last one?
One possible advantage for Saint Laurent is that, among consumers, its brand recognition is greater than that of Celine — particularly in menswear, a department store section in which Celine has never had a presence. Shoppers who are ignorant of the never-ending game of creative director musical chairs may just continue to buy the Saint Laurent, a name they're familiar with and that has established cultural significance.
Of all of the questions raised by Slimane's Celine debut a few days ago, I'm most curious about the seemingly impossible conundrum: What's next for Saint Laurent now that Celine under Slimane is also essentially Saint Laurent under Slimane? You can bet that we'll be following closely in the seasons ahead, and if you'd like to chime in with your thoughts on the matter, we're happy to keep the conversation going in the comments and on Twitter. 
See every look from Slimane's debut collection for Celine in the gallery below.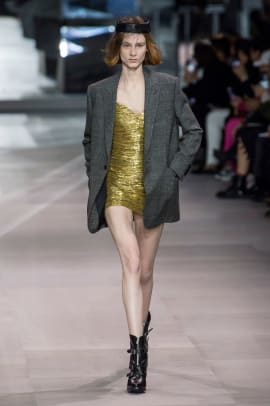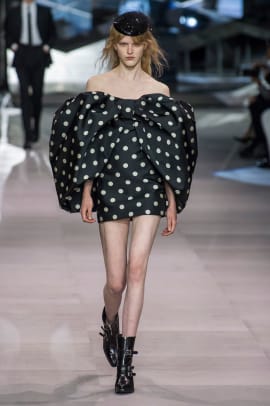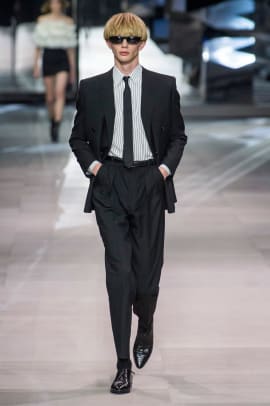 In addition, check out Vaccarello's Spring 2019 collection for Saint Laurent below.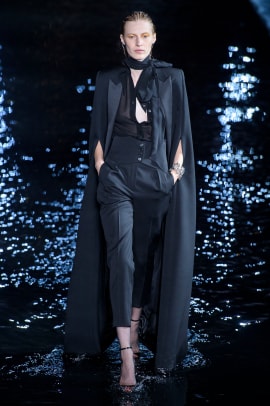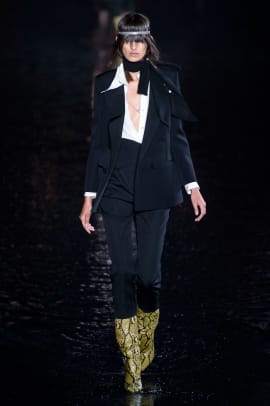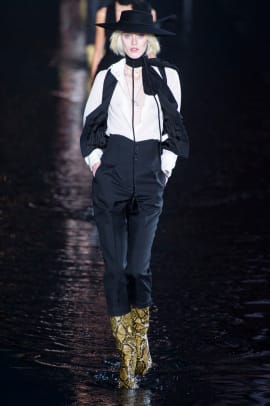 Homepage photo: Yanshan Zhang/Getty Images
Stay current on the latest trends, news and people shaping the fashion industry. Sign up for our daily newsletter.