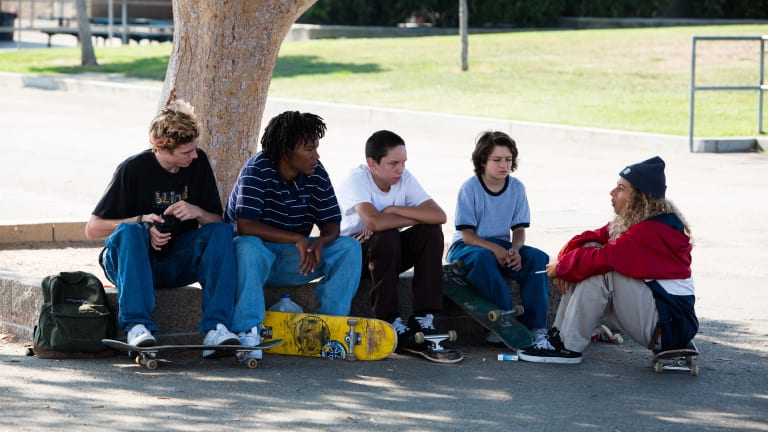 Jonah Hill's 'Mid90s' Replicates Skate Style From the Era in the Most Low-Key, Authentic Way
Costume designer Heidi Bivens referenced her personal collection of skate magazines, scoured archive designs and made sure to steer clear of nostalgia porn.
One of the first scenes of Jonah Hill's directorial debut "Mid90s" shows 13-year-old Stevie (played by Sunny Siljic) snooping through his older brother Ian's (Lucas Hudges) room. He takes notes on his collection of hip-hop CDs, attempts to lift his weights and browses through his closet filled with shirts and sports jerseys, in hopes of capturing even the slightest bit of camaraderie from his closed-off, bullying sibling.
The coming-of-age film set in — you guessed it — 1995, follows Stevie as he finds that sense of belonging at the Motor Avenue skate shop in Los Angeles, where he befriends a group of skaters: determined-to-go-pro Ray (Na-Kel Smith), laid-back party boy Fuckshit (Olan Prenatt), aspiring filmmaker (but dumb as rocks) Fourth Grade (Ryder McLaughlin) and Ruben (Gio Galicia), who was the youngest of the clique before Stevie came along.
RELATED ARTICLES
With the fashion industry's ongoing fascination with (and appropriation of) skate culture, "Mid90s" is a lesson in authenticity, especially when it comes to replicating skate style during such a distinct era. "The authenticity of the costumes of this movie are really, really specific in a way that unless you know about skateboarding or have a consultant to work with, it would be hard to get it right," says costume designer Heidi Bivens.
Hill first met Bivens through mutual friends, and about three years before "Mid90s" went into production, the two ran into each other at a show in Los Angeles. After talking about the film, Hill asked if she wanted to be a part of it — "a dream project," as she calls it, because, according to Bivens, costume designers don't usually get opportunities to work on a period film unless they've done one before. "He took a chance on me," she says.
Throughout the entire filmmaking process, Bivens focused on steering clear of any nostalgia porn — a high priority that Hill enforced on set and now mentions in many press interviews. "The whole idea was that everything would be subtle," she explains. "All of the wardrobe cues, anything that we were trying to do that was indicative of 1995, would be subtle in a way that wouldn't call your attention to it."
In the early stages of production, Bivens did her research, like referencing her personal collection of skate magazines — Trasher, Slap and Transworld Skateboarding — that dated from 1994 to 1996, which she traveled back to her mom's house to retrieve. "It's funny because I got rid of so many, but I always wanted to keep those years," says Bivens. "They came in very handy."
The wardrobe of "Mid90s" can be broken down into three important categories: T-shirts, jeans and sneakers. While sourcing, Bivens turned to her group of friends who were active in the '90s skate scene. "I was reaching out to anyone and everyone, asking if they kept any of their skate clothes in their garage or basement or had anything left," she recalls. "Most people didn't keep stuff. They didn't understand that there would be possible value in keeping those things." Luckily, however, a few friends referred Bivens to other skaters with archives or items that could be used in the film. Plus, the film's wardrobe supervisor, Katina Danabassis, who's married to famous skateboarder Jerry Hsu, is extremely well-versed in the subculture's world.
The T-shirts, especially, showcase Bivens's attention to detail and accuracy. "I didn't use any graphics that I didn't have proof existed in either '94 or '95," says Bivens. (The film includes cameos from brands like Blind, Chocolate, Droors, Girl, Shorty's and World Industries, to name a few.) In fact, Bivens admits that she had to re-create a lot of the graphic tees, which she reached out directly to skate companies for to acquire original artwork and designs. "Everyone was very generous and believed in the project and trusted Jonah, which made my job a lot easier," she says. 
The jeans were a more straightforward to find; Bivens collected them from eBay, Etsy and costume houses. But getting pairs from actual skate brands, such as now-defunct Menace, proved to be difficult. Instead, Bivens made sure to source jeans with big cuts from Levi's and other denim labels that are still around today — though nailing the right type of wide-leg style was another obstacle. "We did a camera test with Spike Jonze and he said the jeans needed to be bigger," says Bivens. "We had to do a lot of trial-and-error getting each silhouette right for each guy."
When designing each character's wardrobe, Bivens based what skate brands they would wear on their personalities and backstory. "Your average person who didn't know about skateboarding wouldn't pick up on that stuff, but my main objective was for skateboarders to watch the movie and know that I got it right," she says. Ray's Girl and Chocolate T-shirts showed his intentions of one day riding for one of those teams, and his gold chain is a nod to the pro-skaters of that era who wore the same type of jewelry. (Smith, who is actually sponsored by Adidas, wore the brand's shell tops throughout the film, too.)
On the other hand, his best friend Fuckshit, who comes from a well-to-do family and is seen wearing Droors, Vans Half Cab sneakers and Cypress Hill merch, cares "less about economics and more about his own taste and style." Fourth Grade is what Bivens describes as "a little dusty," since a line in the film mentions that he can't afford a pair of socks. She also dressed him in skate brands that had graphics on the sillier or more fun side, including Toy Machine, Alien Workshop and a Big Brother shirt emblazoned with "Listen to Black Sabbath."
While Ruben's style sometimes emulated the older boys of the group, Hill wanted the his Latino background to shine through in Galicia's costumes, which included white T-shirts and Dickie's. Ruben also wore black éS sneakers contrasted with fat white laces, a '90s-style element that skaters from that time would be sure to notice. "I gave [Ruben] one really nice piece, a covetable Menace coach's jacket," says Bivens. "If it was on eBay, it would sell in a second for a pretty penny."
As Stevie goes through his own personal transformation through "Mid90s," so does his wardrobe. In the beginning, his clothes, which primarily consisted of "Ren & Stimpy" or "Street Fighter" T-shirts, were more youthful, but once he meets the skate screw, he swaps his tees for blanks — a popular style choice for skaters at the time. "His jeans get progressively wider if anyone pays attention," notes Bivens. "By the third act, he's full-on skate mode: bigger jeans, Motor hoodie, Shorty's T-shirt. He feels like he's part of the crew and he's accepted." 
One thing that she does point out is how Stevie never actually wears proper skate sneakers. (They're LA Gear.) It's something that Bivens says was talked about a lot while filming, but since "Mid90s" takes place during a such a short period of time — and Stevie barely has the money to buy a new skateboard — it was a wardrobe choice that made perfect sense.
While the process of sourcing vintage skate apparel and meticulously dressing each character sounds tedious, Bivens says her biggest costume feat is a massive skateboarding scene at a local courthouse that featured more than 200 extras, all of whom had to be accurately dressed straight out of 1995. (She initially sent a mass email with wardrobe directions that listed all of the items that could pass as '90s.) "My team and I really had to have eagle-eyes on everyone, literally running after skaters trying to stop them and explain the wardrobe," says Bivens. "In terms of accuracy, that day was one of the more stressful ones. But it felt like such an accomplishment being able to pull off that scene. It felt subtle, like Jonah wanted. It felt real."
Homepage image: "Mid90s" cast members Sunny Suljic, Na-kel Smith, Olan Prenatt, Gio Galicia and Ryder McLaughlin. Photo: Tobin Yelland/Courtesy of A24
Sign up for our daily newsletter and get the latest industry news in your inbox every day.