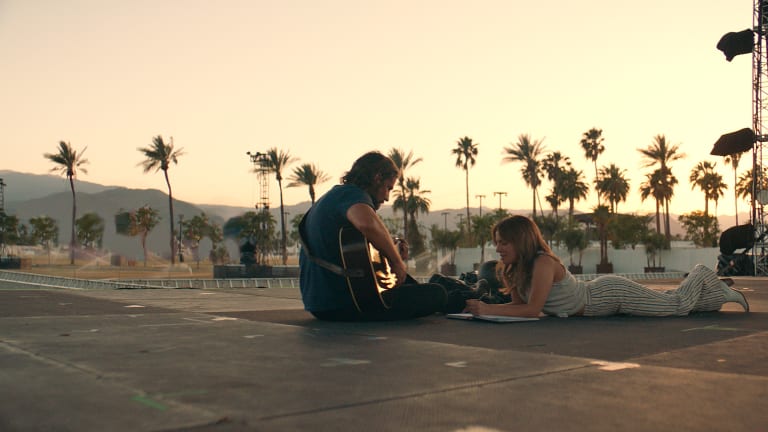 Lady Gaga Wears a Mix of Vintage and Custom Gucci in 'A Star is Born'
Costume designer Erin Benach also shares which real life entertainers inspired pivotal looks in the movie.
Warning: Spoilers for 'A Star is Born' below.
"We worked really hard to create a character that didn't have any Gaga in it," says "A Star is Born" costume designer Erin Benach, over the phone from Los Angeles. In line with the makeup wipe moment heard (and discussed) around the world, the costumes highlight the movie's lead ingenue, née Stefani Joanne Angelina Germanotta, in a pared down, understated way in which we've never seen her. 

"That was one of the biggest challenges of the movie," continues Benach, who's costumed fellow red carpet stars Ruth Negga in '60s period wardrobe in "Loving" and Elle Fanning in high-fashion-meets-horror in "Neon Demon." "Everybody has their own ideas of what rock stars look and dress like, off-duty and on-duty. And on top of that, having Gaga be Gaga, we were so conscious." (After all, the designer-beloved muse is able to make headlines for something as simple as the day bag she totes on a quiet museum jaunt, which was actually a private viewing at the Louvre.)
RELATED ARTICLES
Seriously, there's nary a hint of Gaga in neither her aspiring singer-songwriter character, Ally, nor her wardrobe. We first meet her when hard-living country rock star Jackson Maine (played by co-star, director and songwriter Bradley Cooper) stumbles into a drag bar after a gig on a desperate search for his next drink — he's immediately taken by Ally crooning a sultry version of Édith Piaf's "La Vie en Rose." Surrounded by drag queens in a spectacular explosion of sequins (including Shangela and Willam of "RuPaul's Drag Race" fame), Ally stands out in a minimalist black slip which pays homage to Piaf, fishnets and her DIY scotch-taped skinny eyebrows. 
Benach originally planned on a more more extravagant "Ally in drag" look, but after seeing the club bathed in red lighting and the fabulous extras, the team changed their minds five minutes prior to filming. "[The black dress] actually popped her out and made her personality come through even more," she explains. "Doing it in a simple way and letting Jack see her. Nakedly, openly and simply — and it was meant to be a moment that she catches his eye. Less is more sometimes in those moments."
After Ally blows up YouTube with the powerful performance of her original ballad "Shallow" (co-written by Lady Gaga) with Jack on stage and then joining him on tour, her Los Angeles rocker-on-a-budget graphic t-shirt, jeans and vintage aesthetic ascends along with her star power. Like the "A Star is Born" legacy itself, Ally's costumes were meant to be "timeless" as this version becomes its own classic. Benach scoured LA and Long Beach vintage shops for gems from the '70s and '80s, like a floral Western style collared shirt and a sleeveless blue lace dress with cowgirl fringe. The costume team "tricked out" a white trimmed jumpsuit with colorful embroidery for belting out the foreshadowing (and tear-inducing) "Always Remember Us This Way" at the piano for her last tour number (above).
"We slowly go from seeing her in her Los Angeles city life and into Jack's world," explains Benach, about the subtle country rock-inspired details. "She enters his sphere and she is inspired by it and she acquires some pieces along the way to fit that world, but that also feel like her." Considering Ally probably packed very light as she spontaneously rode off on the back of Jack's motorcycle, it makes sense that she's accumulating vintage finds at concert stops in Arizona and Colorado. But some items like Ally's leopard print pants — worn with the tied-at the midriff sleeveless T-shirt and Jack's signature hat — may look vintage, but they're not. "I think they were YSL," teases Benach. "She's having fun with it. She's gone on tour and living the dream a bit." 
Behind-the-scenes, Lady Gaga's high profile fashion influence and connections came in handy while sourcing and stocking Ally's costume mix. "Obviously, everybody opened up their doors to us," Benach says about design houses jumping to dress the lead in her Oscar vehicle role. (Another designer highlight: the blue and yellow ruffled "oh oh oh" shirt by Maki Oh worn with red python pants and leopard print booties for visiting Jack in rehab.)
Of course, Lady Gaga has her own, very famous and presumably extensive wardrobe to supplement. "We did have full-blown, complete access to her archives and her closets," says the costume designer, who ended up thoughtfully selecting more character-driven (and non-Gaga specific) pieces, like jeans and leather pants. 
"You know what piece is Stefani Germanotta's?" Benach recalls, after a pause. "When she's [in the recording studio] and she's got a multi-colored shawl on. That was from her closet." Benach then gave it her own twist by enhancing the velvet and sequin-embellished layer with a $3 beaded multicolor necklace from Santee Alley in LA's Fashion District.
As Ally becomes just "Ally," the Bebe Rexha-esque singer complete with choreographed moves, backup dancers, a flashy new hair color and lots of makeup, her wardrobe also shifts to fit the genre of her top 40 hit single "Why Did You Do That." When she lands the coveted spot on an Alec Baldwin-hosted episode of "Saturday Night Live," Ally goes full pop star in a sparkly, cut-out crop top and see-through cargo pants.
For that look, Benach looked to the transparent trend on the fashion week runways, plus an actual top 40 act that doesn't involve Lady Gaga. "We were in Stefani's trailer and we were talking about some '90s Fly Girl-type groups," she recalls. "There was a Destiny's Child conversation at some point. We were like 'They're so badass,' and we liked it." (This is especially interesting considering that Beyoncé was initially cast as the lead in the Clint Eastwood-directed "A Star is Born" remake that didn't happen.)
The aforementioned designer connections also helped with Ally's gold ruffle and pleated gown worn to the Grammy Awards — a dress nearly overshadowed by Jackson's drug and alcohol-fueled onstage meltdown during her acceptance speech. But not to people watching with a fashion eye. 
"Oh, that's Gucci baby," says Benach. "Gucci made it for us." But, like the LBD situation at the top of the movie, the gilded gown was also a last-minute change. Originally, the team designed an asymmetrical, one-shoulder illusion gown with crystal and sequin embellishments, but the real life Grammy vet, who counts six wins and 19 nominations so far, wasn't quite feeling it.
"I was driving to work that morning of the Grammys [shoot] — it was like 5:30 a.m. — and I answer my phone," recalls Benach. "'Hi Erin, it's Stefani, I … think we should wear the gold dress today instead of the black dress.'" But this quick switch proved a bit more complicated because multiples of the one-off, custom gown were needed since Ally ends up in the shower with an incoherent and urine-stained Jack. But, again, the design house was more than happy to help. "Gucci was amazing," she adds. "They made a multiple of that dress in five days for us." 
For the emotional finale, Benach and her team fittingly custom-designed the robin's egg blue gown that Ally wears to belt out "I'll Never Love Again" — and bring the entire audience into a blubbering mess of sniffles, tears or full-on sobs. Grace Kelly's now-iconic 1955 Academy Awards dress, designed by Edith Head, inspired the intentionally understated (but still stunning) strapless look for maximum impact.
"We knew this was the emotional apex of the movie and as soon as you put a really strong design on her, it just took away from the moment," explains Benach. "It's similar to the opening moment. If you put a lot on and you create a lot of geometry, architecture, color or sparkle, you're taking away from her face and the emotional moment. We were really trying to feel timeless." Just like the story of "A Star is Born" and its latest iteration, which is bound to be a classic.
Top image: Warner Bros. Entertainment Inc. and Metro-Goldwyn-Mayer Pictures Inc.
Never miss the latest fashion industry news. Sign up for the Fashionista daily newsletter.