Nicolas Ghesquière Looks to the Future on Louis Vuitton's Spring 2019 Runway
And it's looking bright — at least as far as fashion is concerned.
There's been much discussion about the future of fashion this season — between the appointments of Hedi Slimane at Celine and Riccardo Tisci at Burberry, the increasingly loud conversations around body positivity and diversity, and the frequently-flying rumors about the fates of print magazines, everything seems to be in flux, for better or for worse.
So it's really only fitting that the Spring 2019 runway season closed out with Nicolas Ghesquière's collection for Louis Vuitton. He's a designer who has frequently mined the concepts of space and science fiction for fashion inspiration, often mixing them with art and historical references, but this time around, things felt different. First, of course, there was the setting: Instead of sending models through the sculpture gardens inside the Louvre, Louis Vuitton constructed a long, bright, futuristic tube through which models would snake past the audience (often hitting a slippery patch caused by rain tracked in on showgoers' feet — puddles will still be an obstacle in another century, it seems).
And then there were the clothes, Ghesquière's take on futurism for the modern woman. There was something instantly appealing about the oversized, pleated balloon sleeves on track jackets and blouses, or the orbital shape of a new bag. A few looks veered so far into stereotypical menswear territory — a sleeveless oversized tee, a crisp white blazer, striped pants — that one wondered if Virgil Abloh hadn't snuck some pieces backstage. (He hadn't, and they were a welcome breath of fresh air both in their complete lack of concern for gender and in their simplicity.) 
It was hard to fully pin down the bright prints; were they abstract florals, were they lifted from modern art, were they scanned from photographs? There was a hint of '80s to them, and yet, there were unplaceable — though eagle eyes will be certain to find Ghesquière's nod to fashion's current obsession with bold logos. One look, a silver dress with orbital sleeves, felt ripped from a sci-fi movie, but was immediately followed by a sister look in white and red which helped to ground it in wearable territory.
Slightly more curious were the hats, which felt like smaller, perhaps more practical versions of a rather infamous hat Ghesquière had already done during his tenure at Balenciaga. (Slimane does not have the market cornered on recycling ideas, after all.) And similarly to Thom Browne, some of Ghesquière's looks saw women rendered near-immobile in his creations, sending down jackets and blazers whose armholes ended at the elbow — a clever look on a runway or in a photograph, to be sure, but not so practical in application.
Overall, Ghesquière has once again proven himself perfectly capable of creating clothes with a clear point of view, which can push the fashion conversation forward without reinventing the wheel — and which can also, most importantly for Louis Vuitton, sell the handbags and the accessories which help drive business. It's the kind of collection that will keep us going until it all starts up again in February. 
Click through the gallery below to see Louis Vuitton's Spring 2019 collection in full.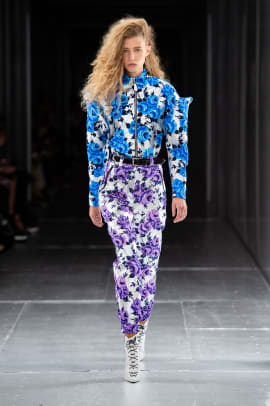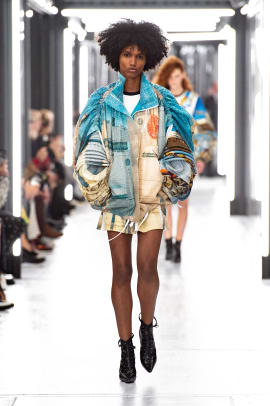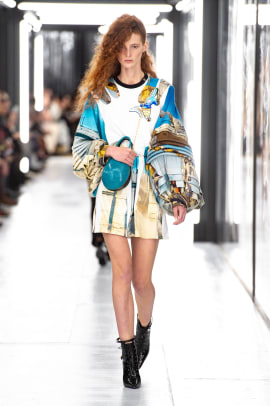 Sign up for our daily newsletter and get the latest industry news in your inbox every day.