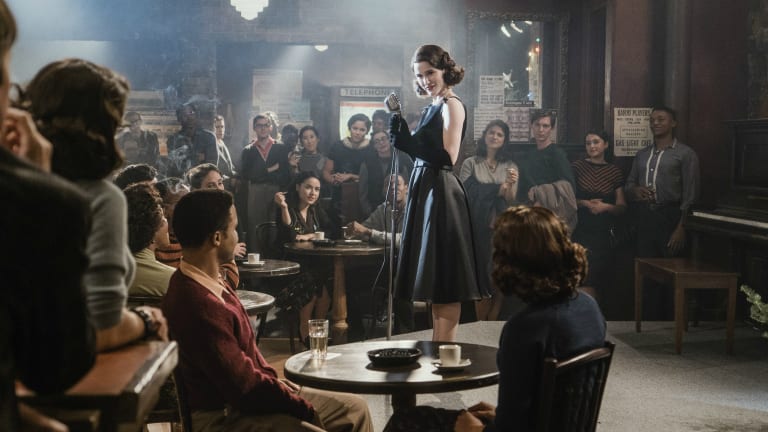 In 'The Marvelous Mrs. Maisel,' Accessories Tell Midge's Story of Reinvention
"Everything with Midge starts with an accessory."
Miriam ("Midge") Maisel wouldn't have wanted to drive if not for a pair of pink driving gloves. "Everything with Midge starts with an accessory," her mother says in "The Marvelous Mrs. Maisel"'s second-ever episode. And she's absolutely right: Through accessories, Midge transforms herself. While her choice of necklaces, hats, brooches and scarves are as era-appropriate as they are coordinated perfectly with her dresses and pants (see: very), they also tell us who she is and where she wants to go. Or more specifically, where she's going when she abandons those baubles altogether.
Which is controversial when you think about who Rachel Brosnahan's Midge Maisel is when we first meet her. A 1950s housewife and mother who lives in a sprawling Upper West Side apartment, she defines herself by her place alongside her husband Joel, played by Michael Zegen. (Who, by the way, is a man more than a few of us have met in real life. Woof.)
An aspiring comic, Joel prioritizes his dreams and agency above anybody else's. He expects Midge to cook the brisket they'll use to bribe the owner of the Gaslight Café to ensure a decent set time. He relies on Midge's extensive notes on his act (which turns out to be stolen from Bob Newhart). And then, after bombing at the Gaslight and panicking about not living the life he foresaw for himself, he leaves Midge for his secretary. This becomes the catalyst for Midge returning to the scene of the crime in a drunken, sad state to perform her own improvised stand-up set. There, she meets Alex Borstein's Susie Meyer (who quickly becomes her manager) and taps into a part of herself she didn't know existed.
But let's fast forward a bit. Before returning to the Gaslight stage in the Amazon series's first season finale, we see Midge, now single, slip her wedding rings back on. Of course, this matters for two reasons: First, because it signals her intent to reunite with her estranged husband Joel. (Who, like, don't even get me started on.) And second, because we never see her wear it again. 
In celebration of her triumphant comedic comeback, she dons long, black satin gloves to go with her black satin dress. And despite her stage name (Mrs. Maisel) being hinged on her marital status, her gloves conceal the ring. Instead, the only accessories we see are the pearls recommended by her mother.
Midge's vulnerability can be measured not only by the number of accessories she puts on, but the ones she chooses. During her wedding, she dons a white gown with a gold bracelet, gold earrings and a gold watch (to go with her gold rings) which, arguably, serve as a type of armor. She'd finally earned her medal (or, uh, metals) and used accessories to draw attention to that coveted gold ring. 
Later that same episode, she accompanies Joel downtown wearing those pieces of jewelry, but now, with a scarf in her hair. It's here that she begins her transformation from her traditionally mid-century, Upper West Side aesthetic to a look typically reserved for the costume department of a Fellini film. (This, too, is comparison her mother makes when over-analyzing what led Midge down the road of broken marriages.)
In fact, for the entirety of the pilot, Midge is cloaked in accessories: She wears a hat while navigating the deli (she means business), a hat when asking Lenny Bruce whether he loves stand-up (she means business, just differently), a scarf when she roams the Village after being arrested and while contemplating a future in comedy (she's a free spirit who belongs amongst her kind). The only time she's accessory-less is when flashing the audience during her first stand-up set. Vulnerability, thy name is on-stage nudity.
Like many of us, accessories serve as a boundary between ourselves and cold, hard reality. In Midge's case, it took the end of her marriage to re-establish her relationship with the way she presents herself. When Joel leaves, she retreats to the Gaslight after drinking wine in the rain, abandoning her jacket mid-set; the next day, she opens up about the reality of her situation with her best friend Imogene, and wears only her workout clothes and simple earrings while at the gym. Finally, in her debut as Mrs. Maisel, the comedian, she's draped in black and wearing her mother's suggested pearls, bringing her past into her present, but without the protection of a visible wedding ring, scarf, hat, brooch or hat. To reinvent, she reinvents, aesthetically. 
"I always dress nicely for important meetings," she tells her lawyer in the second season's third episode, decked out in no less than one million pieces, hoping to convince him to represent her. To meet with her lawyer and then eventually to appear in court, she's gone all-out, micromanaging her image by donning as many pieces as possible. 
After all, in court, we're not meant to meet the real Midge — just like we're not meant to meet the real Midge at the department store where she works. During her shifts, she's dressed up, clad in brooches, necklaces and intricate dresses with oversized bows. Afterwards, she's just as meticulously put together, keeping her new friends at arm's length by offering nothing tangible about herself — and signaling as much with her shimmery shrugs and belts.
As Midge branches out in the workforce, she's trying to figure out what she wants and who she is outside of being a wife, a mom and someone who grew up being told to abide by a specific set of gender-based norms. She's trying to figure herself out as a performer, and trying to figure out the type of voice she feels comfortable embracing professionally and personally. And in the way anyone would cling to the familiar, she clings to her accessories.
Because while it may have seemed scariest to deliver a set in one's nightgown (before flashing the room), to appear in court in front of a sexist judge or to be confronted by one's estranged husband's mistress while working the floor of the department store, it's scariest still to listen to your mom, to present yourself as-is and to do it all under your own name. Especially since in the end, that's all any of us have.
Homepage photo: Rachel Brosnahan as Miriam "Midge" Maisel. Photo: Courtesy of Amazon Prime Video via EPK.TV
Sign up for our daily newsletter and get the latest industry news in your inbox every day.