Miu Miu Puts a Bow on Spring 2019
Miuccia Prada once again toes the line between girlishness and womanhood.
There's a fine line between making clothes that are girly to the point of childishness and those which are unabashedly feminine in a sophisticated way. With her secondary line Miu Miu, Miuccia Prada has proven time and time again she is able to produce clothing and accessories with finishing touches like bows, rosettes, pearls, ribbons and rhinestones, and yet still have them fall into the latter category.
Miu Miu's Spring 2019 collection is a prime example this design ethos, offering up a softer vision than more recent collections. Instead of the rockabilly '50s-by-way-of-the-'80s looks we saw in the Fall 2018 collection, or even exploring the tension between classic femininity and modernity as she did with Prada's Spring 2019 collection, here, Miu Miu offers up some pretty standard tropes of girly dressing. There were knee socks (logo-free, unlike those at Prada in Milan), oversized bow sashes at shoulders, rosette details on shoes and at the hip, and necklaces with waterfalls of crystals. Towards the end, denim added edge to more evening-friendly looks. 
If it sounds too saccharine, Miu Miu cut through the sweetness by exploring looser silhouettes and incorporating blazers, python skirts or croc trenches. Cropped knits were paired with sheer or sequined pencil skirts for a slightly "naughty secretary" effect. The platform heel is back in a big way here at Miu Miu, but Prada still offers kicky Mary Jane heels in practical heights; leather bags came in buttoned-up flap styles and studded buckets. At Prada, there were oversized, padded headbands; at Miu Miu, the accessory come in satin, bedazzled and bedecked with bows. 
Click through the gallery below to see Miu Miu's Spring 2019 collection in full.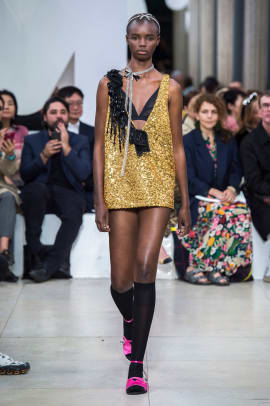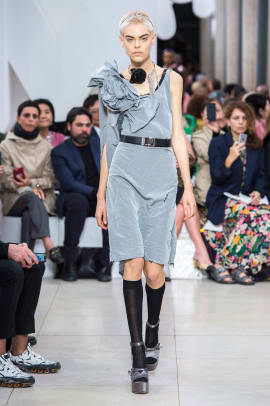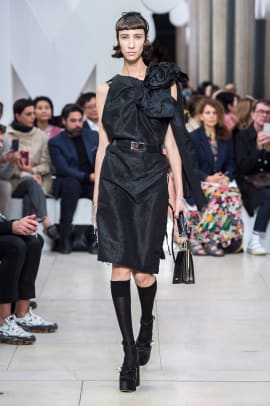 Want the latest fashion industry news first? Sign up for our daily newsletter.