Jeremy Scott Transported Us to Time Square's MTV Heyday for the Moschino x H&M Runway Show
Scott didn't stray far from his usual predilection for cartoon characters, pop and hip-hop culture references, heavy logos and serious bling, but the range still felt fresh and fun.
Cult-favorite celebrity designer Jeremy Scott is known the world over for his particular brand of kitschy, flashy fashion that's instantly recognizable as his own — whether it's a piece from his eponymous label or from a collection for the Italian house of Moschino, where he was appointed creative director in 2011. 
While Scott's tongue-in-cheek creations — which often veer closer to the "bad" end of the taste spectrum — are certainly not for everyone, he's amassed a legion of diehard fans who go to great lengths to collect his wares, no matter how far out his inspirations may be. A pop culture junkie, Scott has put a spin on almost any piece of classic Americana you can think of, from McDonald's (and junk food in general) to children's favorites like Barbie, Spongebob Squarepants, the Powerpuff Girls and Disney characters to stereotypical tropes like cowgirls, housewives, Las Vegas showgirls, jet setters and more. 
Through the years, the most iconic of Scott's pieces have proven to be the most in-your-face, so it wasn't too surprising that he went big for the launch of his Moschino x H&M collaboration in New York on Wednesday night. Guests entered what was essentially a recreation of Times Square — at once the tackiest and dreamiest spot in Manhattan — in which all of the billboards and light-up marquees boasted the name "Moschino." Music video- and commercial-like clips starring Scott and a crew of models played on a loop ahead of the runway show, which kicked off with Gigi Hadid in the opening look.  
"The Moschino x H&M collection is a gift to my fans and I wanted to give them the most Moschino collection ever," Scott said in a press release regarding the debut. "I tried to include all the ingredients you would expect from one of my shows — cartoon couture mixed with a street wear vibe doused with hip hop worthy amounts of bling bling to create a totally Moschino look." He delivered on this promise: The first models down the runway were covered in gold, from oversized metallic outerwear to layered chains and charms that had models dripping with swagger. Leather and leopard print separates were mixed with sportier pieces like underwear with logo-emblazoned elastic, sweatsuits, hoodies and parkas in all-over graphic prints, colorful puffer coats, vests and skirts, basketball jerseys and one-piece swimsuits. In true Moschino fashion, the joy was in the details; a denim skirt, for instance, was fashioned out of a jacket and came complete with a collar, paired with a sexy denim bustier.
Most of the motifs are recognizable from Moschino collections past, but just because Scott didn't stray far from his usual predilection for cartoon characters, pop and hip-hop culture references, heavy logos and serious bling, that doesn't mean the range didn't feel fresh and fun. He took it up another notch with the show's awesome casting, which included a diverse roster of top models including Naomi Campbell, Candice Swanepoel, Teddy Quinlivan, Joan Smalls and all three Hadid siblings. After Scott took his requisite lap around the runway in a pair of rhinestone overalls, Diplo filled the DJ booth as street carts served up New York street food classics like hot dogs, falafel and soft pretzels. While some got down on the dance floor, others played around with the on-site augmented reality installation (in partnership with Magic Leap and Warpin Media) and many, many more queued up for the pop-up shop, signaling that this collection is likely to be a big hit, even for those who don't drink the Jeremy Scott Kool-Aid.
The Moschino x H&M collection will officially launch in selected H&M stores worldwide, as well as online, on November 8. See every look from the runway show in New York in the gallery below.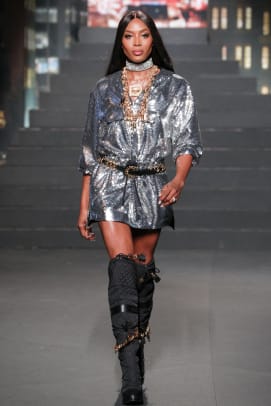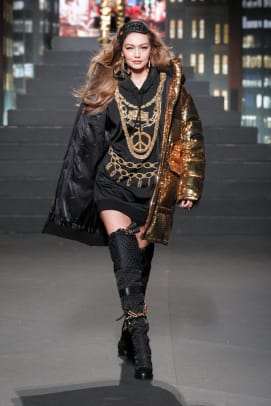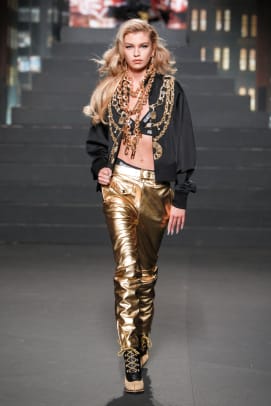 Want the latest fashion industry news first? Sign up for our daily newsletter.