19 Squeaky-Clean White Tennis Shoes You Can Wear With Anything
Except to actually, you know, play tennis.
A debate emerged within the Fashionista office last week about what so-called "tennis shoes" actually are. Are they worn expressly to play tennis, as the name suggests? Are they a regional catch-all phrase for sneakers? (By contrast, in Illinois where I grew up, I called all sporty footwear "gym shoes," or more simply "gyms." Idk! ) We were able to come to the conclusion that the term "tennis shoes" means simple, mostly-all-white low-top sneakers that one shouldn't actually wear on the court at all. (For that, might I recommend a pair of actual athletic shoes, with proper ankle support and all that?)
At any rate, "tennis shoes" — those aforementioned simple, white low-top sneakers — have maintained a permanent place in the fashion lexicon for years. It's because, and not to sound like a women's magazine in 2002, you really can wear them with anything. They're about as timeless as footwear comes, so once you find a make or model you favor, you could very well become a loyal customer for life. And what more could we ask for, really, in today's brand-driven, logo-filled consumeristic landscape?
Click through the gallery below for 19 of our favorite white low-key sneakers, all available to shop now — and to wear forever.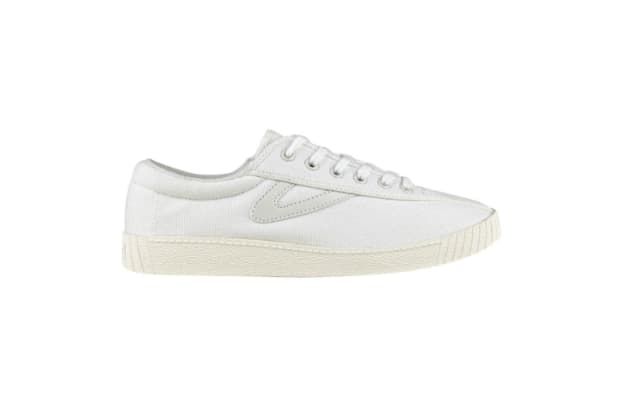 Sign up for our daily newsletter and get the latest industry news in your inbox every day.