Stella McCartney Explores the Line Between Hard and Soft for Spring 2019
This is athleisure like you haven't seen it before.
The fashion industry has had a field day mining athletics of all sorts for design inspiration: Motocross, track and field, gymnastics, ice skating, skateboarding, surfing and ballet have all found their aesthetics thrown into a blender and spit out as something trendy.
So it was not particularly surprising that Stella McCartney, too, went the sporty route for her Spring 2019 collection; the joy was in discovering how she did it. McCartney used sportif fabrics and styles — neoprene, for example, for figure skater dresses — and rendered them soft by mixing in lingerie details, like lace or delicate straps. Tie-dyes were knocked back to pastel tones, neon colors had a hint of a frill or flowed away from the body, cargo pants (yes, they're definitely back) looked perfectly worn-in. But this is still Stella McCartney, so there were plenty of masculine touches as well, like denim flightsuits or zippers running down the front of pants. Similarly, McCartney's spring florals carried into the menswear on pants and shorts mixed with soft shirting.
The metallic babydoll-style dresses swung with a '60s retro feel, grounded by McCartney's take on a ballet flat: soft and unstructured, with corded pulls. And as for bags, not even McCartney can resist the siren song of monogram branding, slapping her name across camera bags and totes alike.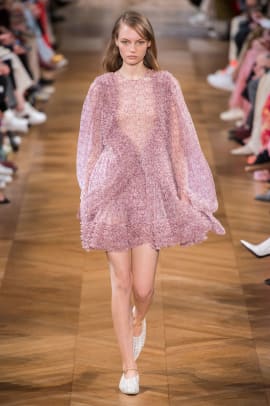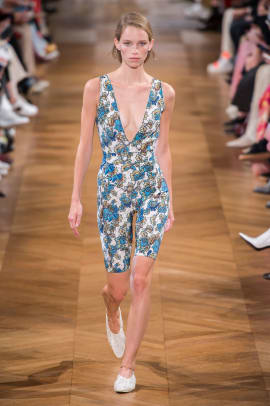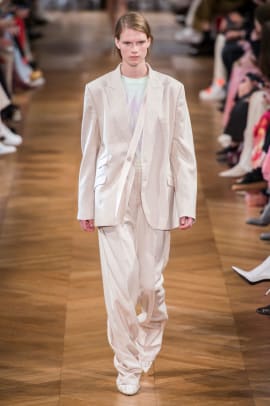 Sign up for our daily newsletter and get the latest industry news in your inbox every day.