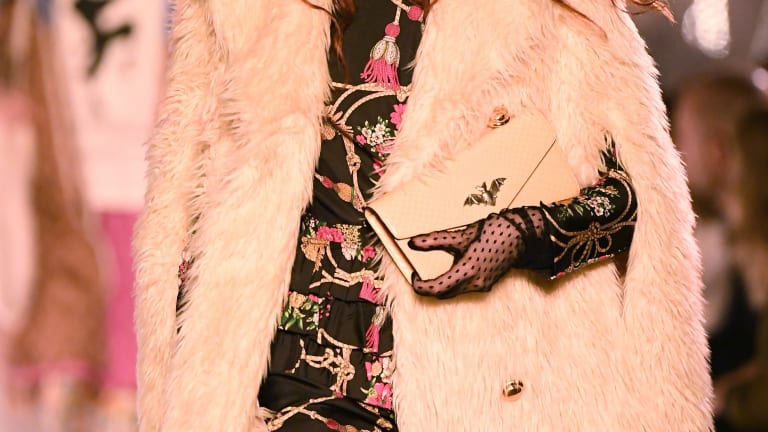 How to Convince a Fashion Brand to Go Fur-Free in 2018
As consumer tides are changing, animal welfare groups are adopting new strategies.
It wasn't long ago that a wearing a fur coat was an emblem of conspicuous consumption, a wealth signifier and status symbol that many regarded as distinguished, rather than distasteful.
In 2017 and 2018, several luxury brands (as well as retailers, magazines, fashion weeks and even entire cities) have pledged to go fur-free and ban fur sales — Gucci, Burberry, Versace and Michael Kors among them — after decades of concerted efforts on behalf of animal welfare organizations. But what, exactly, does it take to convince a fashion brand to break its bond with fur? 
For starters, this isn't the blood-flinging, radical protest era for which organizations like People for the Ethical Treatment of Animals (PETA) or the Humane Society of the United States became notorious. To be sure, those groups are still protesting the use of fur and other animal products in fashion — often outside of or during runway shows — but their efforts today are smarter and more effective than ever before. Those evolved tactics, plus the fortunate combination of better synthetic materials and a greater focus on all-around activism, has led to the broadest sweeping discontinuation of fur across the fashion industry, or as PETA's clothing campaign manager Christina Sewell calls it, "a huge industry shift."
As recently as 2014, real animal fur was well-loved among fashion's elite, a Fendi all-fur couture show marking one of the last major real-fur moments in recent memory. By 2017, Gucci led the charge within the luxury market towards a fur-free future; under Alessandro Michele's leadership, the Italian house's announcement resulted in a domino effect of sorts, wherein more than a dozen apparel brands followed.
Once faux fur found its way from pastiche to preferable, the debate focused on whether the move toward more humane materials actually created a secondary sustainability problem. (PJ Smith, fashion policy director at the Humane Society, says that's just a way for the fur lobby to foster consumer doubt about faux fur, and that though it's a few years out, lab-grown and plant-based faux fur and faux leather will come to encompass the new luxury while addressing sustainability concerns.)
Today, trendy, celebrity-approved items like faux-fur teddy coats — sales of which quadrupled from September to October, according to eBay data— have helped elevate vegan products. Also according to eBay data: the 50,000 faux-fur items sold on the website between July and September marked a 105 percent increase over three months.
The use of real fur has never been so close to virtual extinction within fashion, a goal animal rights groups are eager to achieve — though the battle is not yet won. While the U.S. represents the world's largest luxury goods market, the increasingly important Chinese consumer still wants real fur. Plus, brands like Canada Goose, with their $900-plus coyote-fur-lined parkas, have become seemingly ubiquitous, thanks in part to the massive popularity of streetwear.
For those fighting against the industry's reliance on genuine fur, protests outside fashion shows just aren't cutting it anymore. "There's a misconception we're only one-dimensional, out there on the streets throwing blood on people wearing fur coats, but we've moved on from that," says PETA's Sewell. "We're trying to take on this educational role, since it's not quite enough anymore to tell people you can't do or wear something"
Instead, groups like the Humane Society gather as much hard data as possible through initiatives like consumer-sentiment polling and supply chain investigations to present to luxury groups as a pragmatic argument for going fur-free. "Once you start making these arguments, and the designers do their own research that matches up to what we're saying and seeing, the conversations [around going fur-free] become pretty easy," says Kitty Block, the chief executive and president of the Humane Society. "I don't think anyone wants to be left."
For example, when Gucci followed up with house CEO Marco Bizarri's announcement on Instagram that the brand would go fur-free, the post became one of the house's most-liked — social media exposure translates to real dollars, says Smith. "The fur-free message is marketable, and it offsets the small sales those brands get from real fur, anyway," says Smith.
Meanwhile, PETA's social media reach has exploded. Five years ago, explains Sewell, PETA received about a million views over the course of a year on its social media videos; today, the group can attract a million video views on any given day. "That's telling that many more of our followers are sharing information, and that that information is resonating with a new wave of millennial and Gen Z consumers who are trying to be as conscious in their consumption as they can." The numbers don't lie: According to a 2017 study by Futurecast, 60 percent of young adults will spend on brands that support social causes they believe in. 
Keeping in mind the race to capture younger shoppers, brands typically can't afford to ignore the fur-free movement, says Luxury Institute consulting firm CEO Milton Pedraza. "If [fur] is not a necessity, if it doesn't define a brand's reason to exist — which it doesn't for most companies — then they're probably not selling a lot of it anyway due to consumer and societal sentiment," notes Pedraza. "If you don't have the moral clarity, at least have the economic clarity."
There are still a few big-fish players in fashion that have yet to officially declare their intention to go fur-free — most notably Prada. "We want Prada on board; we really want Prada. We're putting on a bit of our 'nice' pressure right now," says Block.
A spokesperson for the Prada Group tells Fashionista: "With regards to the recent fur-free campaigns, the Prada Group believes it is important to stress that all the advertising campaigns of the Group's brands, together with the fashion shows and displays in the shop windows, have not been presenting these products for some time, in order to discourage demand from consumers." It's a move the spokesperson says has led to a "gradual and concrete reduction" in the marketing of these products, which reportedly represent less than 0.1 percent of Prada's entire production.
Beyond presenting the social media case, there are other strategies animal rights organizations employ to capture a brand's attention. Sometimes that means presenting a portfolio of alternative textiles, swatches made from recycled plastic bottles or leathers made from pineapple leaves, says PETA's Sewell.
Other times, the tactics happen outside of meetings, like when PETA encourages its followers to sign "petition action alerts," where 150,000 emails get sent to a company's social responsibility team, flooding the gates with consumer-prompted messages to go fur-free, as was the case with Michael Kors. Another useful public strategy is executed when PETA buys enough of a company's stock to attend annual shareholder meetings and present the findings from supply chain investigations.
And rather than trying to convince established fashion houses to stop using fur, animal rights groups are addressing root causes and attempting to keep student designers from getting involved with using the material in the first place. Auction houses like Saga Furs would engage fashion design students at schools like Parsons and the Rhode Island School of Design and offer free materials and workshops on how to use animal fur, says PETA's Sewell.
To combat the allure of free-but-harmful materials, PETA has its own school-based plan of action, which includes participating in fashion school design competitions that encourage the use of vegan materials and hosting panels about the use of faux fur in design.
As much as the conversation over faux fur is about animal welfare, this is about fashion, Block reiterates. "And now that we have some of the top designers in the world designing [faux fur,] who wouldn't want that? It's easy to do the right thing now."
Homepage photo: A faux-fur coat on the runway at Gucci's Cruise 2019 show in Arles, France. Photo: Daniele Venturelli/Getty Images
Sign up for our daily newsletter and get the latest industry news in your inbox every day.