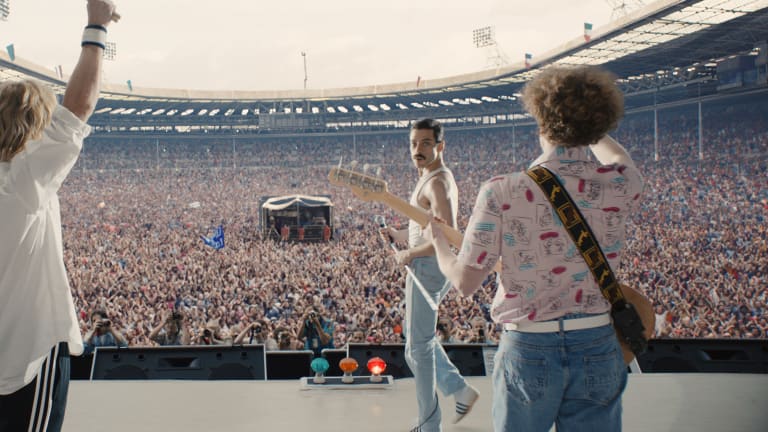 The Costumes in 'Bohemian Rhapsody' Help Rami Malek Victoriously Transform into Freddie Mercury
Julian Day enjoyed creative license in dressing the legendary frontman off-stage, too.
"I have fun with my clothes onstage; it's not a concert you're seeing, it's a fashion show," Freddie Mercury once famously said. As in real life, the costumes in "Bohemian Rhapsody," starring Rami Malek as Mercury, reflects the same sentiment from the late Queen frontman, thanks to costume designer Julian Day.
"[Mercury] was a real champion and visionary for people to break rules and break free of what the norms should be," says Day, over the phone, about Mercury's groundbreaking on- and off-stage fashion legacy. "He's a real pioneer."
The movie opens and closes with the historic 1985 Live Aid charity multi-stage concert, which broadcast on television to an estimated 1.9 billion viewers globally (an impressive feat, especially in the days before the internet and YouTube). Led by an electrifying Mercury, Queen's rousing performance — in front of a screaming live audience of 72,000 at Wembley Stadium — is lauded as one of the best live performances of all time.
RELATED ARTICLES
Considering the vast number of people who watched the set live on TV — and in the years since online — Day and his team had to meticulously recreate each band member's costume. He reached out to Adidas to reproduce the '80s-era thin-soled boxing shoes that Mercury and May (a spectacularly bewigged Gwilym Lee of "Midsomer Murders") liked to wear. For Malek, Day tracked down Robert Alsop, the original leather designer, to recreate Mercury's studded belt and armband. He also asked Wrangler to remake Mercury's impressibly snug stonewashed jeans — down to the stitching on the back pocket and the label on the butt.  
Shockingly, Day didn't have to sneak any costuming tricks into the denim for Malek to impressibly reenact Mercury's athletic kicks and limber side lunges. But the costume designer did add a dash of lycra into the 20 to 30 white tanks in the wardrobe to allow for Malek's required choreography for the multi-song set — and a tweak at the request of the lead actor. "We were just about to film and [Malek] said, 'Oh, can you just scoop out half a centimeter, because it's not feeling how it does on the video,'" notes Day. "So we did that. He was very particular and very thorough about everything."
Speaking of input, Queen's lead guitarist and drummer, Brian May and Roger Taylor, respectively, were also executive music producers and creative consultants on the movie, as well as a regular presence on set. "It was quite daunting, to be honest with you," says Day, whom Fashionista last spoke to about his femme fatale from all eras looks in Margot Robbie's "Terminal." May was also "very, very, very particular" about how he was sartorially represented on screen. So when Day showed the guitarist the Live Aid costumes for Lee to wear, May offered an alternative idea. 
"He was like, 'Why don't you come to my house? Then you can borrow some of my own clothes,'" Day recalls about dressing Lee in May's actual clothing from the '70s and '80s. The actor has also been giddily rolling out other pieces straight from May's closet on his Instagram, including a white leather bomber with massive shoulder pads and the guitarist's personalized robe worn in the banned in the U.S.A. "I Want to Break Free" video, also reenacted in the film. For the pink cartoon-printed shirt that bassist John Deacon (played by Joseph Mazello) wore, Day analyzed old videos to meticulously recreate the print and custom-build a version of the original (top, right).
The movie also shows scenes of Queen's milestone concerts featuring Mercury in his still-celebrated on-stage costumes, which required Day to dive into the Queen archives to study the actual pieces and analyze copious amounts of footage. He also visited the studio of famed British fashion designer Zandra Rhodes, who also dressed May (and Princess Diana), to recreate the deep plunge harlequin jumpsuit and the pleated butterfly tunic, which started out with a different — but also special — purpose.
"Apparently, Freddie went to see Zandra and she was fitting a wedding dress at the time; he looked at wedding dress, and was like, 'I must have that,' and she cut the bottom off the wedding dress and gave him the top to wear," says Day, who made the piece in a lighter satin for extra cinematic movement on Malek. 
He also asked designer Alsop to recreate the crown Malek wears — with his royal epaulets and no shirt — to host the rager in his new posh house in Kensington. "We wanted to go back to where the origins of where all these things started," says Day. 
Of course, Day also enjoyed creative license for non-concert moments of Freddie and the band, plus his relationship with former fiancée turned lifelong companion and ultimate heir to his estate Mary Austin (Lucy Boynton). To depict Mercury in his pre- and early Queen days, the costume designer looked to the eclectic punk, goth, hippie and boho aesthetics of Kensington Market, where the singer had a stall in the earlier, leaner years. All the cool kids, including budding rock legends David Bowie and Jimi Hendrix, hung out at the now-shuttered flea market in the '70s.
The boho style of the '70s was influenced by the '30s, so Day scoured vintage stores in London and Paris, plus costume rental houses for vintage women's blouses for Malek to wear. "There's silks and beautiful fabrics and great patterns," he says. When Freddie goes to visit Mary at her workplace Biba, the "It" girl and proto-fast fashion London boutique of the time, he tries on a wine-hued velvet blazer, which is actually an original '30s piece. Day used original Biba on Malek and Boyton, but also built Biba-esque pieces to supplement the vibe.
Freddie's burgeoning rock god outerwear game emerges for an initial meeting with managers John Reid (Aiden Gillen) and Paul Prenter (Allen Leech). He saunters in wearing a cropped white leather jacket detailed with what appear to be batwings, thus eliciting some teasing from his bandmates ("You look like an angry lizard"). In real life, the outerwear has a legendary provenance, too.
"Apparently that jacket was found in Jimi Hendrix's flat after he died," says Day, who borrowed the notable piece from costume rental house and longtime collector Carlo Manzi. For Lee as May, the costume designer also found some original designs, like a purple velvet jacket, by bespoke tailor and designer Mr. Fish, aka Michael Fish, who's famed for being an integral part of the the menswear "Peacock Revolution" in the '60s — and for dressing fellow sartorial game-changers and music icons David Bowie and Mick Jagger.
The movie also depicts Mercury's sartorial evolution into a BDSM-influenced style — shocking to the mainstream in the '80s — infused with lots of leather and hardware. "I went to fetish shops and we made some leather trousers," says Day. For a mostly cut club scene featuring upwards of 100 extras in bondage-style gear, he looked the work of photographer Robert Mapplethorpe, who documented much of the scene in the '60s and '70s and the controversial gay serial killer 1980 film "Cruising," starring Al Pacino.
But dressing extras happens to be one of the favorite parts of Day's job. Lucky that since he had to outfit 500 to 600 background players in '80s-era outdoor concert-wear for the Live Aid segment. Day and his team spent four days raiding a pay-by-the-kilo thrift emporium in the north of England for appropriate clothing from the era.
"I love dressing extras anyway because ultimately people don't necessarily have an opinion on extras," he says. "They just have an opinion on the main actors, so you can get away with a lot with extras." Personally, the stagehands lingering in the wings and wearing particularly excellent distressed jorts were a highlight.
"I really enjoyed doing the clothes and I hope that gets reflected in the film," says Day, whose next project is the Elton John biopic "Rocket Man" — which looks to be another spectacularly fun big screen fashion show.

'Bohemian Rhapsody' opens in theaters on Nov. 2.
Never miss the latest fashion industry news. Sign up for the Fashionista daily newsletter.