Candice Swanepoel Drew on Her 15-Year-Long Modeling Career to Start Her Own Swimwear Business
The mother of two, who quietly launched Tropic of C earlier this year, calls the brand her "third baby."
As Instagram and the influencers that dominate it continue to assert their selling power within the fashion industry, certain social media-driven market trends have emerged. Not only are consistently traveling influencers launching clothing brands in droves (with swimwear among the most popular categories), the far-flung sponsored vacation has proven to be an increasingly lucrative marketing program for retailers looking to build their online audiences and push seasonal products. 
In many of these cases, the personality behind the brand is leveraging their social capital as a built-in customer base and crafting the label's vision on both their personal aesthetic and the commentary they receive daily from their followers. However, certain big names on social media are industry veterans who have decades of multifaceted experience to draw upon when finally venturing out into the world of entrepreneurship. Candice Swanepoel, who's been a fashion fixture for 15 years primarily thanks to her work as a longtime Victoria's Secret Angel model, falls into the latter camp, and in 2018, she decided to take the plunge (pun intended) on starting a swim company of her own, called Tropic of C.
"It's been [in the works] for a couple of years; I was waiting for the right moment," Swanepoel explains at a recent press preview for her resort collection in New York. "It took me a while to find a team because you end up working very closely for a long time — I took a lot of meetings. And when Victoria's Secret stopped swim, I just went for it."
Unlike many of the trend-driven, Instagram-friendly styles of swimwear that have dominated your social media feeds for several summers, Tropic of C launched with a tightly edited selection of classic silhouettes in a variety of muted and neutral colors. The form-fitting bodysuit styles — like the brand's eponymous signature one-piece suit, "The C" — are meant to be styled with clothing, like high-waisted jeans or a maxi skirt, when the wearer isn't lounging by the pool or spending the day at the beach. "When I'm on holiday or I'm packing, to be able to just throw a skirt on with a swimsuit is really nice — you can still feel chic and elegant," Swanepoel says.
The Resort 2019 collection just made its online debut, and Swanepoel notes that she's made a serious effort to source the best fabrics (including Italian knits and durable, eco-friendly regenerated nylon) from the company's inception. "I really focus on the quality of the suits; I didn't want to create something and just throw it out there," she says. "It's all stuff that I want to wear. I tend to stick to a certain aesthetic that I like and that I think looks good on the body. A lot of the pieces are high-cut — the necklines are very flattering — and there's a little bit of ballet inspiration, as well." Prices range from $80 for a top to $180 for a statement one-piece, with most separates designed to be mixed and matched.
The emphasis on fabrication played a big role in how the suits eventually were fit — though, somewhat unsurprisingly, Swanepoel served as the main fit model. ("It's the control freak in me," she laughs.) "I know there's different bodies out there, but if the fabric is quality enough and has a good stretch, it can mold to many different shapes." She and her team tested out each style before they were sent into production in order to make sure the fabrics attached to the body, ensuring that they'd stay put through a day of activity. "Even though you don't see a lot of structure with padding or cups — that's why I'm so crazy about the fabric — [the top] still holds you in."
In the months since Swanepoel started Tropic of C, she's relied on direct feedback from customers via social media to learn what customers want most from her — and has enjoyed having shoppers engage with her products with more than simply an Instagram like. Though the 30-year-old model has plugged dozens of designers' goods on her social media feeds over the years, promoting her own creations is completely different territory. 
"This is like my third baby, so it's really easy for me to be enthusiastic and tell you everything about it," Swanepoel explains of posting her Tropic of C wares to her 12.7 million Instagram followers. "Sometimes when I'm selling someone else's product, I don't know the back-end, but obviously that's part of my job. I love that I can do it in my way and have it be so me. As a model, you have to be a chameleon, and it's nice to be in control of the art direction and involved in every aspect of the business."
During her time as a Victoria's Secret Angel and the face of countless luxury brands including Tom Ford, Givenchy, Oscar de la Renta, Versace and more, Swanepoel has observed (and interacted with) almost every behind-the-scenes gig the industry has to offer, from technical designers to casting agents to the all-important creative directors. It's from this first-hand experience on set, on location and in designer fittings that she gathered the skill set necessary to start a company of her own and became infatuated with the idea of trying out other areas of the fashion business. "I love the creative aspect, the art direction, dreaming up the shoots — the story of the girl, the coloring, the editing, the whole photography side," she says. "I really get to use that as a creative outlet."
Aside from juggling a new venture with parenting her two young sons, she's been thrown in the deep end when it comes to the nitty-gritty of entrepreneurship. "I've been forced to learn the whole business side, which has really gotten me out of my comfort zone — budgeting, booking, accounting," she recalls. "I'm bombarded with invoices daily, from manufacturing, from distribution, all of that." Tropic of C plans to stick to the regular swim calendar when it comes to new releases, and is keeping its network of retail partners small for now, with Goop and Moda Operandi on board for wholesale retail in addition to her own e-commerce site.
Swanepoel insists that Tropic of C is growing quickly, and though she's anxious to see where the new project takes her, she's abiding by the "slow and steady" mantra when it comes to expansion in the early stages. "I've been very specific about keeping it small and keeping it mine," Swanepoel asserts. "I didn't work for 15 years to build a brand to just give it to someone else."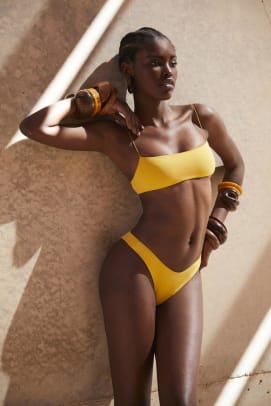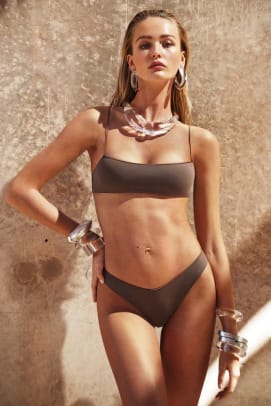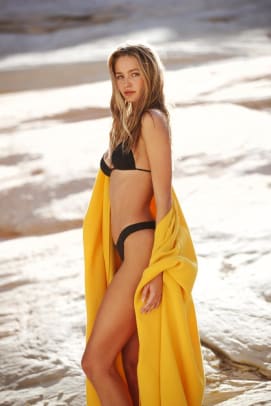 Stay current on the latest trends, news and people shaping the fashion industry. Sign up for our daily newsletter.