Jason Wu Is Excited About Your 'Take My Money' Memes for His Eloquii Collaboration
"That's the most any designer could wish for."
In the straight-size fashion world, high-low designer collaborations are nothing new, having lead to in-store frenzies and sell-out collections for the likes of Target and H&M. But in the plus-size industry, these capsules are still pretty new. Perhaps that's a main reason why shoppers are already freaking out over Jason Wu's upcoming collection for Eloquii, which officially launches Nov. 1.
"So far [the reaction] has been amazing — there's a lot of 'take my money' memes happening over there, so I was very excited about that," Wu says with a big laugh. "It's always great to see a market that you're not familiar with be so enthusiastic about what you do, that's the most any designer could wish for."
Wu is neither a stranger to fast fashion collaborations, having released his own collection with Target in 2012, nor to working in the plus industry, counting himself amongst the designers who works with upscale e-tailer 11 Honoré. The opportunity to work with Eloquii was too good for Wu to pass up, though, and the end result is a holiday-ready line packed with sparkles and lush textures. 
We caught up with the designer ahead of the line's launch to get the details on the inspiration behind the partnership and how this experience could change his main business. Just remember to keep sending him those fire memes. 
What made you want to work with Eloquii?
I think Eloquii is definitely a leader in terms of this new breed of digitally-minded fashion companies, and that's something I'm super interested in, because I think these are companies that are really standing out, especially in the American fashion scene. I've worked with Stitch Fix before, I work with Rent the Runway a lot; with these new businesses, it's interesting to tap into markets that are not traditionally mine. 
This is no exception: Not only is Eloquii a digital native brand, it's also plus [size], another category that I haven't fully stepped into. I've done some plus sizes for 11 Honoré in select collection styles, but never a full range, so this was new in every direction. 
This was obviously very holiday-focused, but was there any specific inspiration?
I wanted the first capsule to be very quintessentially Jason Wu and I've always been really inspired by the '50s. I thought that was a really good era, because in the '50s, curves were much more embraced than they were later — like in the '90s, you know? Look at Marilyn Monroe, Sophia Loren; they were much more body girls. That was a really great area for reference, not only because it was the golden age of couture, but it was an era where that very womanly look was celebrated, so I wanted to use that as the starting point.
What was the process like, putting this collection together with Eloquii?
It was great, I learned a lot. For the price point, we were able to achieve everything for under $200 and we were able to get a very elevated feeling in the collection, which was important to me because I don't like the idea of "watering down" any designs because of price point. We were able to provide things that look designer with Eloquii.
What was the most exciting part for you?
I think the most exciting part was seeing it all coming together on Paloma [Elsesser] at the shoot, because it's like show time; for the first time in the project, you see your vision come to life, whereas during previous parts you're just seeing bits and pieces of the collection in the wrong color or the wrong fabrics while you're fitting. To see the samples [on the rack], and then to see it on the muse of the collection, it feels real. It feels like you've accomplished something, and it feels really nice.
What was the most challenging part of the process?
The most challenging thing for me was to think about fitting a different shape, body; that's something that was a learning curve. But I think we were able to quickly adapt to it and really able to adjust my sensibility to work for plus. 
What did you learn through this process that you might apply to your main collection?
Definitely the online aspect; the idea that this collection was curated directly for the customer, versus a traditional store, does change the way you think about the collection, like how you see it online and that you can do these little capsules. When we're doing [market for] brick and mortar stores, we can't do collections of this size because you're not filling a rack, versus we can do themed collections that are like drops, which is the idea of this. 
It drops in November, it's exactly what you want to wear in November, and that's it. It's super simple. It takes the weird seasonality — that has become even weirder with climate change — out of the question. This is a November/December appropriate collection, and that's nice. In the traditional sequence, you're thinking six months ahead, and it kind of never ships at the time, but winter is, like, July. [laughs]
I knew when we went into this I wanted to start with a more cocktail, evening-based collection because I thought that's what people would be excited to see from me, and also it feels very authentic, and it's available when you want it to be available.
See every piece from Jason Wu's collaboration with Eloquii; you can shop the collection here.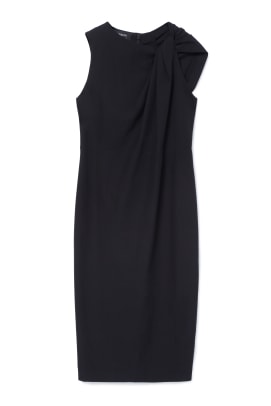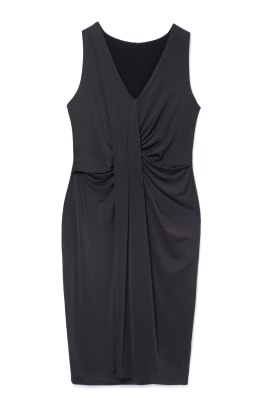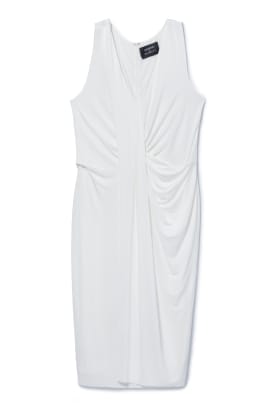 Want the latest fashion industry news first? Sign up for our daily newsletter.