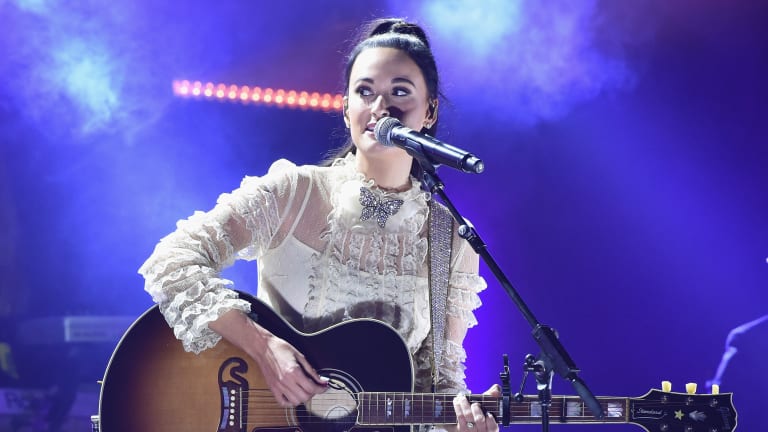 With Vintage Style and a Love for High Fashion, Kacey Musgraves Is a Different Kind of Country Star
Get the stories behind those archival Versace dresses and high-voltage Rosie Assoulin jumpsuits.
There's something familiar at the edges of a Kacey Musgraves music video or a live performance; a passing glance at Priscilla Presley, perhaps, or a hint of '70s Cher. (Even, on more than one occasion, a damn near-identical resemblance to Kyle Richards, Real Housewife of Beverly Hills — and now that you think about it, have you ever seen them both in the same place?) But there's also plenty of newness in there, between iridescent dresses by Rosie Assoulin and powder blue jumpsuits by Lela Rose. It's the same tension between old and new that Musgraves brings to her records, captured perfectly in her look by a team of stylists. 
"There is something about her that is reminiscent of some of these past classic fashion women that we know," explains stylist Erica Cloud, who began working with the country star in the lead up to the release of "Golden Hour," her latest album. "But there is something about her that is modern and current, and that's the kind of line we like to walk — not being kitschy and doing too much of a costume, but having a hint of something classic is never a bad thing."
It was Musgraves's manager who linked her up with Cloud just over a year ago, thinking she would be the perfect person to help Musgraves cross the bridge stylistically from the more straightforward country star she had been into this new era of her sound: still country, but tinged with elements of folk and disco. One of the first looks they did together was a sparkly jumpsuit from Jamie Mizrahi's Juicy Couture collection for an appearance on "The Tonight Show Starring Jimmy Fallon."
"That really created the next vibe for her," says Cloud. "It was the hint of the sparkle that a lot of country artists tend to do, but at the same time, it was a very clean and modern silhouette."
From there, Cloud incorporated a lot of rainbow motifs — the album closer is titled "Rainbow," after all — and plenty of pieces from Rosie Assoulin, "because her work is like art," according to Cloud. There was a choir-inspired, white-pleated gown from Assoulin with a metallic rainbow for a performance of "Rainbow" on "Late Night with Seth Meyers"; a pink halter paired with jazzy blue pants featuring a pink and orange stripe, also by Assoulin, styled with gold Giuseppe Zanotti platforms and Alison Lou jelly Loucite hoop earrings for a performance of "High Horse" on "Saturday Night Live"; that powder-blue, off-the-shoulder Lela Rose jumpsuit for a performance of "Velvet Elvis" on "The Late Late Show with James Corden" — a nod to the song's line, "Go out with you in powder blue and tease my hair up high."
And speaking of teasing hair high, Musgraves also avoids the kind of voluminous pageant hair that might otherwise define her genre. That's the work of both Ali Ryan, who has been working with Musgraves for several years now, and Giovanni Delgado, who first linked up with Musgraves through an old roommate. Between the two of them, references for hairstyles range from Chris Von Wangenheim shots of Veruschka and Cher to Brigitte Bardot and a mix between Harajuku culture and '60s mod. 
"We're really collaborative," says Delgado, noting that he bounces off of Cloud and Musgraves's makeup artist Carlene K, as well. "She has a vision for literally every specific performance, very, very fine tuned — she's just a mastermind."
"She'll come to me with three ideas and I'll come to her with three, and a lot of times two out of the three are exactly the same," adds Ryan. "So something will just click and we're like, 'That's it, let's just do it.'"
One of Ryan's favorite looks the two collaborated on — besides, of course, Musgraves's wedding day style, which Ryan handled — was the teased-up hair on James Corden, tied up in a tiny bow; Delgado loves the Priscilla Presley-meets-"Valley of the Dolls"-inspired hair they came up with for "Austin City Limits" this past June. But when Musgraves goes on tour, she mostly handles styling her own hair.
"I'm on just major city shows with her and we constantly text each other inspiration images randomly all the time anyway," says Delgado. "Whenever we get to the venue, we can pull through images and we just come up with a vision because we have all these references already back stocked."
Ryan has also stocked her up with faux-ponytails that Musgraves can just clip in on nights that she doesn't want to spend the time teasing up her hair, but she'll never skip out on glam altogether. "Some artists get a little bit lazy when they're on tour — like they'll just throw in like a handkerchief or something — and she's not really like that," she explains. "She really has such respect for her entire look and the entire performance she wants to display to everybody."
And try not to be too jealous on this one: Musgraves really doesn't need much by way or work or maintenance when it comes to her hair. "One thing about Kacey is — and you can quote me on this! — she's got the prettiest hair of anyone ever; she does not need extensions," says Ryan. "It's thick enough, it's shiny, it's so pretty, it's so easy to work with, but she also doesn't have to wash it, but maybe once every two weeks." That comes in handy, since Musgraves spent the summer opening up for Harry Styles and is currently wrapping up a headlining European tour of her own; she'll pop in for bang maintenance and a quick trim. 
Musgraves also handles her own makeup while on tour, but she's learning from her makeup artist Carlene K, who bonded with the star over a shared love of Priscilla Presley (there she is again!) and winged eyeliner. "She's actually really amazing at makeup, but throughout the years, if she likes something different that I do, I'll teach her how to do it and then she works it out," explains Carlene.
Carlene says that while Musgraves definitely leans toward a vintage vibe, she's always down to play with color and glitter, meaning that she gets to pile on the highlighter (Benefit's "Watt's Up," if you're curious) and crystals picked up while touring in Japan — especially for the '70s-inspired "High Horse" music video. 
"Her and I just fell in love with everything in Japan, so I feel like from that point forward we started playing with a lot more color and glitter," says Carlene. "We play a lot more for tour and for music videos, then for TV appearances, we go a little bit cleaner. We like to keep it bold, but kind of timeless."
The star look of the "High Horse" video has to be the shimmery Rosie Assoulin dress Cloud pulled for its disco vibes, paired with Jennifer Fisher earrings to keep it modern; that dress also made a reappearance on tour with Styles when the duo pulled off a surprise performance together at Madison Square Garden during Pride Week. "It was almost like a "Sonny & Cher" type of aesthetic if you put them next to each other," says Cloud, who planned Musgraves's wardrobe in part to complement Styles's own, largely Gucci-lead '70s aesthetic. 
Cloud also helps put together the backing band's looks to serve as the perfect backdrop for Musgraves, but it's always her who is at the center of attention — and that's exactly as it should be. Musgraves has plenty more on her plate this fall, like a judging appearance on "RuPaul's Drag Race: All Stars" and a performance at the 52nd Annual CMA Awards, but it feels like she's just at the beginning of an exciting new phase of her career. No matter what comes next, though, always expect the unexpected when it comes to music and style.
"She's almost gotten so much more comfortable in her skin — I don't necessarily want to say that, because I don't want to be insinuating that she wasn't [before "Golden Hour"] — but she's very much found her way and knows what she likes, but she also likes to evolve and change, so I feel like you're never going to see her really settle," says Ryan. "She's always going to be wondering what's going to be next and new for her; she breaks the box and the mold because she doesn't care what anybody else is doing."
Homepage Photo: Kacey Musgraves in Red Valentino during a January 2018 performance. Photo: Lester Cohen/Getty Images
Want the latest fashion industry news first? Sign up for our daily newsletter.