The Met's Latest Exhibit — 'Jewelry: The Body Transformed' — Explores Jewelry as Anthropological Artifacts
It's about not how jewelry is made, but how it makes us.
We at Fashionista spend a lot of time casting our eyes on jewelry. It impacts every red carpet look, graces every street-style star du jour and more personally, plays a role in our own very singular, day-to-day existence. And while jewelry is ever-present, participating in the very intimate act of adorning our bare flesh and limbs, it's almost, well, not there at all. 
Jewelry, like clothing, exists as an extension of our beings. It's meant to be seen and admired, of course, but it's also meant to assist us in seeing ourselves, understanding our culture.
In the Metropolitan Museum of Art's latest exhibition, "Jewelry: The Body Transformed," six curators came together to investigate what jewelry actually is, and what meanings it conveys. What resulted became an inventive and expansive show that examines 230 objects created between 2,600 BCE and the present day. The collection is organized not by timeline nor by civilization, but by theme, and treats each piece as more of a miniature sculpture than as an outwardly-facing stylistic accessory.
"While jewelry is ubiquitous, the cultures of the world differ widely regarding where on the body it should be worn," said Melanie Holcomb, curator, department of medieval art and The Cloisters. "By focusing on jewelry's interaction with — and agency upon — the human body, this exhibition brings in a key element that has been missing in previous studies of the subject."
In her opening remarks, Holcomb encouraged myself and my fellow visitors to follow what catches our eye, as if to traipse around the room languidly and zero in on what strikes our fancy. This is, theoretically, much of why we've always worn jewelry in the first place: to activate our desires to be looked at. 
As such, the space is displayed so that guests are able to journey through thematic corner to thematic corner, seeing all sorts of things — necklaces and rings, headdresses and ear ornaments, brooches and belts — from all walks of life and eras of time. Showcased are, obviously, the traditional splendors: Gemstones that, through humankind, have represented a refined cosmopolitan aesthetic; ancient baubles from the global gold-mining hub of West Africa as well as from Hellenistic Greece; heaps of turn-of-the-century treasures created by Louis Comfort Tiffany and later, Tiffany & Co. 
But as The Met communicates in this exhibit, jewelry is not always intended to shock and awe. A series of Edo period Japanese hair ornaments, or Kanzashi, demonstrate subtlety; elsewhere, a sizable range of pearled pieces and otherwise virtuous bridal accoutrement reaffirm traditional notions of patriarchal feminine gender roles. 
"Jewelry: The Body Transformed" also considers broader, more universal cultural qualities, including spirituality, regality and divinity. Jewelry has long been associated with metaphysical behavior, worn throughout millennia and across cultures to conjure spirits, appease gods and invoke ancestors. Of the latter, several objects on display from the Pacific Islands feature material from or imagery of animals — the long-billed frigate bird, for example — thought to awaken ancient family members from their death. In the regality section, dazzling jewels of 19th-century European aristocracy mingle with opulent rings of the Ptolemaic elite, meant to both accentuate authority and provide flash. 
Jewelry also possesses a darker side, one that, to paraphrase language used in text throughout the exhibit, pushes the limits of glamour, courting danger, skirting pain. In this section, the work of Alexander McQueen is well-represented. ("You find beauty in the ugliest of places," he famously told his longtime house jewelry designer Shaun Leane.) Here, you'll find startling pieces by Elsa Peretti (above), Alexander Calder and Leane himself. On display is Leane's iconic crown of thorns, designed for McQueen's Fall 1996 collection, as well as his silver-plated aluminum jaw-piece from McQueen's Spring 1998 range.
The show rounds out with not one, but several pièces de résistance, including a funeral collar from Tutankhamum's funeral feast; the item dates back to 1,335-1,327 BCE and is still in miraculous condition, constructed from papyrus, olive leaves, cornflowers, blue lotus petals and linen. Beside it is a comprehensive set of funerary jewelry from the tomb of the Three Foreign Wives of Thutmose III; this discovery is a century older even, dated from 1,479-1,425 BCE.
While doing just what Holcomb requested, waltzing through the exhibit with neither a path nor an agenda, I found myself considering the people who were wearing these pieces — what lives did they lead, and what support did these ornaments provide along the way? I suppose that is, and was, the point, to have more profound thoughts about truly profound objects that are, unfortunately, often considered to be merely superficial ones.  
The Met's "Jewelry: The Body Transformed" opens on Monday and runs through Feb. 24, 2019.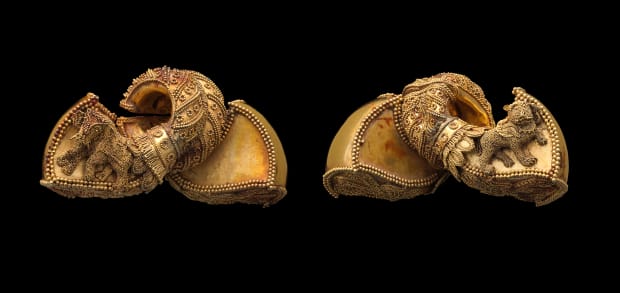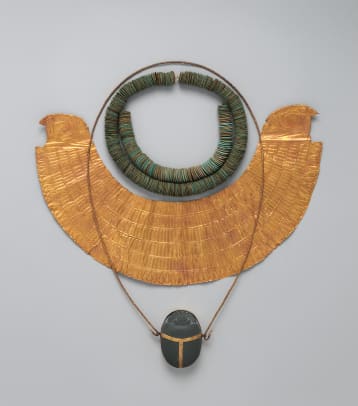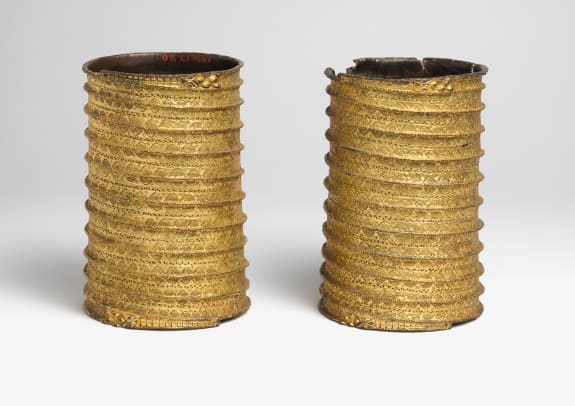 Sign up for our daily newsletter and get the latest industry news in your inbox every day.