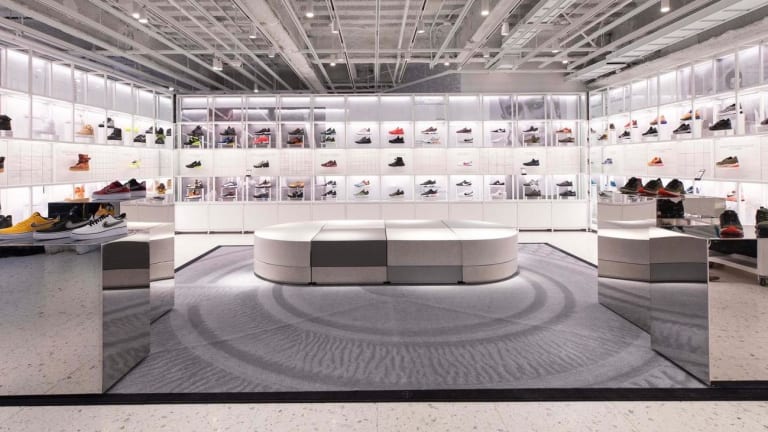 Nike's Global Flagship Masterfully Combines the Best of the On- and Offline Shopping Worlds
The Fifth Avenue store offers ample opportunity for a hands-on, personalized retail experience, but is fully integrated with apps for those who prefer to grab an item and go.
There's so much data floating around regarding modern consumer shopping habits — especially those of millennials and Gen-Z-ers — that staying up-to-date on the findings requires serious effort. A quick scan of recent studies would bring several key buzzwords to the forefront: mobile, experiential, personalization, exclusivity and community are among the most commonly mentioned. 
Though shopping online gets more seamless by the day, brick-and-mortar stores are quickly adapting to the changing landscape. By taking customers' complaints, wants and needs into account, they're able to create retail environments enticing (and Instagrammable) enough to get people offline and into a physical location. On the more advanced end of this evolutionary spectrum, companies are fully integrating technology into their stores, whether through the use of AI, apps, access to inventory information, BYOPIS (buy online, pick up in store) capabilities and more. 
That said, it's clear that Nike — which is consistently named as a favorite brand among millennials — did its homework while conceptualizing and designing its new global flagship store on Fifth Avenue, opening to the public on Thursday. Not only does the six-story space offer ample opportunity for a hands-on experience through made-to-measure clothing, customizable sneakers and full-service styling and product education, it also enables shoppers to just grab their gear and go — thereby avoiding most human interaction — by using the Nike App to search, request and pull products around the store and instant checkout stations.    
Nike's newest location — which has been dubbed the Nike House of Innovation 000 — can be described as "retail theater," in that it's personal, responsive and able to communicate the brand's stories on a consistent basis. The first floor, called the Nike Arena, is built like a soundstage; the floors are removable with industrial strength beams throughout that will allow for changing installations and spacial configurations as time goes on. 
This ability to transform is a key factor Nike's belief that this flagship will be able to stay relevant for longer, even at the breakneck pace at which the market is evolving. It's here that customers will find a selection of customizable, exclusive product that will rotate every two weeks. Sneakers on offer at this location won't be available anywhere else, and visitors will be able to personalize almost every aspect of their purchase, from the dye to the laces to the swoosh and the hardware.  
Moving upward, the second and third floors house curated seasonal collections for women, young adults and men, complete with lounge-like dressing rooms and convenient digital shortcuts. (For instance, QR codes on each mannequin allow shoppers to pull its full outfit credits piece-by-piece up on the App, without having to search the entire sales floor.) Stations on the floors allow for self-checkout, too — all through the Nike App. 
The fourth level is a sneakerhead's dream: The Nike Sneaker Lab is the largest Nike footwear floor in the world, with spaces dedicated to innovation (learning how the sneakers get made), discovery (learning why certain styles are "cool") and hype. Regarding the latter, a small selection of high-heat styles that can be reserved on the SNKRS App will be on offer, introducing flagship shoppers to the collector community and culture. Additionally, the full range of footwear for both men and women is meticulously on display, with each shoe individually lit in a similar way to a piece of art.
The Expert Studio on the fifth floor offers by-appointment sessions for customers who are looking for premium customization — from made-to-measure and personalized clothing, to styling services that will help meet specific performance goals. For local athletes who'd rather avoid a five-floor journey to get what they need, the Nike Speed Shop on the ground floor (complete with a separate entrance around the corner) allows customers to simply pick up online purchases and be on their way, or browse a tightly curated selection of classic sneakers, clothing and outerwear. The offering on this floor is data-driven and reflective of what's trending in New York City at the time; for tourists who want an authentic souvenir, the Speed Shop is a savvy shortcut.
The flagship opening coincides with the holiday season, when foot traffic on Fifth Avenue reaches fever pitch, but the promise of exclusive products, a changing atmosphere and a variety of personalization services will hopefully be a big enough draw to get Nike's loyal community of customers shopping uptown on a regular basis. This ambitious new store also serves as proof that, while the industry's been struggling to bridge the worlds of on- and offline shopping to meet the modern consumers' needs, Nike seems close to cracking the code.
Want the latest fashion industry news first? Sign up for our daily newsletter.