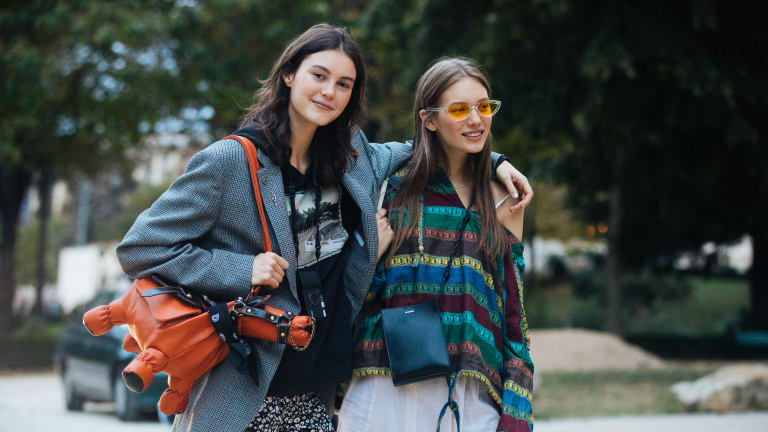 The Secret to Truly Unique Personal Style Is Listening to Your 13-Year-Old Self
We weren't as clueless about clothes as we thought; maybe the rest of our tween selves weren't so bad, either.
Last week, I visited the Dolls Kill site for the first time in my 33 years and ordered a logo tee from their recent Delia's collaboration. Arguably, this didn't make a lot of sense: On top of the fact that I live in sweaters and long-sleeve shirts during the winter, my teen years largely consisted of living vicariously through girls who could actually afford Delia's. As a Canadian raised by working-class parents, ordering pieces via catalogue without being able to try anything on was a luxury beyond our means. So, by the time my friends and I were old enough to drive to Buffalo to bask in the American brands we grew up fetishizing, the Delia's star had begun to fade. The early 2000s ushered in the era of Von Dutch hats and Juicy Couture tracksuits, anyway.
But in the last few seasons especially, we've seen a mall-brand renaissance. While I know that part of our return to the likes of Tommy Hilfiger, Club Monaco and (obviously) Delia's is rooted in the comfort that nostalgia brings, I think a bigger part of it is our realization that we weren't so terrible as teens and adolescents. That maybe, despite the awkwardness that accompanies growing up, our former senses of style weren't as shameful as they were largely influential. After all, we're the sum of our pasts and the sum of our parts. We're more than just the #TBT posts that manage to fall in line with our curated aesthetics. We're the result of, well, everything — the fashionable and the not-so-much.
This helps to explain our zest for re-issues and celebrity collaborations. While Abercrombie & Fitch plots — and executes — their much-needed reboot, Club Monaco teamed up with Reigning Champ to re-issue pieces adorned with their heritage crest. Gap released a line of puffer jackets and vests in-step with their memorable "Everybody in Vests" campaign, circa 1999, while Zendaya teamed up with Tommy Hilfiger to release a nostalgia-fueled capsule collection. Hell, even a visit to Urban Outfitters is an exercise in the late-'90s Cool Girl™ aesthetic: Between the Caboodles cases, Adidas and Calvin Klein logo T-shirts and Champion sweatshirts, anyone who came of age over-romanticizing athletic-centric normcore can relive their youths again.
And don't even get me started on Fila's Heritage collection: I've tried on the Disruptor 2s a million times, and despite how ridiculous they look on me (sometimes trends fail us, or vice versa), I'm convinced that one day, we'll work perfectly together and somehow fall in love. Because they remind me of a simpler time — and I want to return to it.
The thing is, our romanticization of the past is less about the era itself (because the '90s were also politically bleak) and more about the rediscovery of the brilliance beheld by our tween-and-teen-aged selves. As teens, personal style tends to be the most personal. It's a heartfelt representation of how you want to be seen — like the genuine act of wearing your heart on your sleeve. Plus, it's so short-lived: By the time most of us graduated from high school, our personal tastes are determined more by the norms established by our louder, perhaps more confident contemporaries. The space between wearing what our parents bought us and wearing what everybody deems acceptable is fleeting. But it's during that time that our personal aesthetics take root, and during that time we tend to determine the foundations of what make us feel powerful, strong and like the best versions of ourselves.
When showered with new trends and "must-haves" each season, it's appealing to return to that mandate. Especially since re-issues, capsule collections and celebrity collaborations tell us that what we used to love and who we used to be was perfectly alright; that regardless of how awkward we may have looked or how uncomfortable we may have felt, we weren't wrong in our approach to personal style. According to the bevy of sneakers, logo tees and tearaways now on the market, it wasn't wrong to crave comfort through fleece or to drape ourselves in a logo, because to do so made us feel in-control of our own style narratives. (Particularly since it also meant we bought it with intent — as in, "Look at the brand I like and feel good wearing! I did this on purpose! I made a choice!") Only this time, nobody's going to self-righteously confront you at recess in their Nike hoodie and claim that "Adidas" actually stands for All Day I Dream About Sex. (A true nightmare I experienced first-hand.) This time, as grown-ups, we just get to wear clothes.
The newfound abundance of mall brands were — and still are — accessible. They're available for purchase online, of course, or at retail centers near our homes. Pieces don't cost thousands of dollars. (My new Delia's shirt was only $30-something.) They fall under the jurisdiction of coupons and sales. (I bought a new Gap puffer coat for 40 percent off.) And you can buy items at vintage and thrift stores if you'd rather shop sustainably. But most importantly, they're the reminder that we weren't so off and weren't so wrong; that the groundwork we laid for our adult tastes had merit.
Maybe the rest of our tween and teen selves weren't so bad, either. Maybe, if we weren't as clueless as we thought in terms of style, we weren't as clueless in terms of our other preferences. Maybe it was okay to be softer or to feel more overtly or to stay in on a Friday night, because cocooning was comforting and it's fine to be quiet sometimes. Or maybe, at its simplest, the mall-brand revival means that without our late-'90s foray into tees and chunky sneakers and big, puffy coats, we wouldn't have found the courage to explore the trends we've adopted as our constants today. Without our younger incarnations, the people we are now wouldn't exist. Which may explain why I couldn't pull off Disruptors even then.
Homepage photo: Models after John Galliano's Spring 2019 show during Paris Fashion Week. Photo: Melodie Jeng/Getty Images
Sign up for our daily newsletter and get the latest industry news in your inbox every day.