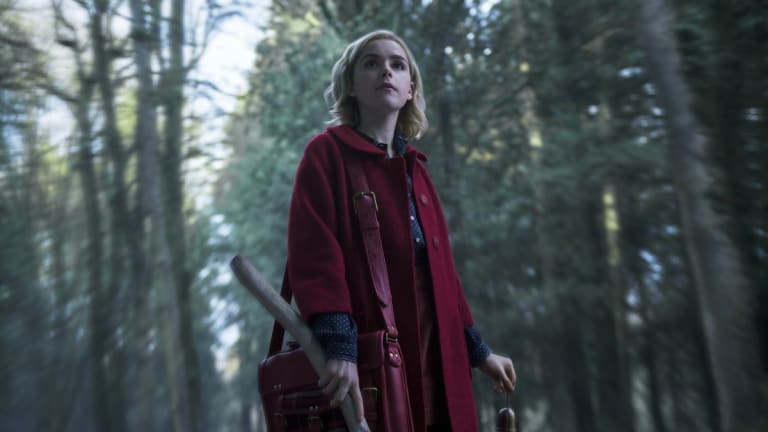 The Evolving Aesthetic of Pop Culture Witchery
Gradually, the sorceresses on our big and small screens have taken back the costume department.
Over the summer, I went to Value Village with a single intention: to model my own wardrobe after Sabrina Spellman's.
It wasn't my fault. On top of having recently bought the full series of "Sabrina the Teenage Witch" on DVD (because you can have my physical media when you pry it from my cold, dead hands), I grew up around the same time as Melissa Joan Hart's Sabrina did. I came of age in an era rich in high-waisted, bootcut jeans and velvet button-ups. My eighth grade classrooms were populated with chunky heels and mini-backpacks. ABC's "TGIF" — which, in addition to "Sabrina," featured a slew of cultural heavyweights like "Full House" and "Boy Meets World" — was the pinnacle of cool. And Sabrina was even cooler due to the fact that, in addition to her Delia's-centric closet, she was also a teen witch.
And witches have always been the best dressed of all.
That's aside from Glinda the Good Witch, because she looked like a princess, not a witch. (Also, she could've just told Dorothy to click her heels from the beginning, but that's another story). In fact, most of us came face to face with pop culture's go-to witch aesthetic in 1939's iconic telling of "The Wizard of Oz," upon meeting the Wicked Witch of the West. 
Clad in the traditional conical hat, pointy-toed shoes and ankle-length dress (all in black, of course), Margaret Hamilton's Elphaba seemed almost cartoonish in her style choices. She existed, aesthetically, to represent the darkest of all characters, despite being the only character with any real depth. (Remember: She's grieving and trying to avenge her sister's murder. Meanwhile, every other character can't seem to wrap their head around the most basic levels of introspection.) She was misunderstood, mysterious and easy for us to write off. And where the rest of the cast sparkled in technicolor, she seemed — aside from her green face — rooted in the black-and-white past. She was old-fashioned. An ugly spinster. Someone whose death was cause for celebration.
It's after this version on which we eventually modeled so many of mainstream pop culture's witches. In 1993's "Hocus Pocus," the three Sanderson sisters adopted the same dark neutral looks, but were more costumed in their approach with capes, corsets and piles of sinister-looking baubles. They were villains, and their over-the-top wardrobe helped matters. In children's films like "Hocus Pocus," witches were easy targets. They were "other." They weren't human; they weren't us. So we costumed them in clothes none of us — middle school-aged girls, perhaps — would willingly choose. 
"Witches of Eastwick" helped bridge the gap. (Obviously, it isn't a children's film.) In the 1987 movie, Cher, Susan Sarandon and Michelle Pfeiffer play three friends whose supernatural power is tapped upon meeting Daryl Van Horne, played by Jack Nicholson. Their paranormal awakening sees the trio blossom from bored women in casualwear into eventual masters of their own agency, and with that comes the introduction of texture, prints and crop tops. Or, in other words, their version of witchery doesn't make them "bad." Instead, to be a witch is to be presented as someone appealing, someone exciting and someone chic who wears great jeans. It's the same narrative carried on by 1998's "Practical Magic" a decade later: There's a little witch in all of us, so why cloak the real ones in stereotypes?
To put it plainly, the clothing in "Practical Magic" is, well, magical. The timeline here checks out, especially considering that two years before, "Sabrina" premiered and aunts Hilda and Zelda normalized witchery with their trendy, aspirational wares. Like "Sabrina," "Practical Magic"'s Sally and Gillian (played by Sandra Bullock and Nicole Kidman, respectively) epitomized peak '90s: They wore ankle-length skirts with sneakers, didn't shy away from tiny sunglasses and paired floral prints with oversized sweatshirts. Even their pajamas seemed plucked from an L.L. Bean catalogue. Sure, there was velvet, hats and Victorian necklines galore, but the witchier characters had long embraced and accepted their eccentricities. Throughout "Practical Magic," Sally and Gillian just long to be normal — and it's not until the final scenes when they make peace with their gifts do they step into Elphaba-inspired witch garb. Day-to-day, however, they were just like you and me.
That's the same spirit as the sisters of WB's "Charmed" (whose wardrobe is consistently early-aughts-appropriate), as is the case with the women of "The Craft," who step away from their Catholic school uniforms when they find themselves fully submerged in their witchy beliefs. It's the wardrobe template, arguably, from which "Practical Magic" borrowed. 
Released in 1996, cult classic "The Craft" follows four young women as they evolve from social outliers who use their clothing as armor they can hide behind. But the more powerful they get, the more style chances they take. As ringleader Nancy (memorably played by Fairuza Balk) becomes darker and darker, she abandons her uniform altogether and presents herself as a full-blown Hot Topic spokesperson. In her long black trench coat and dog collars, Nancy literally wears witchery on her sleeve as a point of pride. While she still turns out to be, yes, super-evil, she makes embracing one's eccentricities seem so much cooler than aspiring to fit in — a valuable lesson for any high school student, mere mortal or otherwise.
Blending in is exhausting if it's not what you want to do. As the '90s led into the 2000s and 2010s, pop culture began wrapping its head around the idea that to be different is a strength, and that to declare one's self a witch while wearing head-to-toe black can be a reclamation of power. (And finally, not just the quickest way for us to decipher whether a character was villainous.) 
We watched as Ryan Murphy's "American Horror Story: Coven" clad its witches in all-black as a means of touting their strength; 2015's "The Witch," starring Anya Taylor-Joy, stripped its main character of her pilgrim threads while leading her into the open arms of her craft. Most recently, we've been given Netflix's "The Chilling Adventures of Sabrina," which has taken cues from its supernatural predecessors by dressing its witches in everything from traditional pop culture witch garb (spooky Dark Baptism-wear) to mortal casual (like ABC's original "Sabrina") to velvets and capes (as if plucked from "Hocus Pocus").
In 2018, it's generally understood that witches don't subscribe to a sole style mandate. To be seen as a witch, a character can elect to dress traditionally, or can borrow from the leather-heavy closet of "The Craft" — or, of course, neither of the above. Gradually, the witches of pop culture have come to take back the costume department. They get to decide how to present themselves and how they choose to be seen. No longer are they merely the villain or the punchline, or even someone hoping not to be recognized as their true selves. They're the manifesters of their own destinies and of their own wardrobes. Just leave enough late '90s pieces at your favorite thrift stores so I can build my own.
Homepage photo: "Chilling Adventures of Sabrina"/Courtesy of Netflix
Sign up for our daily newsletter and get the latest industry news in your inbox every day.