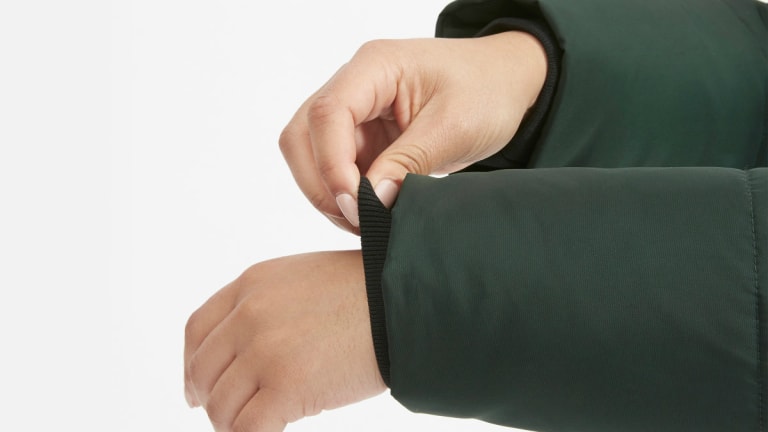 The Suddenly Surging Business of Recycled Plastic Puffer Jackets
That Everlane and Madewell launched versions within days of each other is not a coincidence.
Late last month, Everlane made the very big announcement that it was ridding its supply chain of virgin plastic. The San Francisco-based ethical label plans to do so entirely by 2021, starting now. Enter, ReNew: a line of puffers, fleeces and parkas made from recycled plastic, and a lot of it. Everlane turned more than 3 million plastic bottles — 15 to 60 bottles per garment — into clothing.
That same week, a Madewell newsletter touting its new Travel Buddy Packable Puffer landed in our inbox. Its color options (four) and sizes (nine, up to 3X) were exciting, but not the takeaway. Rather, it was that its insulation was also made with 100 percent recycled content, with roughly six plastic bottles in each jacket.
Everlane and Madewell, two American brands beloved by increasingly conscious millennial consumers, aren't the only clothing retailers to reuse recycled plastic, yet alone to do so in puffers. However, the fact that they did so within days of each other is not a coincidence. In both retail and environmentalism, recycled plastic is in the eye of a perfect storm — one that's not going to die down anytime soon.
Before puffer jackets were filled with recycled plastic, they were, and still are, done so with down feathers. Invented by Eddie Bauer in 1936 and patented in 1940, the first puffer — a quilted coat called the "Skyliner" — came to be after Bauer himself had a near-death, hypothermic experience during a fishing trip. The original Skyliner catapulted Bauer into enormous acclaim. Decades later, though, the traditional down industry — now largely condemned by animal rights organizations — has been commercially supplemented by technical, performance-oriented synthetics, like polyester and plastic. 
Polyester has been especially popular within the outdoor category and outerwear in general. Inka Apter, facilitating manager of fabric development at Eileen Fisher, explains that it's because synthetic fill retains heat — even when wet — depending on the weight and loft of the material used.
"What's relatively new is the emphasis on the use of recycled polyester fill," says Apter. "It's quite exciting to see some of the mainstream brands embracing this and communicating it to their customer base."
Eileen Fisher has always been at the forefront of recyclables. The label's puffer jackets are filled with recycled nylon and polyester, and its take-back program (also called "Renew") receives nearly 800 pieces of clothing each day that the company later mends or recycles itself. Patagonia also offers a recycled polyester collection made from plastic bottles, and has been doing so since 1993.
Flash-forward 25 years to today and one thing retailers are doing differently is leaning on numerical data. Both Everlane and Madewell are explicit about each puffer coat's plastic footprint, and that's because those statistics motivate shoppers. On Everlane's ReNew landing page, each item — from the Fleece Sweatshirt to the Oversized Parka — spells out the number of plastic bottles it took to make each garment. (Patagonia's recycled products do the same, just below the item imagery.)
"That makes it really palatable for customers to know exactly how many plastic bottles went into their jacket," says Tara St James, founder of ethical contemporary womenswear brand Study NY and sustainability research fellow at the Brooklyn Fashion + Design Accelerator. "And I think that's a good story for both the brands to tell and the people to tell their friends."
Consumers want to feel like they're helping, or at least doing something, in light of the current (and dire) plastic waste crisis. According to a June 2018 report by National Geographic, the planet has accumulated 9.2 billion tons of plastic since the material really began taking off around 1950. Once plastic is made, it lasts forever, and only 9 percent — right now, that's 828 million tons — of it is recycled. One million plastic bottles are still being made each minute, the vast majority of which will end up in a landfill or, more realistically, in our oceans, absorbing and emitting toxins.
This summer, single-use plastic straws became a hot-button issue around the U.S. with major corporations like Starbucks and cities like Seattle moving to phase them out in the coming years. Disability advocates, among other parties, offered there weren't yet enough functional alternatives to ban plastic straws straight out. Then came the pushback from conservationists: Banning them isn't going to save our oceans. In fact, straws aren't a major source of marine plastic pollution at all, and such laws are, according to Pacific Standard, "unlikely to have a noticeable effect on the levels of plastic entering our waters."
But that doesn't mean it's not a net positive, environmentally speaking, for clothing brands to absorb that stream of excess waste — especially knowing that the fashion industry is one of the most notorious polluters worldwide. Puffer coats are just one way to do that.
It's not a coincidence, either, that puffers are trending within fashion, and particularly among millennial- and Generation Z-aged consumers, who also tend to be more conscious about the impact of their purchases. In January 2017, Fashionista reported that 60 percent of Generation Z will spend on brands that support social causes, including, obviously, marine conservation.
Sustainable and ethical luxury label Maggie Marilyn only launched two years ago, but Founder and Creative Director Maggie Hewitt explains from her native New Zealand that demand for conscious design has skyrocketed since she first entered the marketplace. "There's no denying the enormous wave being felt across the whole industry, the rise of the ethically conscious consumer," says Hewitt. "It's taking shape in a way I don't think we've ever seen. When I started Maggie Marilyn, it wasn't about the pressure to adjust to what consumers were wanting. This has been a core belief of mine from the beginning."
This generation of more mindful consumers wants to support sustainable manufacturing, too. Take this week's 2018 midterm elections, in which 82 percent of Democrats (as compared to 38 percent of Republicans) cited the environment as a very important voting issue, according to Pew Research Center. Environmentally conscious brands are reaping the benefits of like-minded customers, whether they intend to or not.
"The reality for these brands is that they're brands, and they're businesses," says Lauren Fay, Fashion Revolution's U.S. country coordinator. "They need to make money. And this is a play for them that makes a lot of sense."
Olivia Barnes, editorial assistant, materials, textiles and knitwear at trend forecasting firm WGSN, notes that recycled plastic is a poignant and easily digestible message for brands to adopt within their sustainability strategy. It also doesn't hurt that plastic can fill the insides of one of the most in-demand fashion items on the market.
There's a plastic surge occurring behind-the-scenes, too: More fabrications are becoming available to even more manufacturers. In her fabric development work at Eileen Fisher, Apter finds that recycled synthetics are now within reach of many more brands than just the outdoor industry leaders (like Patagonia) which have long championed sustainable materials.
"A lot of the textile mills have more access to better materials, either more responsible, recycled, organic or what not," adds St James. "The price of those has started to drop in response to increase in demand."
St James explains that, historically, recycled materials have been more expensive than virgin ones and it wasn't cost-effective for brands to use them. But with the combination of heightened consumer demand and improved accessibility, that's changing. Over the last few years, a number of brands (particularly in footwear) have introduced recycled plastic into their supply chains.
Rothy's, for instance, created its entire product line of lightweight flats around a knit composed of 100 percent post-consumer plastic. Since it launched in early 2016, the company — a much-photographed favorite of noted sustainability advocate, the Duchess of Sussex Meghan Markle — has already repurposed roughly 13 million plastic bottles.
Of course, recycled plastic has many other applications besides its use as a woven fiber in clothing and footwear. Much of the reason plastic rose to such staggering popularity in the first place was due to its pliability, and that quality extends beyond its virgin lifespan. "The possibilities are endless, really," says Apter. "The material lends itself to fabrics, yarns and trims, but also packaging." In the case of the latter, Barnes foresees product packaging as being a natural extension of the material.
"With waste a huge issue for the beauty industry, in-store recycling is on the rise, incentivizing consumers through reward systems," she says. "Recycled plastics are a new source of inspiration for interior product designers. Once scalable, these processes could make an impact within retail and packaging."
At Maggie Marilyn, Hewitt just recently introduced her own answer to recyclable packaging: As the label's "Season Six" collection begins shipping to 25 countries worldwide, the clothing will be packaged in a fully biodegradable bag made from root starch, vegetable oil and a vegetable polymer. Unlike the industry-standard polyurethane packaging, this new development can be composted, disposed of into landfills or, if erroneously discarded into rivers and oceans, biodegraded over time, leaving zero toxic waste behind.
While top-of-mind for both consumers and manufacturers, recycled plastic isn't the only solution to our planet's resource depletion. That's because there isn't just one answer to an Earth-wide problem. Experts point to furthering our circular economy, which encompasses recyclables, as well as recovered and regenerated products like wool, cashmere, cotton and other cellulose-based fibers. St James suggests that nylon, recycled from fishing nets that are saved from oceans, may become the next recyclable du jour within fashion.
"We're on the cusp of an exciting time for textile recycling," adds Barnes. "Currently, blended fibers cannot be separated and reused, which is a huge blockade for sustainable production and recycling. New technologies are being developed that are able to separate cotton and polyester without degrading the fibers. These innovations will revolutionize our ability to bring valuable materials back into the supply chain at their end of life, equal to virgin qualities and in higher volumes than have been possible before."
We may be looking at a long runway for recycled plastics, but — for the data-motivated consumer — how much of an environmental impact are these recycled plastic-filled puffers actually making? It's too early to tell right now, but even so, it shows a new kind of customer momentum, one that will positively affect our planet. More and more shoppers are understanding the intrinsic value of the materials being used for their clothes, even if they're simply looking to cash in on a trend.
"At the end of the day, whether brands are acting because of consumer demand or a more organic approach, it doesn't matter to me so much," says Hewitt. "What's important is that it's happening. The fact that it's such a large topic of discussion is not only wonderful, but vital to sustaining the future of our industry."
Homepage photo: Everlane's ReNew Short Puffer in "Emerald," which retails for $125 and launched late last month. Photo: Everlane
Sign up for our daily newsletter and get the latest industry news in your inbox every day.