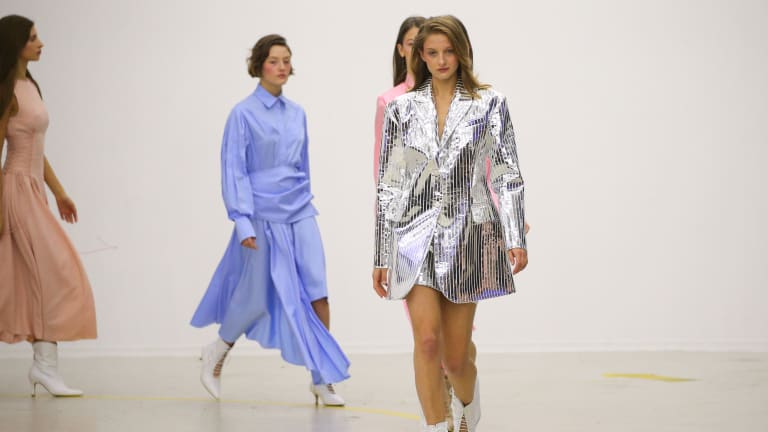 With the Industry's Attention on Tbilisi, Can Georgia's Fashion Scene Finally Go Global?
According to local designers and creatives, there's still more that can be done.
It's been about five years since Vetements made its official debut at Paris Fashion Week, thrusting designer Demna Gvasalia — as well as his native country Georgia — into the industry spotlight. Within a year, the label was shortlisted for an LVMH Prize, influenced the street style crowd during fashion month, impacted retailers' buying strategies and landed Gvasalia the top artistic director role at Balenciaga.
Gvasalia's success is still on the rise, and all along the way, attention towards Georgia's capital of Tbilisi has transformed it into the world's most exciting fashion destination, from tourism and shopping to street style and editorial expansion. And if you think the Caucasus country's fashion relevancy might wane sometime soon, think again: Gvasalia recently dedicated Vetements's Spring 2019 collection entirely to Georgia.
"His collections stirred curiosity in the history and culture of the region," says Vogue.com Fashion News Writer Liana Satenstein in a previous interview with Fashionista. "The country has a fledgling group of talents, and Gvasalia just helped shine the light on them."
One of the platforms that continues to showcase Georgia's local talent is Mercedes-Benz Fashion Week Tbilisi, launched in 2015 by Sofia Tchkonia — a Fashion Fairy Godmother of sorts, as a number of designers we spoke to have consistently brought up her dedication to championing the former Soviet republic's creative scene. "We don't have natural resources — no gas, no oil, nothing," says Tchkonia. "We only have creativity, which we have to promote. Fashion in Georgia is kind of becoming a signature. That's what we want to make and that's why I started this project. The country will be associated with fashion, creativity and talented people. It won't only be politics."
Now in its eighth season, Mercedes-Benz Fashion Week Tbilisi welcomes editors, influencers and buyers from around the world, hoping to catch the next up-and-coming designer or fashion trend out of Tbilisi. With so much attention, as well as Tchkonia's help, Georgian designers are inspired to create for a more international audience, but can their brands actually, finally go global? According to the emerging market's designers and creatives, there's still more that can be done on a local level.
For George Keburia, that means infrastructure and production in Georgia. (The self-taught, Tbilisi-based designer launched his namesake line in 2010, and his skinny sunglasses have garnered a cult celebrity following, as well as Net-a-Porter and Opening Ceremony as retailers.) "We need to develop adjacent industries. It's not that Georgian artists lack creativity or motivation, but it should be facilitated with appropriate production," says Keburia. 
Tchkonia says that good production companies are rare in Georgia, as designers generally work and produce from their own small ateliers, which can be limiting when it comes to meeting demands and fulfilling orders from international buyers. "Now, step by step, [designers] are starting to search for production companies abroad," she adds. "They started to sell, so a couple of brands are doing quite well financially, and they started on our platform."
Tchkonia also notes that Georgia's fashion industry is in need of more trade-specific businesses, especially when it comes to producing the back-to-back runway shows during Mercedes-Benz Fashion Week Tbilisi, which traditionally takes place in one single location. (Though, some designers do present their collections at unique spaces throughout the city, such as the nightclub Bassiani, historic mansions or a school.) "It was almost impossible because nothing existed in Georgia, from lighting to venues," she recalls. "We're building everything together. We have to work with all of these companies to explain to them what we need."
A sense of mentorship among fashion professionals from more established fashion cities is also needed in order to help the country's industry talent thrive. "It would be very helpful because in Georgia, you cannot find stylists, it doesn't exist," says Tchkonia. "It would be good to mix international stylists and photographers with Georgians, so that they will learn how to work."
One institution that has served as an incubator for Tbilisi's fashion talent is Materiel, which launched in 2012 under the Georgian fashion house Materia. The brand — powered by Materia's longstanding factory facilities — has helped boost the careers of designers like Keburia and, currently, Lado Bokuchava and Aleksandre Akhalkatsishvili, who both run their own eponymous lines in addition to designing for Materiel.
"Georgia itself should believe in its talent and ability to grow within the fashion industry," says Materiel's Executive Manager Nina Tchabukiani. "There is a gap in the international market for Georgian designers to fill. In order to do so, we need more skilled professionals, apart from designers on the local market to help and establish Georgian brands into successful businesses."
Designer Lako Bukia studied fashion in London and New York before returning to her hometown of Tbilisi to run her namesake brand. "What Georgia is experiencing now is what I experienced when I was in London ages ago," recalls Bukia. In addition to showing at Mercedes-Benz Fashion Week Tbilisi for the past four seasons, she's also participated in London Fashion Week and has had showrooms in Paris, Berlin and Kiev.
"When I came back to Tbilisi, I realized to apply what I've learned here is great because everyone is interested in Georgian fashion," says Bukia. "I use my experience with my team so we work better. For me, it's easier to work with them because they are native and obviously this industry is growing right now, so they really need to be taught."
Plus, in order to be a global brand, you have to be as present as a global brand. Nanushka from Budapest and Copenhagen's Saks Potts are great examples: Both labels hail from cities that the fashion world is paying attention to, and yet they make sure to build brand awareness globally, whether that's through participating in New York Fashion Week, holding a showroom in Paris or using influencer marketing across social media.
"Every field, and especially fashion, is about communication and being out there," says Bukia. "So even going to fashion weeks, doing showrooms, it's very important to give the message that you are out there making and doing."
Though TL-180's Luisa Orsini and Tine Peduzzi work from their headquarters in Rome, the designer duo have been showing at Mercedes-Benz Fashion Week Tbilisi for the past year. "The schedule allows us to connect with press and stylists in a way it wouldn't be possible in other cities," says Orsini, who has half of her family roots in Georgia.
"Tbilisi is about being part of something that is not common anymore: a community," adds Peduzzi. "We work with the same team, support other designers and normally cast the same girls. It is really inspiring to see how Georgia is blooming."
While Orsini and Peduzzi both realize that being a part of such an intimate and buzzing event has its benefits, their presentation is followed up with sales appointments in Paris and press days in New York. "Everything comes down to production and retail partners. Buyers are looking for what's new outside of cities like New York, London, Milan and Paris and that's a positive change for emerging markets," says Peduzzi. "Press is vital to bring attention but at the end of the day, brands need to be trusted by retailers in order to generate business and maximize exposure."
Homepage image: Materiel's Spring 2019 runway finale at Mercedes-Benz Fashion Week Tbilisi. Photo: Edward James/Getty Images
Disclosure: Mercedes-Benz paid for my travel and accommodations to attend and cover the event.
Sign up for our daily newsletter and get the latest industry news in your inbox every day.