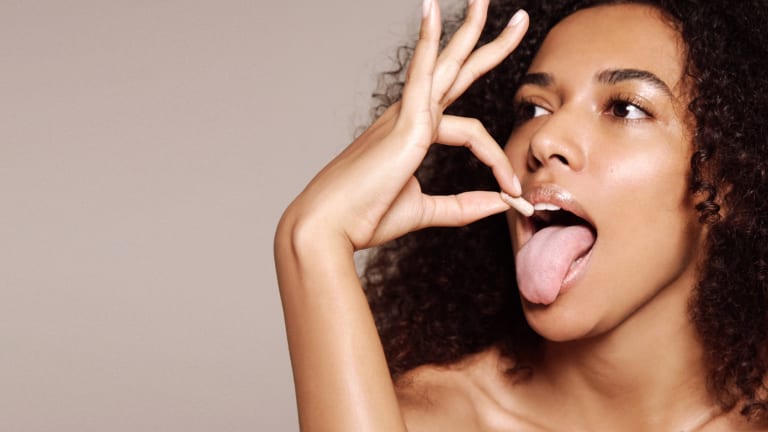 The Nue Co. Is Bringing Vitamins to the Luxury Market
With elevated branding, minimalist packaging and a keen retail strategy, the young wellness brand is seeking to build a loyal consumer base in the ambiguous yet bountiful supplements category.
If necessity is the mother of invention, it's also a close relative of entrepreneurship. For Jules Miller, the founder of wellness and beauty brand The Nue Co., the impetus for starting her own company was a personal health issue. "I had pretty bad IBS. I was in the wellness industry, but I was still struggling with my own health," she says. The granddaughter of a chemist, she channeled her grandfather's insights about health and her own background in marketing into a business she describes as "the first real luxury supplement brand" — and both luxury retailers and consumers are buying into it big time.
In December of last year, the company raised $1.5 million in seed funding. This fall, it opened its first physical presence: A minimalist brick-and-mortar storefront in New York City's TriBeCa neighborhood, with plans for further expansion into the international market in the coming years.
The Nue Co.'s product lineup now includes 12 SKUs, the bulk of which are ingestible supplements, but it recently branched out into topical skin care with a vitamin C powder that can be mixed into serums or moisturizers. On Tuesday, it also debuts its first fragrance, a "functional" blend developed by Frank Voelkl, the nose behind Le Labo Santal 33 and Glossier You. Billed as an "anti-stress supplement delivered in the form of a fragrance," it draws on scientific research about the connection between scent and emotion. According to The Nue Co., a few spritzes of the scent are all it takes to "calm the nervous system using olfactory triggers."
Miller recently took the time to chat with Fashionista about building the company from the ground up, creating vitamins luxury consumers would actually want to buy and how The Nue Co. is carving out a place for itself in a crowded category that's traditionally been lacking in brand loyalty. 
How did The Nue Co. come to be?
My background is in marketing. I worked for large-scale alcohol brands for seven years. It was a really interesting way to start off my career because they are very well-structured consumer goods that are heavily involved in getting behind the consumer psyche. But it wasn't a passion. I was into wellness in the sense that I enjoyed working out, and I liked eating well, so I decided that was a great next step for me. I went to work at a company called The Detox Kitchen in the U.K., this was six years ago or so. It was a really brilliant business to be involved in at the time because the wellness industry was booming there.
I wanted to launch my own brand, but I didn't want it to be just another wellness brand that had exactly the same narrative. At the time, I had pretty bad IBS. I was in the wellness industry, but I was still struggling with my own health, so my grandfather, who is a doctor and a lecturer at Cambridge University, sat me down and was like, 'Let's go through all of these supplements that you're taking and let's see what's making a difference, what's potentially making you feel worse and why it is that you've given up dairy, sugar and gluten in your diet, because you know about food, yet you're consuming all of these horrible ingredients through your supplements, and you don't even know it.'

That sparked a really interesting question, which is even though I had such a strong connection with wellness and such a strong connection with the food I was eating, why did I have no connection with the supplements I was taking?
What makes The Nue Co.'s supplements different from all of the other traditional ones out there?
We always rely on data and science to kick off any sort of new product development. We look to ingredients as close to the food source as possible to deliver a nutrient or a vitamin. We also wanted to focus on absorption. A lot of people complained that when they take a supplement, they don't know whether it's working or they don't feel any different. 

I suppose that's, in a nutshell, what we wanted to do from a formula perspective; from a brand perspective, we really wanted to develop the first [supplement] brand that engaged with people on the same level as a beauty brand. We just wanted to get people to engage and to know about our history, understand our ingredients, understand our philosophy, and more so than that, develop products that people look forward to using in their day-to-day lives. 
What has building the business looked like?
I can't believe that it was under two years ago, because I literally learned everything on the job. We've come so far. In the beginning, I went to my grandfather. I was fortunate enough that because his background had been chemistry, he had connections with labs already. 
From a business perspective, I think the one thing I've always been good at is knowing what help I need and when. I did a lot of research in terms of retailers, like who was investing in this category and which retailer was really hungry for the type of brand that I wanted to develop, and that retailer was Net-a-Porter.

I managed to get a meeting with one of the head buyers there. I sat him down and I said, "I know that you guys have spotlighted wellness as a category, but the brands that you're listing are not true luxury brands. I'm developing the first real luxury supplement brand." They basically turned around and they were like, "Great. We're launching in a year." That was fortunate enough that I essentially had an account with one of the biggest retailers within the luxury fashion space.
What about securing initial investment?

Securing Net-A-Porter gave me insight as to how I could build out my first list of investors. I was like, I'll just raise money from people that can really help me. [One] investor had led a successful exit of a beauty brand that retails in the U.K. and in the U.S. It's almost like I wanted to create an incubator of myself and those were my investors. It enabled us to grow really quickly because I was a team of two and we had very little money in the beginning but we had the most amazing doors opened to us from day one.

Why did you want to focus on the U.S. market, especially being that you're from the U.K.?
Having worked in the wellness industry in the U.K., two things worried me: The first was that it had exploded as a fad or a trend. People were jumping into it quickly, no questions asked, and health bloggers were kind of given the license to give out a lot of information. I knew that was eventually going to have a backlash, because a blogger who's 19 years old who is giving out medical advice ... that's dangerous. I felt like the industry was being driven through trends rather than through necessity, like I think it is in the U.S. 
Also, people in the U.K. have [universal] health care. So it's a completely different mentality — if there's something wrong with you, there's no reason why you wouldn't just go to the doctor. It's completely less preventative [there]. But taking supplements and taking care of yourself is just part of lifestyle here in the U.S.
In addition to Net-a-Porter, how did you figure out the rest of your distribution strategy?
When we first launched, only a handful of retailers was open to this category. Being a small brand, we knew that we needed to get buy-in from hotel partnerships essentially from the get go, before we launched our e-comm in a meaningful way. We were the first on the shelf at the Ace Hotel, we were the first on the shelf in The Line. We were one of the first on Net-a-Porter.
We had these three different pillars of partnerships: The first was brand building, so these were retailers like The Line, or like Soho House, or Ace Hotel, that helped position us in the right way. They didn't necessarily shift a huge amount of product because the customer isn't going there looking for this type of product, but it definitely helped with our positioning.

Then we had our practical partnerships, which is a very well educated customer, somebody that is actively looking for something that is holistic and luxurious, but also completely natural, and these retailers really did help drive a lot of volume. So these like Credo, CAP Beauty, Shen. In terms of our third pillar, we have a high volume, and we only worked with one retailer against that pillar, and that was Net-a-Porter. We did do some pop-ups with Nordstrom as well.
Were these retailers coming to you or were you approaching them?

A lot of them came to us. Our biggest challenge in the first 12 months of this business was saying "no". Quite a few very large-scale retailers came to us because it was such a booming category and we had to make this tough decision and say no, purely on the basis that if we took on those accounts, we probably wouldn't be able to fulfill the orders — we just didn't have the infrastructure to support them.
How did you develop the branding in order to really drive home the luxury aspect of The Nue Co.?

We looked at the supplement industry and we were like, "No. Completely scrap it and completely ignore everything out there." The wellness industry is a $4.2 trillion industry. It's growing at a ridiculously high rate. But when you look at the supplement industry specifically, in 2016, 20 percent of the market share was private-label products. There's no brand power, it's all nondescript brands that are just sold through Whole Foods or GNC, that people have absolutely no brand loyalty to. Then the second largest, which is 15 percent of market share, was Centrum. The space itself was so vast and there was absolutely no innovation. 

We wanted to completely ignore everything that was happening and figure out what were the key trends within the wellness industry, and what we spotlighted were things like quality, consciousness, is it a sustainable brand, are we sourcing the right types of ingredients? Is it actually scientifically backed? Are the ingredients completely natural, as natural as possible? But we also wanted to develop a really elevated experience, so that people looked forward to using these products.
What about the packaging and the aesthetic associated with the brand?

There was no supplement brand that I looked to and was like, "These guys are doing it right." We started from scratch and we pulled in a lot of inspiration from luxury beauty brands. There was a journalist who said that our packaging was like if a scientist had sex with a model, and that was exactly what we were going after. We were fortunate to work with the best packaging company in the world. We discussed the intent and the key messages, and then that dictated the design.
How did you decide to open a brick-and-mortar store?
The idea of the store is really to help support our assets online. We're trying to humanize technology. The idea is that when you go online and you take the consultation and you're subscribing to your program, that at the end of every month, you've been able to check in with a real person. Because it is a very personal experience and it's also very individual, everybody has different results. Advice should be very personal, very individual. So if things aren't working for you, if you need to revise some doses, it's at that stage you can either take a consultation with somebody over the phone or you can come into our stores and have a consultation with one of our nutritionists.
Is there any one product you're most proud of having developed?
In terms of our most complex formula, I can't give too much away because it's about to launch in January, but it's basically a natural alternative to Ritalin. It's basically one of the products that I came up with from day one and having brought in the investors that we've brought in, with the expertise and the access to Harvard Medical School and access to really high-tech labs, we've been able to develop something that is very unique. I'm excited to carry on and continue our innovation.
This interview has been edited for clarity.
Homepage photo: courtesy of The Nue Co.
Please note: Occasionally, we use affiliate links on our site. This in no way affects our editorial decision-making.
Never miss the latest fashion industry news. Sign up for the Fashionista daily newsletter.