13 Skin-Care Products, Tools and Supplements Victoria's Secret Models Actually Use to Prep for the Runway
Straight from the facialist who helps perfect their complexions, Georgia Louise.
The 2018 Victoria's Secret Fashion Show doesn't air until Dec. 2, but it's being filmed in New York City on Thursday, Nov. 8. That means the models have been preparing for the runway for weeks — or really, all their lives, in a sense — and while they may be blessed with the perfect storm of genetics and youth, they, too, have their share of skin struggles. Victoria's Secret Models: They're Just Like Us! They get pimples. They experience unwanted redness. Their complexions get dull, dry and dehydrated. Plus, they have year-round travel, pollution and unpredictable weather to contend with.
Because they're Victoria's Secret models, however, they also have access to one of the best facialists around: Georgia Louise. Celebrities, models and lucky New Yorkers have been relying on Louise — and her extremely posh Upper East Side "atelier" — since she first set up shop in 2010. An expert in facial massage and a proponent of high-tech treatments, she has been working with many of the models walking in this year's Victoria's Secret show (though she can't reveal any specific names — beauty contracts and their non-competes are no joke) to prep them for the runway. 
Fashionista had the opportunity to chat with Louise ahead of this year's runway show and find out exactly what products, tools, techniques and tips the models rely on to get glowy, de-puffed and breakout-free before they strut their stuff in those heavy headpieces and angel wings. Read on for the highlights.
When the models come to you for a facial, what is your main focus?
We have different protocol that we do for the models before they go on stage. We've named it the 'Angel Face.' It's focused on de-puffing, brightening and helping with any blemish control, enabling the models to look their best without any downtime. It just gives the ideal sort of canvas and base for Charlotte [Tilbury]'s makeup. 
What does the 'Angel Face' involve? Is it mainly massage?
Some of the tools that we'll be using will be LED lights — red and blue — and negative-ion oxygen, which dramatically freshens the skin, so it really gives you an intense glow. 
Then we do a lot of massage. We use the George Louise Butterfly Stones. The girls are going to generally be coming in from all over the world, so they're going to be puffy or dehydrated from traveling. There's going to be lots of lymphatic drainage with the stones and with cryo sticks. 
Are there any specific concerns they've been coming to you and asking for help with?
The girls are on the young side and they have beautiful, flawless skin, but everyone always wants to feel lifted.
What products do you use on them and recommend that they use at home?
I've been using and recommending Dr. Barbara Sturm, because the whole line is focused on anti-inflammation, as well as hydration. The range is specifically targeted for skin that's dehydrated and that's inflamed.
We have them use the Dr. Barbara Sturm Hyaluronic Acid, Cleanser and Anti-Pollution Drops.
Are there any other treatments you tell the models to do at home ahead of the show?
Many of them are using the Georgia Louise GLOPulse Deep + Quick Ion Enhancer, which stimulates the blood circulation and penetrates the active ingredients in the sheet mask into the skin. 
Are there any products you tell the models to avoid in the days leading up to the show?
Yes, I always tell them to stop using any AHA or BHA — alpha hydroxy acid, alpha hydroxy acid — and vitamin A. No scrubs on their skin. And no picking! I find that some of them are under pressure, a lot of stress, but I tell them not to pick any blemishes. You can treat that with a blemish control product or wait for me to see you — we can fix that with high-frequency.
What nutritional tips do you have that can help make a complexion look its best?
No salt — stay away from it because you're going to end up super puffy. Stay away from refined sugars, because you can get what we called 'the sugar face,' which is basically that sugar can create break outs. Try and have a daily supplement such as the Dr. Barbara Sturm Skin Food, which is an easy way to achieve the daily supplements for skin health, like zinc, magnesium and coenzymes. And of course, lots and lots of water. 
Given that the show's in New York, how does the environment affect models' skin or possibly create problems they might not experience somewhere else?
The key thing we have is the carbon in the air, all the pollution in the city. People find that their skin starts to dull a little bit, so I basically triple-cleanse and ask them to really cleanse thoroughly when they get to their hotel rooms. The second thing is the humidity is lower in the city, so even though they generally may have a natural hydration in their skin, they really have to hydrate. I tell them to get a humidifier and have it by their bed.
Click through the gallery below for 13 of the products, tools and supplements Louise swears by — and this year's Victoria's Secret models will be, too.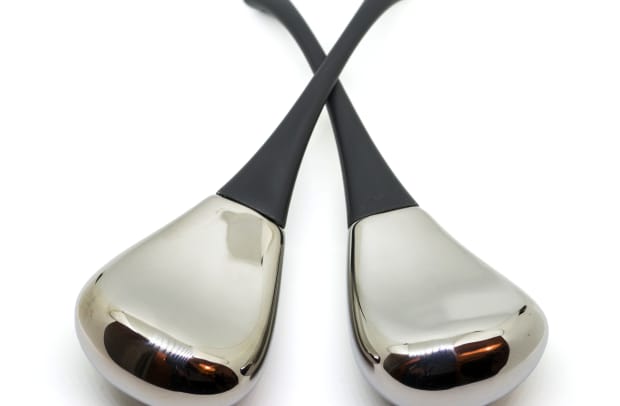 Please note: Occasionally, we use affiliate links on our site. This in no way affects our editorial decision-making.
Never miss the latest fashion industry news. Sign up for the Fashionista daily newsletter.