Alexander Wang's 'Collection 2' Is for the Hustler Who Does It All
Work hard, play hard, party hard, etc.
In the early days of Alexander Wang, the brand, you'd never expect the designer to name-drop Carolyn Bessette-Kennedy as a source of collection inspiration, what with his model-off-duty, downtown-party-animal-who-just-rolled-out-of-bed aesthetic. However, a name you would anticipate him mentioning would be Foxy Brown — the '90s rap icon from Brooklyn who performed at a sweaty, underground Wang after-party in 2008 — on account of his well-known love for hip-hop, his affinity for bad-girl types and a fondness for the pop culture of his youth. 
On Saturday night, Wang blended the two wildly different personas together for his "Collection 2" show, which he titled "The American Hustle" — a continuation of his "Collection 1" homage to the American dream and the fluidity ingrained in an upwardly mobile society. In other (extremely clichéd) words: work hard, play hard. 
"I saw this incredible parallel: These two women who were both born in New York in middle-class families and had this hustle to achieve what they wanted in life," Wang explained backstage after the show. "Representing this very stereotypical uptown/downtown woman, but taking codes of privilege, wealth, class and status symbols and kind of remixing them, trying to give them a new sensibility."
This tension also relates back to Wang's upbringing as a first-generation American citizen, going to private and boarding schools — his parents worked tirelessly to give him a better life than they'd had — and struggling to find where he fit in among his classmates. In a scenario that could be ripped straight from a "Gossip Girl" or "The O.C." script, he felt like an outsider among his rich, golf-playing peers. (Wang opted for tennis as an extracurricular, though he never actually learned how to properly hold a racquet.) Luckily, adolescent insecurity inevitably leads to self-discovery. 
"Formality doesn't have to relate to power; luxury doesn't have to relate to pretentiousness, and I was always trying to find myself in that equation," he said. "The individual that we dress is always about breaking out of these boxes, stereotypes and labels that society puts you in."
None of these themes are new to Wang's brand, and he latched onto several elements of so-called fanciness that have appeared in previous collections. The opening looks were heavy on ladylike tweed, but cut in ways that you'd be hard-pressed to find on Fifth Avenue. Preppy rugby tanks and polos were either constructed out of safety pins or were oversized and asymmetrical, complete with crests in metal studs. Suiting for both men and women came slouchy, meant to be cut like sweats, and classic pinstriped shirting pieces felt decidedly casual — specifically, short-shorts that recalled boxers. 
Several sporty, straight-from-the-court looks felt particularly current, including the men's thick-striped sweatshirts, plastic-covered sneakers paired with pulled-up socks, sleek black layering turtlenecks and graphic printed button-ups. Wang mentioned that he sourced images of people on the street in the '80s — personally, I felt some Patrick Bateman vibes — for inspiration, which might explain some of the excess: garment bags in luxe materials, gold chains and watch bands, a furry leopard coat, penny loafers with two-dollar bills tucked into them, bedazzled handbags, shiny headbands and conspicuous bling on everything from kitten heels to bracelets to earrings.
Wang noted that his customer is always on the go, meaning that the models in street clothes or denim with their hair wrapped in towels could theoretically be on their way from work or the gym to some bougie event. As usual, Wang's fancy-lady silhouettes are not your mother's eveningwear; instead, gowns were made out of T-shirt material or extremely see-through lace, with sweaters tied around the waist or shoulders. Some models walked in roomy blazers with nothing underneath, or crisp men's tuxedo shirting slashed to reveal crystal shorts. 
The "ageless alpha woman" that serves as Wang's perennial muse should presumably have the confidence to pull off these unconventional looks, whether she hails from uptown, downtown or somewhere in between. That said, many of the ensembles this season contained so many layers that they'd be a little confusing for any occasion, anywhere. But Wang and his squad have never been the types who like blending in, so who are we to knock their hustle?
See every look from Alexander Wang's "Collection 2" show in the gallery below.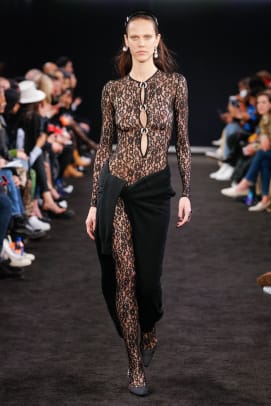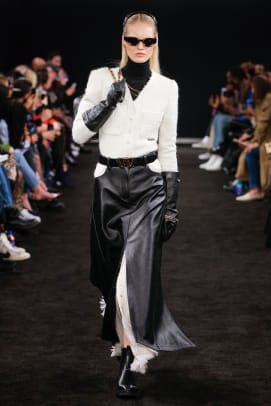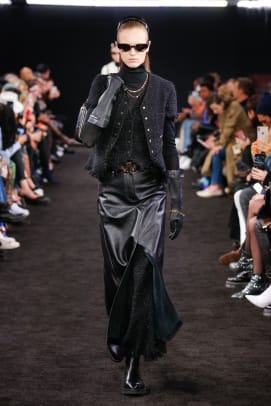 Stay current on the latest trends, news and people shaping the fashion industry. Sign up for our daily newsletter.