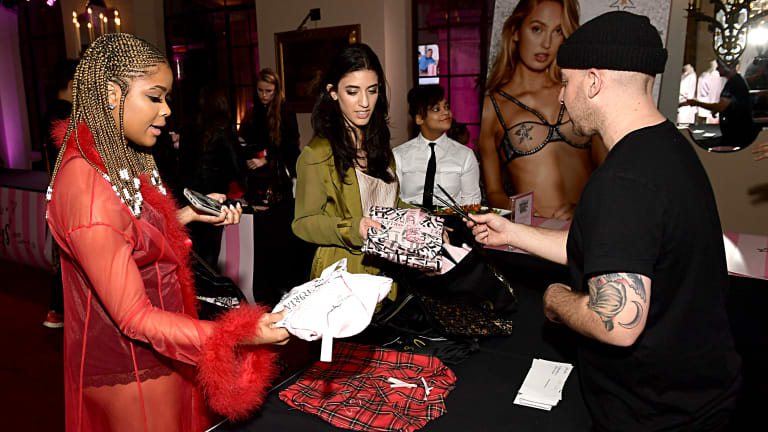 Bra Shopping Sucks for Almost Everyone — But It Doesn't Have To
"This is truly the best time to be a bra shopper, and it will only get better from here."
The last time I went bra shopping, I was left feeling as if I didn't know my body at all.
Usually, I avoid bra shopping like the plague. It never feels as fun as other kinds of shopping, rather a utilitarian endeavor. But a few weeks ago, I found myself in a Victoria's Secret store with a friend, and a salesperson asked us if we'd been measured recently. We both figured, "Why not?" and she ushered us into fitting rooms with what she claimed were our actual bra sizes. I tried on a 34D bra (a departure from the 34B I usually wear every day); it felt loose and gaping. I told the salesperson, but she insisted. 
"That's your size," she told me. "I don't know why you think it's wrong, but that's your bra size." She didn't offer to let me try on any other sizes, so convinced she was correct. I felt gaslit in my own body, but I knew 34D didn't feel right at all.
According to a popularly-cited statistic, 80 percent of bra-wearers are in the wrong bra size. It's hard to tell exactly where this information came from, but I've heard it all my life. I remember my mother marching me into the bra department at Nordstrom after an episode of "The Oprah Winfrey Show" that discussed that very issue when I was 13. We left with a host of new bras, none of which seemed to fit right — even after I'd been measured and re-measured. Maybe bras would always feel weird, I told myself. Maybe that weirdness was just an unfortunate byproduct of having breasts.
But bra shopping is a particular kind of hell, and it becomes worse the more your body deviates from the industry-defined standard. Victoria's Secret recently came under fire for Chief Marketing Officer Ed Razek's exclusionary comments about why the brand does not hire plus-size or transgender models for its fashion show, and despite declining sales, there seem to be no plans to extend its sizing beyond the rare XL. As the largest brick-and-mortar lingerie retailer, that's a problem; the likelihood that a consumer would settle for the wrong-sized garment is greater if the process of finding something that fits correctly is an uphill battle.
"Most times, I can only shop online since many brands only carry their large sizes online and not in-store," Shammara Lawrence, Teen Vogue's plus-size fashion columnist, tells me. "I'd much rather go in person to try on a bra and know then and there whether it fit, rather than go through the hassle of ordering one and trying it on at home, only to find out it's too small, returning it and starting the process over again." 
Lawrence, who wears a size 40DDD, continues: "There have been plenty of times when I've bought an ill-fitting bra online and had to return it," a process that can make bra shopping even more time-consuming. As a result, she often keeps bras far longer than experts recommend, in order "to avoid the embarrassment and shame of feeling like something is wrong with me for having big breasts."
Folu Akinkuotu, who wears a cup size rarely carried by retailers, agrees. "I don't really 'shop' for bras; I merely replace bras that I already know fit me and work with my wardrobe," she explains. "Since my bras are always so expensive and I tend to wear them until they're in tatters, messing around with something new always feels like too high of a risk." As a result, she often shops online. There, she knows she'll find bras in a range of styles, and not feel limited to what brick-and-mortar stores typically recommend to her: "bigger straps, extremely full coverage and just generally not the styles I'd prefer to wear as a young woman."
Shopping for any article of clothing is tough, not least of all because the fashion industry is severely lacking in any kind of standardized sizing. And even though bra sizes are based on measurements, the lingerie industry has the same limitations as any other brand — sometimes even more.
"I think it's really important to keep in mind, especially if we're talking about mass production and fitting people, that bodies come in a near-infinite variety of sizes, shapes, dimensions and proportions. Ready-to-wear or mass-produced garments are a fairly recent invention in the history of clothing, and the tradeoff for that accessibility and cheapness is that no one person is going to have a garment that fits them perfectly," Cora Harrington, the founder of The Lingerie Addict, tells me. "When you're talking about bras, which are highly-engineered garments, with hundreds of potential sizes, that are all made by hand, at prices most people can afford...to me, that's impressive. The more I learn about what goes into the production of bras, the more impressed I am."
Through her work with The Lingerie Addict, Harrington has helped demystify the process of buying undergarments for millions of people, and has helped spotlight new and indie brands that may not have the resources to, say, stage an annual multi-million-dollar fashion show starring the most famous models in the world. But she also understands that asking a brand to increase its sizing is more involved than simply adding a few sizes; for each band size, there's a range of cup sizes to consider. "Bra sizing is not like [ready-to-wear] sizing. There are so many more sizes, and they are so much more complicated," she tweeted last month.
That doesn't mean that brands are entirely off the hook for not expanding their offerings to customers, especially when they co-opt language in an effort to be seen as "empowering." 
"I'm used to the realities of bra shopping as a busty girl, but I felt a bit deceived by the newest crop of lingerie startups that all tout their inclusive sizing, yet only offer up to a C or D cup," Akinkuotu points out. "Can you really say you're 'innovative' when you're doing less than everyone else already in the market?"
Lawrence, who typically buys bras from Aerie or Cosabella, is on the same page: Specialty bra stores can be excellent, but she finds that their bras tend to be much pricier. "[Plus], you have to really search high and low for brands that carry fun and playful options — and even then, it's typically going to be from an indie brand that has a higher price point and limited stock. That's absurd," she says. "People who have big breasts should be able to find the same kinds of bras, design- and functionality-wise, as people with smaller chests. We should not feel like an afterthought to lingerie brands."
Options are important, for function as well as form. A few weeks after my horrible experience at Victoria's Secret, I decided to get fitted at five different stores, all within the same afternoon. "Bra sizes aren't static: Menstrual cycles, hormones, medications, illnesses...all of that can affect what your size may be," Harrington notes. She also warned that just because "a store sells bras doesn't mean they're a good place to get fitted." It took me a total of two hours to visit Victoria's Secret, Aerie, the bra department at Bloomingdale's, Journelle and a Savage x Fenty pop-up store. Each time, I asked a salesperson if I could get fitted; each time, I was given a different measurement.
At Victoria's Secret, I was a 34D; the salesperson was so busy with other shoppers that she didn't have a lot of time to check on me. At Savage x Fenty — which, in September, went viral for its wildly inclusive Fall 2018 presentation during New York Fashion Week  — the salesperson was friendly and cut the tension of fitting me with a welcome joke. But she also told me she was a recent hire, and not the best at fitting bras, which worried me; to her, I was a 36D, but she wasn't entirely sure. (Her supervisor later stepped in.) At Aerie, I was measured as a 36B, and the salesperson tried to sell me on a push-up bra even after I told her I wasn't interested in one. The salesperson at Bloomingdale's decided I was a 34B, but stuck me in a room with four bras of varying sizes and little advice on what to look out for when it came to proper fit.
None of the salespeople, it seemed, were that invested in what my needs were (or helping me figure them out), or were too busy with other customers to listen to my concerns. (When I reached out to one shop for comment about how customers can feel comfortable advocating for themselves while shopping, she began talking about the importance of investing in a good bra, changing the subject entirely.) Bra shopping is a vulnerable experience: You're standing in a small room, often with your shirt off, staring at your body in a mirror. Feeling like you're the only person in your own corner can be frustrating — and can leave you scarred for future shopping experiences, too.
While the salesperson at Journelle first measured me at 34D, she ultimately helped me decide that 34C was the correct measurement, and that I should look for bras in a demi cup, based on my breast shape. She was the first person all afternoon to suggest that a bra style could affect fit.
According to Harrington, it's absolutely fine to opt for a bra you like better, even if it isn't the size that the measuring tape recommended. She urges consumers to "be willing to try different styles and shapes" before purchasing a bra. "One of my favorite bras, the Natori Feathers, which is a plunge style, runs shallow, so I go up a cup size," she says. "And I can do that because I know how a well-fitting bra should feel."
But that trying-on process is more difficult when you simply can't find bras that come anywhere near to fitting you to begin with. "If you're not able to buy online or in-store, you can try bra-swap groups on Facebook or the for-sale section on sites like Bratabase," Harrington suggests. 
Just as retailers are slowly adding sizing options that can actually fit the majority of people, mass-market lingerie companies have a lot of work to do before their sizes and styles are inclusive, too.
"I would love to see more sizes — both plus- and full-bust sizes — in the American lingerie market, especially from the brands that are most visible and receiving the most publicity, like Aerie and Savage x Fenty," Harrington adds. "I'd also like to see more nude tones from more brands in more sizes."  
In 2014, indie brand Nubian Skin made waves by debuting a collection of bras for women with darker skin tones who may have never seen their version of "nude" reflected in a bra before. Target followed suit in 2017, with a line of bras that was not only diverse, but affordable. Savage x Fenty, meanwhile, has offered a range of colors and styles from its inception. 
Seeing the limited representation on the Victoria's Secret Fashion Show runway can also make someone feel it's their body, not the bra, that's at fault. Lines like Ashley Graham's collection for Additionelle and Gabi Gregg's collaboration with Playful Promises are helping provide bras in a variety of styles for plus-sized women; Chromat, RodeoH and other brands are doing crucial work for transgender or disabled customers who may have never felt represented or catered to previously.
"It may not seem like it, but there has never been a better time — not in the whole, entire history of bras — to find a bra in your size, in your style and to fit your budget," Harrington emphasizes to me. "It may require a little more searching. It may require a little more trial and error. It may require going out of your comfort zone a bit. But this is truly the best time to be a bra shopper, and it will only get better from here."
Homepage photo: A holiday shopping event at Victoria's Secret. Photo: Matt Winkelmeyer/Getty Images 
Sign up for our daily newsletter and get the latest industry news in your inbox every day.