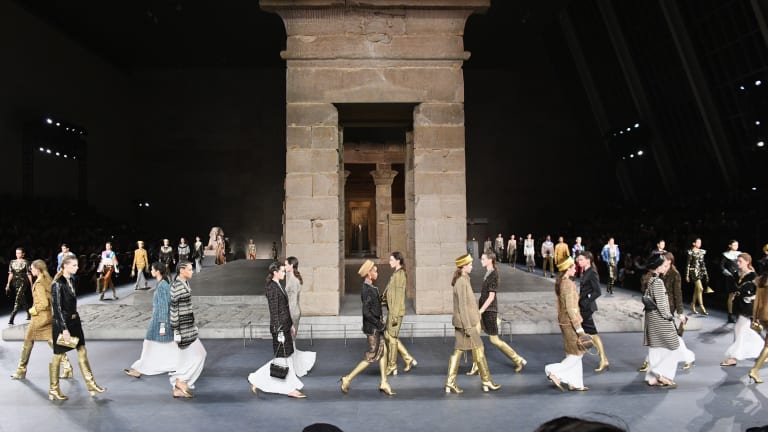 Chanel's Métiers d'Art 2019 Collection Really Goes for the Gold
Get it? Because there's so much gold! Also, Pharrell was there.
Karl Lagerfeld and the Chanel design team have never met a theme they didn't love: They've excavated ancient Greece, cruised through 1950's Cuba and, most famously (infamously?), rocketed us all into outer space.
So when it was announced that the brand would be bringing its Métiers d'Art show to New York City, the assumption was that it would be packed with odes to the Big Apple. Of course, that was foolish: Dolce & Gabbana already did that to the extreme with their Alta Moda show — as did Donatella Versace over the weekend and Jeremy Scott with his recent H&M x Moschino extravaganza. Besides, where's the fun in designing a dress that looks like the Empire State Building?
Instead, Lagerfeld and co. looked towards the show's setting: The Temple of Dendur, nestled neatly in the Sackler Wing at the Metropolitan Museum of Art, where it serves as a crown jewel in the Met's Egyptian wing. Though Lagerfeld has always notably refused to actually do real research for his collections, preferring to instead use his imagination of a place rather than the place itself, it's clear Chanel derived inspiration from the artworks displayed in the rooms around the Temple of Dendur. 
First, there was the gold — lots and lots of gold, and not the subtle, burnished kind, but the bright, pure golds of Egyptian pharaohs. It served as detail on the lapels of jackets, as the trim on dresses and skirts, as the foundational color of heels and knee-high boots and, perhaps most daringly, as opaque gold tights. Chanel also offered its vision of a bright gold headdress which wouldn't have looked out of place in the display cases of the surrounding galleries. 
The jewelry, too, was oversize and outrageous, with pieces like oversized, pearl collars and hammered pendants and cuffs set against plain white dresses. Long layers of beaded necklaces were piled on top of each other, a Chanel signature, sometimes over top of a collar or with beaded tassel earrings. The bags were — what else? — often pyramid shaped, or at least sharply-cornered. 
There was lots of croc — or perhaps croc-embossed leather, as the brand notably announced it would be ditching exotic materials in its collections. There's a pair of black croc pants with a relaxed leg, and a black croc jacket with exaggerated shoulders. Gold, croc boots come with an embellished heel, and fingerless gloves — Lagerfeld's favorite! — were rendered in a croc material.
Cooler pieces managed to reference New York City as much as they did ancient Egypt. A graffiti-hieroglyphic hybrid print, packed with references to those classic Chanel house codes, played prominently on a pant and bomber jacket set, or a dress paired with matching boots and an oversized, shearling-lined denim jacket. The brightly colored knits and ombré, metallic leather pants should get a lot of play with the street style set looking to stand out. And there was menswear that only someone as daring as Pharrell could wear — which he did, appearing on the runway in a gold sweater with collar detailing and gold leather pants. 
Still, this is Chanel, which means there was plenty of tweed (with and without all that gold, in case you're looking for something more subtle) and suiting. The eveningwear was especially pretty, knocking the gold tones back into a more muted bronze territory and adding in jeweled elements sure to sparkle on any red carpet.
Was it all a little bit much? Yes. Did it veer into costume territory? Absolutely. But while longtime customers may choose to skip a mosaic crop top and miniskirt set layered over a sheer, metallic maxi dress and topped with a bright gold hat (that's a lot of look), they'll almost certainly be swooning for the graphic prints and scarab-encrusted cuffs. 
See the complete Chanel Métiers d'Art 2019 collection below: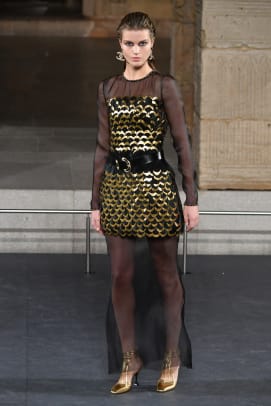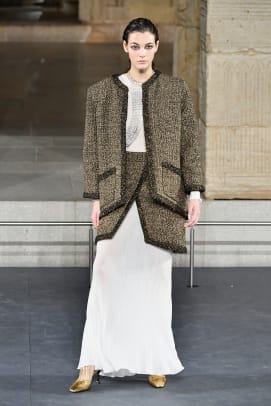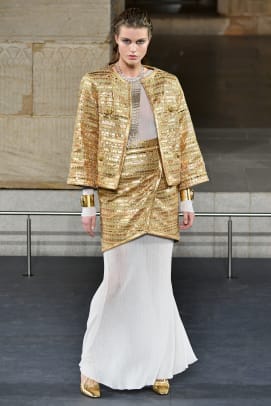 Stay current on the latest trends, news and people shaping the fashion industry. Sign up for our daily newsletter.
Homepage Photo: Dia Dipasupil/Getty Images