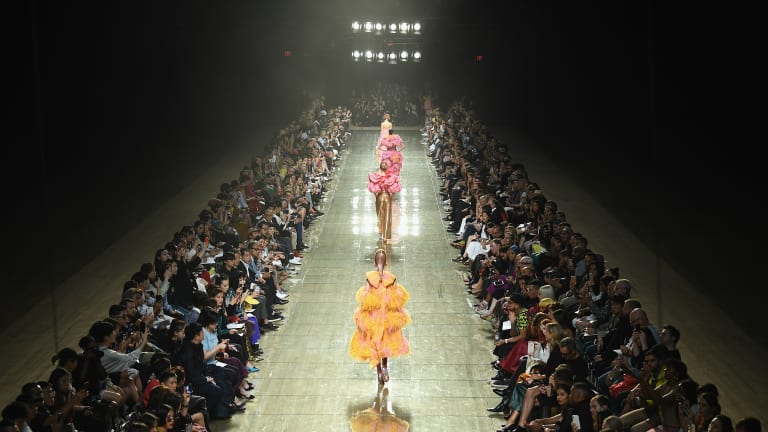 Fashionista's Favorite Stories of 2018
The best of the best, as chosen by our editors.
It's been a long 12 months, and before we kick 2018 to the curb, we're looking back at all of the most memorable, game-changing fashion and beauty things that went down. Follow along with us as we look back at the year in review.
Over the course of the year, the small (but mighty!) Fashionista team churns out a hell of a lot of #content — ranging from analytical deep-dives on industry trends to thoughtful essays and LOL-worthy news posts to critical runway show reviews. No two days are ever the same, and we report, write, produce and edit all while prepared to drop everything for the kind of breaking-news moments that get our blood pumping. We travel the globe for marathon fashion weeks, logging thousands of steps in places like Milan, Paris, Sydney, Copenhagen and Tbilisi, and we stay up until the wee hours of the morning covering primetime awards shows. And, quite honestly, we wouldn't have it any other way, because we love our site, we love this industry and we love you, our readers, whose feedback makes us want to do more and be better year after year.
Now, with the longest-ever calendar year that was 2018 (finally) coming to a close, we're hitting pause on our breakneck pace to appreciate the pieces that really made an impression on you, as well as on us. Our writers and editors put our heads together to compile those stories that made us think, made us laugh and even, in a few select cases, made us cry. Some of these pieces were passion products that started constructive conversations — within fashion and beyond — while others, we think, simply embody the approachable, candid spirit that makes Fashionista what it is and what it always has been.
If you find yourself in search of some vacation reading this holiday, consider the below — listed in no particular order — your go-to. See you in 2018!
The 5 Most-Read Stories of the Year


1. Kanye West Releases Yeezy 500 "Supermoon" Sneaker Campaign on Social Media
2. Gucci Out-Guccis Itself for Fall 2018
3. Counterfeit Handbags Are Getting Harder and Harder to Spot
4. 6 Spring 2018 Shoe Trends to Get Ahead of Now
5. Paris Hilton Dressed Up as Kim Kardashian to Model Yeezy Season 6
10 Can't-Miss Career-Centric Stories


1. How Choire Sicha Went From Amateur Blogger to Styles Editor of The New York Times
2. How Mario Dedivanovic Went From Sephora Employee to Kim Kardashian's World-Famous Makeup Artist
3. How Slick Woods Went From Homeless Teen to Fashion- and Beauty-Industry Force
4. All the Ways to Finance a Fashion Business in 2018
5. How Celebrity Hairstylist Mark Townsend's Clientele Evolved From Barbies to Olsens
6. What 5 Successful Designers Learned From Launching During the 2008 Recession
7. How Longtime "SNL" Costume Designer Tom Broecker Built a Career at the Legendary Sketch Comedy Show
8. How LaQuan Smith Launched His Brand and Built a Loyal Following Without Going to Fashion School
9. How Eva Chen Went From Pre-Med Student to Director of Fashion Partnerships at Instagram
10. How Lindsay Peoples Wagner Worked Her Way From Closet Intern to Editor-in-Chief at Teen Vogue
15 Deep-Dives on Industry Trends


1. The Nitty-Gritty Process of Changing a Fashion Brand's Logo
2. As Fashion Moves Toward a Seasonless Model, Has "Seasonal Inspiration" Become Obsolete?
3. Fashion Is Coming for Surfing, and Its Lifestyle, at Full Force
4. What's the New "Festival Fashion" Aesthetic?
5. Archivists, and the Archives They Maintain, Are the Heartbeat of Fashion Houses
6. The Big, Passionate, Global World of Soccer Fan Apparel
7. Fashion's Obsession With Quilting Is Breathing New Life Into a Classic American Craft
8. Are Ultrafast Labels Like Fashion Nova Wittingly Ripping Customers Off?
9. Are Online Waitlists for Fashion Items a Total Scam?
10. How the Contemporary Market Got Its Groove Back
11. What Does the Future of Bridal and Wedding Media Look Like?
12. Memes Dominated Fashion Trends in 2018, Which Is Exactly What We Deserved
13. The Hot New Trend in Luxury Retail? Not Selling Anything
14. The Complicated, Messy Reality of "Canceling" Victoria's Secret
15. The Untold Stories of the Designers Working Behind the Scenes at Your Favorite Houses
10 Must-Read Stories on Diversity, Inclusivity and Equality


1. Moviegoers Went to See "Black Panther" Decked Out in Their Finest Wakanda-Inspired Fashions
2. How Backstage Beauty Pros Can Step Up Their Inclusivity This Season
3. Why the Fashion Industry Should Adopt Inclusion Riders, Too
4. Fashion Photography Has a Real Gender Equality Problem
5. Luxury Fashion Has a Plus Size Problem
6. Pat McGrath on Why Diversity and Inclusivity Have Been Crucial to Her Brand From Its Launch
7. Recent Makeup Swatching Failures Highlight the Dire Need for Diversity in Beauty Hiring
8. Female-Focused Manual Workwear Is Still an Emerging, But Also Evolving, Market
9. The Fashion Industry Struggles at the Intersection of Race and Size on the Red Carpet
10. Wellness's Diversity and Accessibility Problem Is Finally Being Upended
8 Essays That Got People Talking


1. Refusing to Ask Celebrities Who They Were Wearing at the Golden Globes Missed the Point
2. I'm Tired of Not Seeing Myself Represented in Street Style Photos
3. I Can't Separate My Anxiety From My Obsession With Fashion and Beauty
4. How I'm Conquering My Compulsive Shopping by Focusing on My Mental Health
5. A Skin-Care Obsessive's Dilemma With Going on Accutane
6. The Enduring Joy of Kate Spade
7. On Wanting to Dress Like Your Style Icon When You Don't Look Like Them
8. The Secret to Truly Unique Personal Style Is Listening to Your 13-Year-Old Self
5 Stories That Made Us LOL


1. Just Look at Rihanna in Saint Laurent at Her 30th Birthday Party
2. Hey, Quick, Question: What Is Happening With This Street Style Sock Puppet?
3. Hey, Quick Question: Did Mark Zuckerberg Wear a Suit Yesterday?
4. Hey, Quick Question: Are Flip-Flops "In" Again?
5. I Hate Flip-Flops. So Much. And You Absolutely Cannot Change My Mind.
That Time #Harry4Gucci Actually Happened…


1. See the Pictures From Harry Styles's Gucci Tailoring Campaign
2. Just Wondering, Is Gucci Trying to Kill Us With This New Harry Styles Campaign?
...And That Time We Saw Him at Madison Square Garden.


Bell Bottoms and a Secret Message: Harry Styles Went Big for Night 1 at Madison Square Garden
The Beauty Top 5


1. How Drugstore Beauty Is Rebranding for a New Generation
2. Please Don't Call J-Beauty "The New K-Beauty"
3. Beauty Brands Are Finding Innovative Ways to Reduce Packaging Waste
4. A Brief History of the Failed Kardashian Beauty Brands No One Ever Talks About
5. An Exhaustive Timeline of All the Deciem Drama Over the Years
10 Sustainability and Ethical Manufacturing Stand-Outs


1. How Truly "Responsible" Is Your Responsible Cashmere?
2. How Fashion and Beauty People Really Feel About Packaging Waste
3. The Ethical Fashion Movement Can't Progress If It Ignores Plus-Size Shoppers
4. The Fur Sustainability Debate: Is Real or Faux Better for the Planet?
5. To B Corp or Not to B Corp: What the Ethical Business Certification Means for Brands
6. Why Does So Much Ethical Fashion Look the Same?
7. How to Convince a Fashion Brand to Go Fur-Free in 2018
8. Meghan Markle Is Having an Unprecedented Effect on Small Ethical Fashion Labels
9. Factory Tour: Eileen Fisher Helps Make the Eco-Fashion Dream of Circularity Come True
10. 5 Years After Rana Plaza, How Much Has Changed in Bangladesh?
All Things #Influencer


1. This Is How Much It Costs to Wake Up Looking Like an Influencer
2. Inside the World of Top Fashion Bloggers' Biggest Superfans
3. Is Instagram's Newest Sensation Just Another Example of Cultural Appropriation?
4. Are Influencers Influencing Where Young People Travel?
5. Can AI-Powered CGI Creations Take Over the Influencer Space?
6. The Rise of "Instagram Brands": How the Platform Is Leveling the Fashion Playing Field
7. Are Influencer Brands the Key to Bringing Millennials to Department Stores?
8. Can Mass Influencer Marketing Backfire for Brands?
9. What It Takes to Run a Mary-Kate and Ashley Olsen Fan Account
For the Critic, 9 Fashion Show and Exhibition Reviews


1. Michael Kors Goes Off the Rails for Fall 2018
2. Gucci Out-Guccis Itself for Fall 2018
3. The Met's "Heavenly Bodies" Exhibit Has Something for Believers and Non-Believers Alike
4. Virgil Abloh Did His Debut Louis Vuitton Show for the Kids
5. More Fashion Shows Should Be Like Christian Siriano's Spring 2019 Runway
6. The Pyer Moss Spring 2019 Collection Was a Powerful Celebration of Black Culture
7. Marc Jacobs's Spring 2019 Show Was a Dramafest in Every Sense of the Word
8. Rihanna Brought Savage x Fenty to Life With a Diverse Celebration of Womanhood
9. Hedi Slimane Brings His One-Trick Pony Act to Celine for Spring 2019
The Best of Costume Design


1. The Costume, Hair and Makeup in Marvel's "Black Panther" Are a Celebration of Black Culture and Heritage
2. The "Assassination of Gianni Versace: American Crime Story" Features Authentic Vintage Versace
3. How Costumes Help Deliver the Powerful Social Commentary in "Sorry to Bother You"
4. The Fabulous Costumes of "Crazy Rich Asians" Are Stacked With Dolce & Gabbana, Valentino and Lots of Asian Designers
5. The Costumes in "To All the Boys I've Loved Before" Reference K-Pop and the Modcloth Aesthetic
6. Lady Gaga Wears a Mix of Vintage and Custom Gucci in "A Star Is Born"
7. Jonah Hill's "Mid90s" Replicates Skate Style From the Era in the Most Low-Key, Authentic Way
8. The Evolving Aesthetic of Pop Culture Witchery
6 Really Cool Original Shoots With Really Cool People


1. How a Quarter-Life Crisis Put Kim Cam Jones on the Global Fashion Map
2. Grace VanderWaal Is a 14-Year-Old Music and Vintage Shopping Prodigy
3. Meet B.B., the Genderfluid Country Artist Who Dresses Like a Cowboy
5. How I Shop: Julianna Zobrist
6. Meet Overcoats, the Genre-Bending Musical Duo Obsessed With Emerging Designers and Thrifting
...And About That Hedi Slimane-for-Celine Debut.


Now That Hedi Slimane Brought His Aesthetic to Celine, What's Next for Saint Laurent?
Homepage photo: A view of the runway finale at Marc Jacobs's drama-filled Spring 2019 runway show during New York Fashion Week. Photo: Dimitrios Kambouris/Getty Images for Marc Jacobs
Sign up for our daily newsletter and get the latest industry news in your inbox every day.