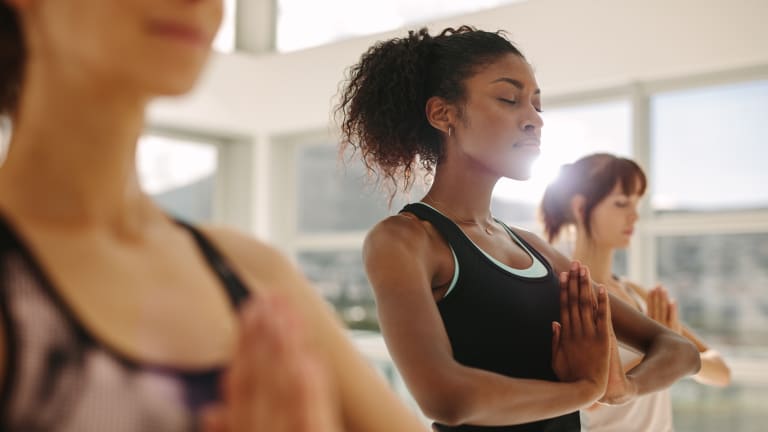 Wellness's Diversity and Accessibility Problem Is Finally Being Upended
In an industry that's been dominated by whiteness and cost-prohibitive prices, it's time to change the narrative.
Wellness is big business. In fact, that's putting it mildly. From 2015 to 2017 alone, wellness ballooned from a $3.7 trillion to a $4.2 trillion market, according to the Global Wellness Institute. Once-esoteric rituals like meditation, adaptogens, gua sha and microcurrent facials have gone from the absolute fringes of the beauty realm to part of a more popular collective lexicon. Self-care is now considered a priority by many — but it's also taken on a less savory connotation of being something of a status symbol. Gwyneth Paltrow's Goop image and those who fit its mold (thin, wealthy and white wellness influencers) have become emblematic ideals of perceived physical, mental and social well-being. It's this level of actualized "wellness" that so many of us aspire to achieve — and that brands clamor to capitalize upon.
The dark reality is that the recent explosion in wellness has largely perpetuated an image that is exclusive in more ways than one. As companies across categories like vitamin supplements, skin care, "clean" eating, fitness, athleisure, meditation, cryotherapy, IV drips, Eastern medicine and even infrared saunas promote messages of wellbeing and physical and mental health, they're often doing so with narrow-minded, exclusionary practices. The marketing and branding many wellness companies rely on have become so eerily homogenous that it can, at times, be difficult to distinguish one brand from another. The same can often be said of their clientele. But as the wellness industry continues to take off, several brands are changing the narrative and working in earnest to upend the notion that only white, rich women are worthy of living well.
Most of our Instagram feeds are chock-full of celebrities, influencers and friends spinning, downward-dogging in meditating at the newest (expensive) studios, clad in aesthetically pleasing (expensive) outfits, sipping (expensive) adaptogen-spiked lattes. While one could argue that being incessantly bombarded with these types of visuals is positive in that it inspires us all to #liveourbestlives, more often than not this imagery also perpetuates the fallacy that wellness is a luxury only a select few deserve or can afford. It was this grave misconception that inspired Darian Hall and Elisa Shankle to co-found a wellness center in Brooklyn called HealHaus.
"One of the biggest challenges is the lack of inviting and accessible spaces where people can see themselves reflected," says Hall, who focuses more on the day-to-day business dealings of HealHaus. Located in Bedford-Stuyvesant, a primarily African-American and affordable neighborhood, the center is committed to filling a much-needed void in the wellness space for that community. Donation-based programming, an event space and a diverse set of teachers and healers — who encompass a wide variety of ages, races and body sizes — help to make HealHaus a sorely needed breath of fresh air in a sea of monotonous, exclusionary sameness.
Also refreshing, Hall and Shankle use their platform and space to educate people about making wellness more accessible. For them, it's not just about the weekly 45-minute classes people attend, but it's also about teaching anyone who walks through HealHaus's door about small tweaks and easy ways they can adopt wellness into their daily lives. "We always say that anyone, regardless of money, can at least take a moment to check in with themselves and acknowledge their feelings, be aware of what causes stress and try to eliminate those triggers," says Hall. "We want HealHaus to be a place that someone who has never thought of wellness can come and feel at home." 
Fostering a sense of belonging and community-building — particularly for those who may have a history of being overlooked — is a fundamental component of what living well means for HealHaus. This philosophy is also what guides Sara Elise, a wellness entrepreneur and influencer who is committed to making her brands feel diverse and accessible.
"To me, being well means a few things: It means that emotional, mental and physical energies feel in alignment with one another," says Elise. "It means, at least 95 percent of the time, feeling like one is existing as the best form of themselves and at their fullest capacity." Through her brands Harvest & Revel, a Brooklyn-based full-service organic and locally-sourced catering company, and Blind Seed, which hosts weekend and day-long retreats, Elise has dedicated her life to helping people — primarily women of color — access both pleasure and wellness.
In addition to making practices like yoga, meditation and conscious eating more accessible to communities of color, Elise also wants "larger-bodied and differently-abled-bodied people" to feel like they have access to routines that are based on their specific needs. 

More than anything, Elise uses food and healing to teach those who have traditionally been cast aside by the wellness industry that they, too, are worthy of being well. "The truth is, we all have everything we already need to feel well, we don't need to spend money in order to take care of ourselves," she says. "We all deserve to feel good in our bodies." 
A common thread among today's wellness disruptors is that they're using their brands, platforms and voices to help us move away from seeing wellness as simply a trend. Their purpose is to encourage individuals to adopt a more conscious and intentional lifestyle, but not necessarily in a way that requires spending hundreds of dollars. Take Khajak Keledjian, the founder of the meditation platform Inscape, for example. "Self-care is often treated as an indulgence, but really, it's a valuable practice that not only improves your relationship with yourself, but with others as well. It's not a trend," he says. 
To help people integrate mindfulness into their everyday routines, Keledjian offers his meditation program via an app with free content, in addition to Inscape's New York studio. It's ideal for anyone who may be looking to try out meditation for the first time but feels intimidated at the idea of going in to a communal meditation class or hesitant about committing to a full mediation app subscription. It's through the app that people can access mindful exercises on their own time, in whatever physical setting they feel comfortable.
"We really want to meet people where they are, which includes those who are starting their journey. Our goal is to help people solve everyday stressors like stress, anxiety, insomnia and relationship issues and help them better navigate today's fast-paced, always-on world," says Keledjian. It's often these small, ever-present daily struggles that take us away from being our most aligned and "well" selves — and that's not something a quick pilates class or even the most potent CBD latte can give us the long-term tools to fix.
Oftentimes, when people speak about "fixing" an industry's diversity or accessibility problem, the "solution" is to concoct a United Colors of Benetton-esque marketing campaign. Put together an Asian, Black and a few racially ambiguous models — problem solved! But as Adam Ross and Michael Pollak, co-founders of the bi-coastal facial shop Heyday know, being welcoming to a diverse clientele actually requires much more thoughtful groundwork.
The pair, who want to make skin care more accessible by creating a place where experts can connect and teach clients, believe it's no longer enough for wellness brands to merely say they prioritize diversity. It's also imperative, they say, that these companies' staffs reflect the sense of inclusion in reality and in practice.
"Our internal clients — 94 percent of whom are women — and our team of amazingly diverse licensed estheticians span all ages, races, religions and backgrounds," says Ross. "At Heyday, we seek to be the industry employer of choice, and [to do so] by investing in [employees'] growth and development."
Ross goes on to explain that he and Pollak have found that Heyday clients spend significant time researching and getting to know the people behind the brand via the company's website. "The more we show the variety in who we are, the more avenues we provide for people to connect with us at a personal level" says Pollak. 
As the wellness industry continues to swell and expand — alongside social media and brand awareness — consumers have a growing desire to engage with brands, regardless of industry, who share their values and, more importantly, value them. They want to feel as if they belong, as if they are joining a community based on the brands they choose to support. In an industry that's been dominated by whiteness and cost-prohibitive prices, it's time to change the narrative.
Stay current on the latest trends, news and people shaping the fashion industry. Sign up for our daily newsletter.