Hedi Slimane's First Womenswear Campaign for Celine Is Here
Shot by — who else? — Hedi Slimane.
Hedi Slimane is nothing if not a man of habit. The designer, who first became famous for his skinny suiting silhouettes at Dior Homme in the early 2000s, has brought his signature aesthetic with him wherever he goes — specifically, to Saint Laurent in 2012 (where he dropped the "Yves" from the French house's branding), and now to Celine (where he dropped the accent, to much dismay). Slimane's "look" is slim, youthful and rocker-chic, and this bleeds into his casting choices of mainly white waif-types whose likes seem to include music, cigarettes, tattoos and hard partying, with their dislikes including sleeping, brushing their hair and daylight. 
Slimane's also known for his photography, and aside from an online diary he keeps and the occasional exhibition, he frequently documents his own collections for commercial ad campaigns. Such was the case with Saint Laurent, so we were not surprised to learn that his first womenswear campaign for Celine, which was released online on Friday, was shot by Slimane himself. 
The Spring 2019 imagery does not stray far from the rest of the designer's photo portfolio: A mix of black-and-white close-up shots of a duo of shaggy-haired models sits alongside technicolor images highlighting the clothing. One dress in particular may already look familiar, as it's the same one that Dakota Johnson wore to the Los Angeles premiere of "Suspiria" in October. The other pieces include a gold dress beaded with heavy metal hardware — ideal for a night of endless raging — and a sequined coat that would make any street style star and/or photographer go gaga. 
Regardless of your feelings about the Slimane rebrand of Celine, see the designer's first campaign for the house below. For interested parties, the goods will hit stores in February 2019.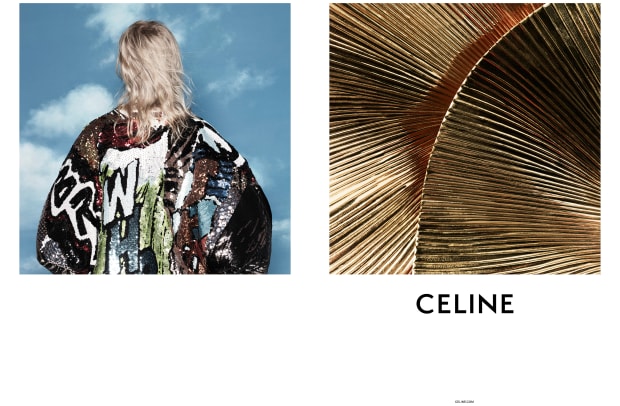 Sign up for our daily newsletter and get the latest industry news in your inbox every day.