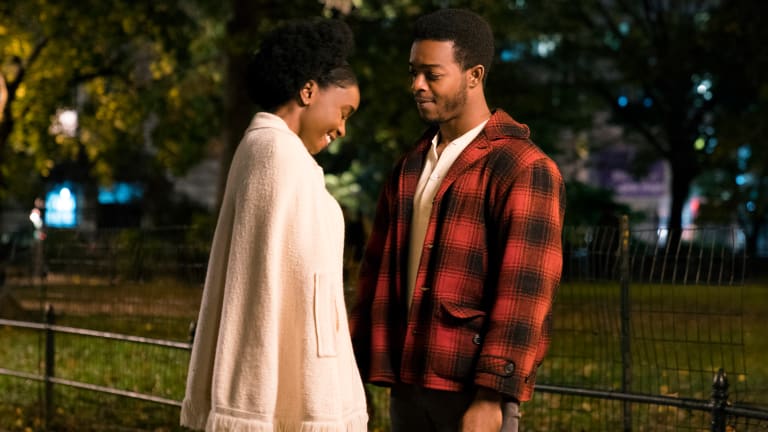 The 'If Beale Street Could Talk' Costumes Help Bring James Baldwin's 1974 Novel to Life on the Big Screen
"Optimistic, innocent and completely all about love," says costume designer Caroline Eselin, about the expressive wardrobe in Barry Jenkins's follow-up to "Moonlight."
"If Beale Street Could Talk" is, at heart, a beautiful love story. Yes, writer and director Barry Jenkins's adaptation of James Baldwin's 1974 novel — which rings very true in a 2018 America still grappling with racism, police brutality and mass incarceration — is devastating and heartbreaking. Nineteen-year-old Tish (KiKi Layne) fights to prove the innocence of her 22-year-old fiancé Fonny (Stephan James, "Homecoming"), who's falsely accused and jailed for a rape he didn't commit. 
But the overarching theme of love — through partnership, family and community — powerfully prevail on the big screen, thanks to direction and an adapted script of Baldwin's book by the Oscar-winning Jenkins, the moving acting talent and the dedicated behind-the-scenes team, including costume designer Caroline Eselin.
"Literary adaptations are one of my favorite things to do ever because you can extract so much from the written word and we want to honor it. I want to honor it," she says, over the phone. Baldwin's evocative writing, which Jenkins really wants you to read, also preset the stage, so to speak, for Eselin. "He's so descriptive of clothing in the book," she says. "He was a great collaborator."
To visually research for the period film, which is mostly set in Harlem and the West Village, Eselin studied New York photographers of the '60s and '70s: Gordon Parks, Camilo José Vergara and Kamoinge, a collective founded in 1963 dedicated to capturing the African-American experience. She was also moved by images, taken by photojournalist Paul Fusco, of mourners paying respect along Robert F. Kennedy's funeral train in "Paul Fusco: RFK." 
The color palette, developed in close collaboration with Jenkins, production designer Mark Friedberg and set designer Kris Moran, plays an integral role in telling the powerful and inspiring story of Tish and Fonny — soulmates since childhood — through the interspersed flashbacks. "[The colors are meant to] be optimistic, innocent and completely all about love," explains Eselin. "We did not shy away from color and the color is dialed up in the movie, absolutely."
The movie opens with a radiant and wordless moment between the two by the water. Their coordinated blue and yellow palettes further establish their unbreakable bond: Fonny's denim jacket and mustard shirt meshing with Tish's marigold trench and navy and white checked dress. "With couples, there are times when you're so in sync with someone. So, that's instinctually what we did there," the costume designer explains. "They mirror each other that they are one."
The introduction of green, through Tish's corduroy coat, printed button-down shirt and caramel A-line skirt outfit (above) supports her through a long, pivotal day starting with telling Fonny, during visiting hours, that they're going to have a baby. She then goes home to share the news with her steadfast and supportive mother, Sharon (Regina King, nominated for a Golden Globe for the role), loving father Joseph (Colman Domingo) and protective older sister Ernestine (Teyonah Parris). (Fonny's fractured family, who arrive later, are another story.) 
Tish's earth-toned outfit, which Eselin, Friedberg and Moran meticulously color-tested, seamlessly harmonizes with the warm, comforting hues in her family's apartment to accentuate their the strength and dedication to each other — and Fonny — through adversity. "I look at green as new life and fertility and new growth," adds the costume designer, about her interpretation of the color, which is mentioned in different scenarios throughout Baldwin's book.
Like many other costumes in the movie, Tish's outfit veers toward the late '60s, as a young, hard-working woman would make the most out of her wardrobe investments. To support herself, Fonny and her growing family, Tish works at a perfume counter in a fancy Manhattan department store (which looks a lot like Bergdorf Goodman, because that's where the scenes were filmed). The only African-American employee at the store — a "very daring, very progressive" move, in Baldwin's and Tish's voiceover words — she regularly wears her best green and red paisley print dress to her workplace.
"It's her department store dress," says Eselin, about the late '60s dead-stock gem she found at Rue St. Denis in New York. The A-line silhouette also fit the script, as Tish mentions letting out her dresses to allow for her growing pregnancy. Reflecting real life, Eselin restyled different pieces on Tish for flashbacks and the timeline moving forward as Fonny's case progresses.
A dreamy fringed knit cape is a particularly memorable wardrobe repeat, first worn on the couple's first official date over a soft lemon yellow skirt set (pictured above). Eselin repeated the vintage layer with a robin's egg blue sweater and matching checked mini when Fonny takes Tish to visit an East Village loft (with the owner played by a mandals-wearing Dave Franco). She looked absolutely angelic in one moment, backlit by the sun shining through the massive loft window.
"It's so pure — that's the best way I can describe it," says Eselin, about the cape. "It's pure love. There's no one else she's ever been with except Fonny. It's an innocence and optimism and purity in the most beautiful way. He's going to protect her and that piece lends itself to being protecting in a way. It's a feminine, soft piece."
Another reassuring wardrobe favorite was borrowed from Tish's mother. Earlier in the movie, Sharon wears a red and cream knit cardigan, along with her "shopping hat, which is a kind of floppy beige beret," as described in novel. Late in her pregnancy, Tish layers the sweater over a long ruffled dress to visit Fonny, who's starting to lose hope. "[It's the] comfort of her mother with her," says Eselin. "[Like] 'I'm going to borrow your sweater today, because I love it and its comfort.'"
While the costume designer sourced an impressive amount of perfect vintage pieces, she custom-built the dress that Sharon wears to Puerto Rico to track down Fonny's accuser. Eselin designed the (also) late-'60s-style shift to convey the importance of Sharon's visit and illustrate Baldwin's description of her stepping off the plane and into the unfamiliar crowd: "She is wearing a green summer dress, my mother, and a wide-brimmed, green cloth hat; her handbag over her shoulder, her overnight bag in her hand; she studies the scene." (Although, the "green cloth hat" became a checked scarf and a short wig, for a later scene, to demonstrate Sharon playing with "disguises" for her crucial mission.)
Fonny's hero costume is also lifted from the pages of Baldwin's book, like the red and white woodsman-check jacket he wears on his first date with Tish (above): "He was wearing an old black and red lumber jacket and old gray corduroy pants. His heavy shoes were scuffed; and he smelled of fatigue. He was the most beautiful person I had seen in all my life." Eselin further channeled aspiring artist's character and passion through pieces that looked casually thrifted or borrowed from his father and never returned. 
"Fonny is found objects. He wears a lot of the same pants all the time, but he has a style. He has something inherent that he does that he puts together. It's like his sculptures. He just assembles things that work," she says, pointing to the green collared sweater (below) he wears in multiple scenes and a worn-in henley shirt. "That corduroy jacket: It has a couple of stains on it."
Eselin previously worked with Jenkins on the Academy Award-winning "Moonlight" and is currently designing another adaptation for the writer-director: Colson Whitehead's "The Underground Railroad," for Amazon. "I'm in awe of Barry, always," she says. "He loves clothes. He loves costumes. He's so in the trenches with you." She fondly recalls sitting with Jenkins on the floor of the fitting room to "map out" Tish and Fonny's costume trajectory for the entire film.
"I don't know how he'd like me saying this, but I think he's a hopeless romantic," adds Eselin. "I can understand that. I'm a hopeless romantic, too." 
Follow Caroline Eselin on Instagram @ceselin. 'If Beale Street Could Talk' opens in theaters on Friday, Dec. 14.
Homepage photo: Tatum Mangus/Annapurna Pictures
Never miss the latest fashion industry news. Sign up for the Fashionista daily newsletter.