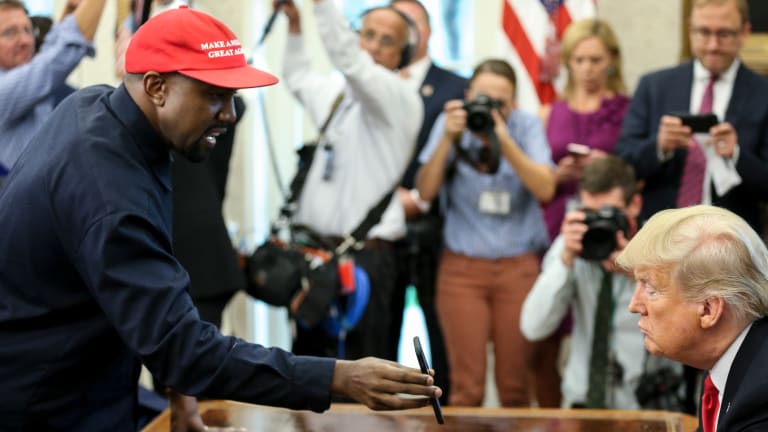 Despite His Many Controversies, Fashion Didn't 'Cancel' Kanye West in 2018
A very public fall from grace or business as usual? Here, top fashion experts weigh in on West's crazy year.
It's been a long 12 months, and before we kick 2018 to the curb, we're looking back at all of the most memorable, game-changing fashion and beauty things that went down. Follow along with us as we look back at the year in review.
When Issa Rae hosted the CFDA Awards back in June, she took aim at Kanye West in front of a room full of designers and industry influencers — his wife Kim Kardashian West, who accepted the first-ever CFDA Influencer Award that very evening, included.
"When I'm left to my own devices, I'm about as fashionable as Kanye is Black — only when it's convenient," she joked, followed by a reference to the artist's controversial TMZ interview the previous month. "You guys, that joke was my choice, just like slavery."
That interview was just one of many, many Kanye controversies to take place in 2018 — one conducted in the midst of his suddenly rampant support for President Donald Trump, which would reach its apex in a rambling monologue West made while hosting "Saturday Night Live" in late September. Longtime fans of West — a rapper, designer and creative who once seemed invincible — began writing him off in articles and blog posts, while fellow celebrities called him out on social media. ("Trump becoming our president was a loss for the country, but your support of him is a loss for the culture," Lana del Rey wrote on Instagram, for example.)
Back at the CFDA Awards, however, the picture was more complicated. Though the room responded with laughter at the time, there has been little to no pushback on West from the fashion establishment at large. He's still sitting front row at the season's best shows, from Louis Vuitton (where his longtime friend and collaborator Virgil Abloh was recently appointed men's creative director) to Versace. His partners at Adidas, the home of his ever-popular Yeezy line, have stood by him, with CEO Kasper Rorsted telling CNBC in May that West's cachet was too vital to Adidas's overall brand awareness to let go. Retailers from Ssense to Net-a-Porter continue to sell his products. Any impact within fashion, it seems, has been null.
"I'm just not sure that Kanye has done anything more controversial or devastating to his personal brand this year than he's done in years past," explains Brian Trunzo, a senior consultant and forecaster at trend forecasting agency WGSN.
Indeed, West is known for ruffling feathers — be they Taylor Swift's or Drake's or George W. Bush's — and he's no stranger to catching heat from the fashion world. His first runway show, held in Paris in 2011, was described by most who saw it as a disappointment and had Anna Wintour running for the door. When Eric Wilson, then a fashion critic for The New York Times, asked Wintour for her thoughts on the show, she told him bluntly to, "Ask someone else."
West's bitterness toward the industry seemed to harden from there, spawning endless rants about brands that had turned down working with him in the past. Fendi had no interest in his leather jogging pants; Louis Vuitton ignored his calls; Hedi Slimane refused to recognize his greatness — the list goes on. Wintour, of course, would eventually concede to his popularity and put him and Kardashian West on Vogue's April 2014 cover. The editor began popping up at his shows, too, including the raucous Yeezy Season 3 show at Madison Square Garden that was also a joint album release party.
But it wasn't all smooth sailing from there: After his Yeezy Season 4 runway show in 2016 saw models fainting in the oppressive heat on Roosevelt Island, top fashion critics like Robin Givhan decried their mistreatment and wrote the clothes off as "worse than bad." Revisiting the subject a year later, fashion editors like Rachael Wang and Katherine Zarrella told The Cut they were effectively done with him, citing his models' poor treatment and the racially-tinged language he used in his casting calls ("multiracial women only"), among other complaints.
That attitude hasn't gained many supporters, though, even as West continues to drum up new and louder drama for himself (while wearing a "Make America Great Again" cap, in many cases). Some in the industry believe this comes from a place of fear — specifically, of not wanting to offend one of fashion's top golden boys and cash cows.
"No one wants to talk about it; everyone is tied to Kanye somehow," said one industry insider, under the condition of anonymity, when asked about West's recent antics. This being fashion, with its love of ladder-climbing, those who aren't yet connected to West are hesitant to risk any future opportunities to work with him by offering their critiques.
According to Wilson, now the fashion news director at InStyle Magazine, forming alliances with powerful people like West is simply what the industry thrives on, and should come as no surprise. "Powerful editors maintain power by associating with power and fame, so it serves their interests to protect or to defend certain behavior," he said. "In the case of Kanye, people were very hesitant to criticize his initial collections, because they wanted him in the books — he draws eyeballs and is fun to be around." (In 2018, West covered the September issue of Harper's Bazaar, for example, alongside children North and Saint West.)
Most of the protestations toward him are also often too fleeting to hold much weight. "Sure, the most politically left-leaning of the fashion world may have 'canceled' him," argues Trunzo. "But how is that any different than what has historically happened with Kanye?"
Jeff Carvalho, the managing director of Highsnobiety, believes that having West's back comes down to free speech and the fact that he has not crossed over into hate speech, which is more of a non-negotiable. "He's just a guy putting his opinion out there, and many people are surprised by those opinions, but I don't think he's done anything to keep him off the cover of a magazine," he says.
Wilson agrees, saying that nothing that's happened in recent months would change the likelihood of InStyle working with or covering him, and it's yet to come up in editorial meetings as a potential issue. "We already know he's a person who is very provocative, so he's a bit like the boy who cried wolf, where you start to take everything he says with a grain of salt," he explains.
Though not a risky pursuit, everyone agreed that covering West right now would have to address these issues head-on and include some hard questions about what he's really trying to say with his political stance — which is to say, it can't just be about fashion. "At face value, a lot of his comments are quite offensive, but I think that behind them, he's trying to have an interesting conversation he just isn't articulating well," says Wilson.
That conversation may finally be simmering down. In late October, West declared on Twitter that he'd realized he'd been "used" and would now distance himself from politics to focus on being creative. Since then, he's stayed true to that, aside from one out-of-character retweet of former President Barack Obama celebrating a Chicago-based charity — a vanilla move compared to what came before it.
His Yeezy sales appear to be hot as ever, despite some attempts from critics to paint them as otherwise. (His merch sales are still impressive, too: According to an interview with Power 106 Los Angeles back in June, West was able to move $500,000 worth of "Wyoming" merch in just 30 minutes, coinciding with his "Ye" album listening party.) When West's largest release yet of its Yeezy 350s in September didn't immediately sell out, people were quick to chalk it up to all the bad press, but experts say it was more about the shoes' sudden widespread availability.
"The primary reason this brand has been so successful is its scarcity, which is what drives a lot of streetwear and fashion today. There are limited editions of the product; not everyone can get a particular pair, and that makes them highly desirable for both the resale and ownership markets," explains Matt Powell, a sports industry analyst at market research and consumer trends firm NPD Group who is known as something of a Yeezy expert on Twitter. "When brands oversupply the marketplace and exceed demand, it can often change the course of that brand very quickly — we saw this happen with Jordans, and I fear we're going to see a similar scenario here." 
But making his shoes more accessible has been a long-term goal of West's, so for him, it could be seen as a win. His usual product numbers, estimated to be in the tens of thousands, were said to jump to one million for this release, so to see different sales results makes sense, says Carvalho.
"The demand on the reseller market is not as high for those shoes — there's a consumer that loves Yeezy shoes, but might not love that one because it's not as exclusive as the others," he says.
Beyond that, though, Carvalho sees no real cause for concern. Although a few menswear savants bragged online about chucking their Yeezys a few months ago, one former GQ staffer suggests to Fashionista this was all talk — little more than a of a performative act of righteousness as most of them kept the goods. As Carvalho put it: "It's not like people are burning their Yeezys."
Featured photo: Sebastian Smith/AFP/Getty Images
Sign up for our daily newsletter and get the latest industry news in your inbox every day.