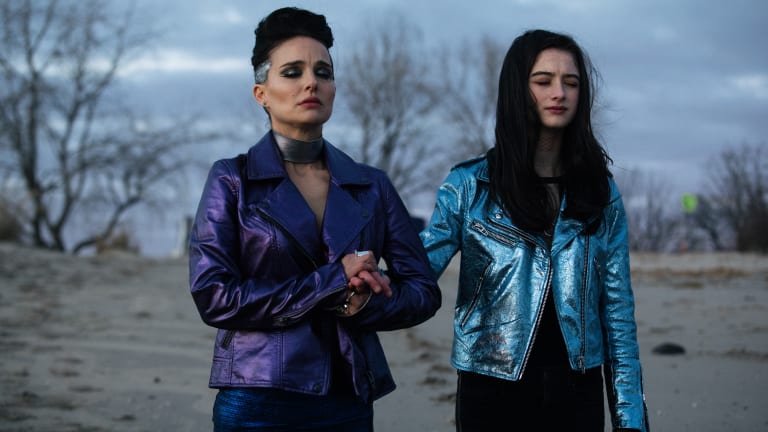 Natalie Portman's Glam-Pop Superstar Costumes in 'Vox Lux' Don't Actually Reference Any Existing Celebrity
Costume designer Keri Langerman did, however, make fake merch for the movie.
Warning: mild spoilers for 'Vox Lux' below.
Of course Natalie Portman is a world famous triple-threat. But, in a surprise to no one, the Oscar winner still thoroughly transforms into a completely fictional, world-famous pop star in "Vox Lux," which opens in theaters on Friday, Dec. 7. In Brady Corbet's second film, she plays Celeste, a survivor of a school shooting who becomes an international pop star — but more. As the director, Brady Corbet told IndieWire, she's an "unusual protagonist: a pop star designed as a baroque expression of the narcissism and mania that mark our contemporary values." 
With such an ambitious mandate, Celeste needed to be a singular musical icon in her own right and free of obvious signatures of any real-life stars — a tall order in the age of peak celebrity — not just for Portman and Rafferty Cassidy, who plays the teenage Celeste, but also the costume designer Keri Langerman.
"I just wanted to make sure that I was creating a very original character, specific to this film, and that it wouldn't feel like I was trying to emulate anyone who had existed before," she says, about depicting the Celeste's trajectory via on- and off-stage wardrobe through three acts spanning two decades. Again, not an easy task, considering that 13-year-old Celeste came up during the early-aughts teen-dream resurgence led by Britney Spears, Christina Aguilera and Avril Lavigne. 
Langerman delved into the mind and media habits of a regular 1999-era teen by pouring over old Delia's catalogs and print issues of Seventeen and "listening to that cassette tape" to come up with Celeste's stripe-y baby tees and low-slung jeans. But even as she was designing for early-fame Celeste, Langerman was also referencing forward to the eventual world-famous and cat-suited Celeste performing for a stadium full of screaming fans in the final act.
The first segment also introduces a Celeste signature that carries forward to the finale: the neck cover hiding her shooting injury scar from childhood. The black turtleneck leotard she wears during a choreography session and the latex cap-sleeve bodysuit in the video for her very catchy electro jam "Hologram" demonstrate the steady evolution to the ultimate sparkly stage look. 
"Her neck had to be covered through the entire film, so I wanted to make sure we could do things that weren't just jewelry related," says Langerman, who looked to alternative silhouettes that would support the scene and "not pull focus" from the intense, rapid-fire dialogue.
The second act jumps forward to 2017, with Celeste now internationally famous, jaded (after a very public breakdown reminiscent of an early-aughts teen talent) and played by Portman. We first see her in an intentionally nondescript, but still very rock 'n' roll graphic T-shirt, boyfriend jeans and a motorcycle jacket (above) that's not actually leather. Portman, who's a strict vegan and animal rights activist, wanted her costumes to be animal-free, presenting another interesting, but also instructive challenge for Langerman.
Since Celeste — and the rest of the movie — go off-the-rails quite rapidly, Langerman wanted the outfit to present the character as "a blank slate" that could refer to any or no other musical artist. "Every pop, rock, grunge — almost any genre of music that you're in — you have worn this outfit at some point: jeans, a dirty tee and a jacket," says Langerman. "I wanted her to feel that open."
For a media day that doesn't go the way PR had hoped, Celeste changes into a 16th-century monarch-meets-punk look accented with "BDSM-hinting" gold chain harness — procured just four hours before filming at a local mall — and a wide faux-leather collar, custom-built by designer Lillian Shalom. Inspired by strong women throughout history, including Queen Elizabeth I, Langerman custom-designed the underlying ruff to accent the sheer blouse rented from the Albright Fashion Library.
Also, surprise! (Or maybe not to those who've read the reviews.) Cassidy returns as Celeste's daughter, Albertine, who's introduced as an almost mini-me version of her mostly absent mother: a thin choker by Maniamania and a silver studded and pink-fringed moto from Nasty Gal. Langerman extended the vegan principle to Albertine and Eleanor (Stacy Martin) to create a subliminal connection among the three women intertwined in co-dependent and dysfunctional relationships. 
Plus, behind the scenes, "everyone in the film is a really intelligent person, so they would want to know where their costumes came from, what they were using and why we were doing this," says Langerman. Continuing the theme, the three wear coordinated metallic motos on their way to Celeste's milestone concert. 
For Portman as Celeste, Langerman bought and custom-dyed multiple metallic jackets to find the ideal shade of purple she was "just hellbent" on using. "It really evoked the aesthetic that we were going for — that glam-rock, lo-fi, late-'70s, early-'80s pop star," she says. She borrowed Eleanor's and Albertine's motos from Blank NYC and added the bedazzled branding on the back. (Celeste merch!)
"The idea was loosely that maybe these jackets had been from a previous tour, or just a different time in her career," says Langerman. "It was also the idea that these three women are so entangled in each others lives in this complex way." Symbolically, Albertine and Eleanor "stay back" in their jackets as they watch the performance from the stadium floor, while Celeste evolves into her next level — and finale act — in her spectacular superstar ensemble.
"I wanted to create something that other people could recreate, like in their Halloween costume," says Langerman about the goal for the ultimate stage costume. 
On stage, Celeste may refer to her screaming fans as "little angels" — bringing another Oscar season contender and real-life pop star to mind — but, again, Langerman carefully avoided any specific sartorial characteristics of existing icons. But she did look at a range of them for inspiration, though with an unorthodox approach.
"I looked at major artists, but in the early stages of their career — before they contracted stylists or enjoyed a bigger wardrobe budget," says Langerman, who cites early Debbie Harry, Kim Gordon, Diana Ross, Grace Jones and Cher. "All of their aesthetics have a homespun touch to them. They have this thing about their costumes that it feels like they put it together or someone sewed it. It doesn't feel so perfect or flawless. I really wanted to capture that grittiness with Celeste's costumes, as well." (Of course, she also listened to Sia's original songs for the movie's soundtrack "a bajillion times.")
Because Corbet wanted Celeste to be covered from "her neck, to her wrists, to her ankles," a body-con catsuit made for an ideal silhouette. Langerman searched high and low for the perfect stretchy, glittery and spotlight-reflecting fabric in New York's Garment District. (Actually, literally, because she almost gave up on finding a bolt, until her assistant spotted it on an above shelf as the two sat on the floor in near defeat.) The inspiration for the fluid, full-body-spanning "X" design came from another music and fashion icon. 
"When you see a lightning bolt, you can't not think of David Bowie," she says, referring to his Pierre LaRoche-drawn makeup for his 1973 "Aladdin Sane" cover. "I wanted to find [a symbol] that was hiding in plain sight, like the letter X — in the movie and the title of the film — and what the letter X stands for symbolically." 
After extensive Photoshop experimentation to create the perfect line-work and placement of the X, Langerman finally needed to build the look. "I wanted to reach out to someone that I felt had done and mastered the art of a catsuit," she says. "If I have one chance, I need to find someone that I know can sew this silhouette perfectly." So, she called LaQuan Smith, who's definitely mastered the art of a body-celebrating and glammest-of-glam-pop pieces for real-life superstars: Lady Gaga, Beyoncé and Rihanna. He built two versions for Portman to wear and do her own impressive dancing for the finale.
Celeste's futuristic, exaggerated shoulder cape proved an even bigger challenge because of the softer texture and looser structure of faux fur. But after "wrestling" with the design and finding the right tailor, it worked out. "It really showed me you don't really need animal products to make a great looking movie," says Langerman. "It has given me a lot to think about in my own life and the way I design movies."
Never miss the latest fashion industry news. Sign up for the Fashionista daily newsletter.