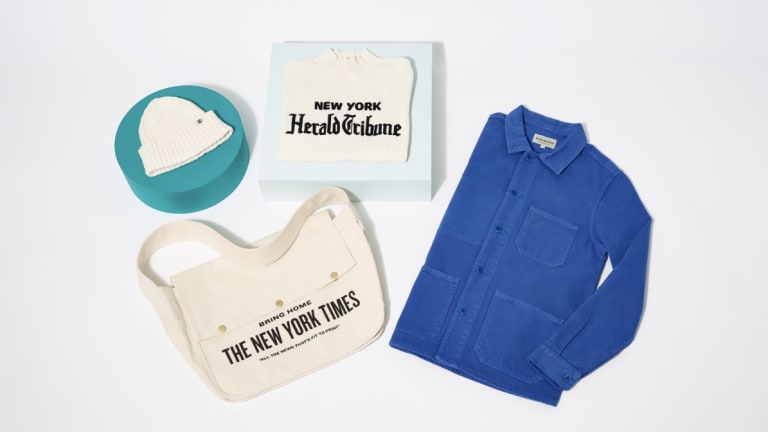 Why 'The New York Times' Is Going All in on Merch
We're used to seeing media brands pivot to video, but not so much to clothing.
The New York Times has long been known for releasing groundbreaking investigative reports about everything from the president's tax history to Harvey Weinstein's harassment allegations. But the 167-year-old newspaper isn't exactly famous for dropping fashion-forward merchandise that could plausibly be found at a tour booth alongside that of Travis Scott.
In November, the paper of record launched its Holiday 2018 collection — which is comprised of dozens of products — available on its site as well as on Need Supply, building upon its two-decades-old revamped NYTStore. We're used to seeing media brands pivot to video, but not so much to clothing. So, what gives?
You might think it's because "the failing New York Times" needs to find new ways to make money. It doesn't, for now. Steve Mayne, paper's executive director of commerce, says that while revamping the company's store adds profitability to its bottom line, there's no pressure to build a huge revenue stream from it.
Compare that to some of the since-dulled darlings of digital media. (Vice, Buzzfeed and even Real Simple are devoting more energy into e-commerce and product development.)
"[Vice and Buzzfeed] are the type of media players doing those things for an alternative revenue stream," says retail analyst and trend forecaster Charcy Evers. "With The New York Times, on the other hand, it's more about signaling a sign of the times, no pun intended."
So, if not to save a sinking ship, then perhaps it's to connect with its audience — à la any number of other media brands that have launched products lines of their own: 032c, The Cut, Man Repeller, Highsnobiety and Hypebeast for example.
At the very least, The New York Times is able to take advantage of the built-in cachet of its logo — which is about as recognizable as a New York Yankees cap — to connect with people already familiar with the paper, at once monetizing on widespread sociopolitical sentiment and the popularity of micromerch, says Evers.
The new collection of merch, which The New York Times Creative Director Ed Nacional designed in turn with the company's "collaborative" suppliers, includes those standard T-shirts and buttons, but there's also a mock-neck knit "Herald Tribune" top for women — retailing for $90 — à la actress Jean Seberg, who plays a young journalist in "Breathless." (Jean-Luc Godard, French New Wave, très chic!)
"We're not working with companies who want to slap a logo on a product and be done with it," says Mayne. "They are all serious designers who have their own carefully curated brands, just like us."
The collection also includes a $170 "photographer's work jacket" that the late, great Bill Cunningham, who worked for The New York Times for nearly 40 years, inspired. Though the New York Historical Society featured an exhibition of Cunningham's personal items and work in mid-2018, the paper declined to comment on whether it worked with the Cunningham estate to produce this garment. Instead, it outlined on its site: "The Times work jacket is derived from the 'bleu de travail' or 'French blues' worn by French factory workers in the late 1800s."
Before The New York Times released its newest line of merch in November, newspaper-related prints and motifs emerged on a handful of runways and collections. During Paris Fashion Week Men's in January 2018, Sacai — the Tokyo-based label founded by Chitose Abe — released a The New York Times-branded "Truth Is Hard" 2016 campaign hoodie, while contemporary menswear brand Études offered The New York Times-logo stamped button-ups and accessories. Concurrently, Alexander Wang announced a collaboration with Page Six, while Virgil Abloh was busy showing TIME and PEOPLE Magazine clutches on Off-White's Spring 2018 runway.
While it was easy to poke fun at the Sacai x The New York Times shirt for its price tag, the paper's official store merchandise (which ranges for $10 to $200) is produced locally at places like the Knickerbocker clothing manufacturing company in Brooklyn or with Bushwick artists at fair wages, leading to price tags that are perhaps slightly steeper than your local fast fashion outpost. Mayne says The New York Times plans to provide more information about where the goods are produced.
The Sacai and Études collaborations — those were "inbound requests" from brands "who wanted to work with us," says Mayne — resulted in some graphic tees at a whopping $300-a-pop. To that end, why bother letting some Parisian fashion brand cash in on your brand's cachet when you can do that yourself?
"News is a daily thing that changes every day, yet it creates history, so there's a constancy to it, as well," says Evers. "That's what designers struggle with or are very good at executing: How do we take heritage and weave it into what's happening now? That's what good brands do, anyway."
Speaking of cachet, streetwear aficionados haven't shied away from the apparel, it seems. The fact is, a The New York Times-branded hoodie, like any and all clothing worth anything, signals a message, intentional or not. Kim Jones, Frank Ocean, Justin Timberlake and Lil Uzi Vert have all worn the The New York Times collaboration merch — a de facto high-brow flex, if you will.
"This is so much more than just a hoodie I stole from my boyfriend's closet," says Mohar Chaudhuri, a New York-based stylist who regularly wears her The New York Times x Sacai sweatshirt. "The New York Times uses their influence to inform and create change. In a time when our president mangles the truth, The New York Times [sheds light on] the truth; if this hoodie has any kind of political or social weight to speak on what's real versus fake, then that's amazing. Also, real talk, I do look cuter in this hoodie than my boyfriend, anyway."
Homepage photo: The New York Times's Holiday 2018 collection. Photo: Courtesy of The New York Times
Sign up for our daily newsletter and get the latest industry news in your inbox every day.