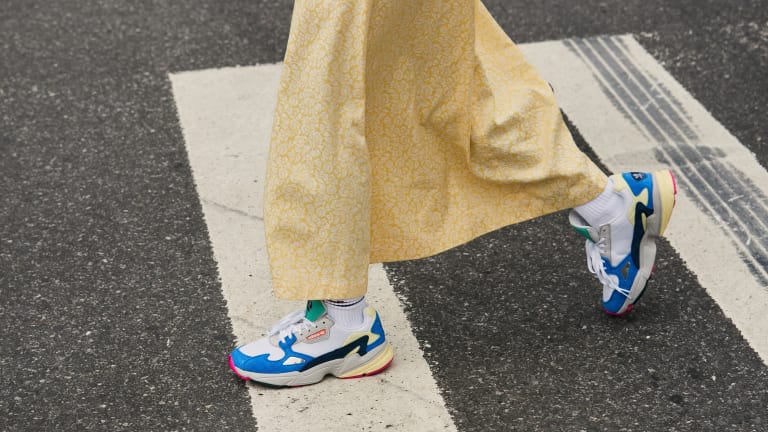 How Sneaker Brands Finally Catered to Women in 2018
There was much more on offer, but was it enough?
It's been a long 12 months, and before we kick 2018 to the curb, we're looking back at all of the most memorable, game-changing fashion and beauty things that went down. Follow along with us as we look back at the year in review.
At the beginning of the year, Nike released one of its biggest launches for women. The global sportswear brand gave 14 of its female employees the task of creating brand-new takes on some of its most iconic silhouettes, the Air Force 1 and Air Jordan 1. The collection, called Nike 1 Reimagined, boasted a total of 10 styles and upon its release, the first drop sold out, says Jenna Golden, director of Nike's North America Communications team. This winter, Nike released a mid-calf boot version of its Air Force 1 Sage, and has plans to expand on Reimagined with more silhouettes in 2019.
During Paris Fashion Week in February, the company also premiered Unlaced, an online destination and physical store concept specifically for women that offers expanded or unisex sizes, exclusive styles and fashion-forward collaborations, with designers and curators like Ambush's Yoon Ahn, Martine Rose, Sarah Andelman and i-D's Julia Sarr-Jamois.
Reimagined and Unlaced were among Nike's many recent efforts in response to female fans voicing what's wrong with the sneaker industry for years. "We certainly made 2018 a year where we wanted to put our Nike Women stamp on it," says Golden, adding that the casualization of the traditional workplace and the rise of athleisure, fitness and wellness were among the reasons why the brand finally decided to make bigger business decisions with women in mind.
"The female consumer is spending 70 percent of every dollar worldwide, which is a huge number," notes Golden. According to an interview between TIME and Amy Montagne — a Nike VP who was promoted to general manager of global categories in April after a four-year stint as general manager of Nike Women — the brand is strategizing to grow its women's business from $6.6 billion to $11 billion by 2020. Plus, the footwear industry has grown by 7 percent during the first half of 2018 alone, with sport-leisure styles becoming the fastest-growing category at 65 percent of dollar sales gains. Over the course of 12 months from April 2018 to the year prior, women's sneaker sales grew noticeably faster than the men's market: 33 percent compared to 10 percent comprised over 60 percent of footwear sales.
Nike's subsidiaries are also ramping up their women's offerings this year: Converse used its classic Chuck and One Star sneakers as a blank canvas for special collaborations that tap into music (Miley Cyrus), fashion (Chiara Ferragni) and subculture (New York-based design label MadeMe). Though the Jordan brand has offered sneakers exclusively for women in the past — Vashtie Kola in 2010 and Aleali May in 2017 — this year marks the official launch of its women's category. 
In addition to women's-specific silhouettes, Jordan also offered "high heat" releases in unisex sizing (down to a women's size 5), including the Off-White Air Jordan 1 and Air Jordan 11 "Concord," as well as exclusive partnerships, like with Vogue's very own Anna Wintour, which dropped in July. "That was a big moment not just for us, but for the entire industry, because it shows how much sneaker culture has crossed over into other areas, especially high fashion," says Andrea Perez, VP and general manager of Jordan Women's.
Indeed, the Fall 2018 runways of Paris Fashion Week were proof that high-end labels collectively jumped on the sneaker-trend bandwagon. (Perhaps, as a means to those all-important millennial dollars.) "Now it's the norm for designers to have a sneaker, whether that will stick, we'll see," says Footwear News Fashion Editor Shannon Adducci, who's already seeing a dip in the trend for 2019. "But the point is, women are wearing sneakers. They're not going to stop wearing sneakers." And as a result, they've ushered in a new era of comfortable shoes for women, too.
As far as marketing for these women's-focused initiatives, brands like Adidas, Puma and Reebok have heavily relied on a roster of influencer and celebrity ambassadors. Selena Gomez and Cara Delevingne are spokesmodels for various Puma campaigns during 2018, while Adidas has tapped into its Kardashian-Jenner network — Kendall and Kylie Jenner, Hailey Baldwin — to promote the Arkyn and Falcon sneakers, as well as its fashion collaborations with up-and-coming designers Daniëlle Cathari and Olivia Oblanc.
Adidas-owned Reebok has increasingly prioritized its female customers this year, finding balance between fitness-focused collections and streetwear-leaning lifestyle launches. "[Our female customer] has been a largely underserved part of the population within the industry and the brand recognized that we have a long history with her," says Senior Director of Brand Marketing Inga Stenta. (Reebok released the first women's workout sneaker back in 1982.) "We feel as though we have a significant amount to offer her and we made a strategic plan to focus our energy on her in a meaningful way."
Longtime partner Gigi Hadid will release her co-designed capsule collection with Reebok, including the model's own take on the Freestyle Hi sneaker and the newly-relaunched Aztrek. (You can order it now online.) In November, the company also took on Cardi B as an ambassador, along with her personal cosign on its Aztrek. Currently, Reebok's overall net sales is broken down to 60 and 40 percent between men and women, respectively. (Traditionally, the industry skews more between 70 and 30 percent, says Stenta.) But with Reebok's bigger plans for its women's customer base in 2019, the brand expects sales driving towards an even 50-50 split.
Reebok also expanded its focus on women through content. In June, the brand released its first-ever podcast miniseries, "Flipping the Game," which featured three episodes covering how female sneakerheads are demanding more and breaking barriers within sneaker culture. According to statistics provided by Reebok, the podcast has received more than 14K downloads across its trailer and episodes since its launch, and at its peak, between 81 and 94 percent of listeners reach the very end of each episode, a rarity among podcasts.
Other media platforms have also popped up throughout the year to highlight female sneaker enthusiasts. Since its launch in May, Teen Vogue's Instagram account Her Platform (@platform) has acquired around 33.3K followers who keep up with its prolific feed of of stylish, sneaker-wearing individuals and original photo shoots. Zappos supplements its women's shop-in-shop of classic sneakers The Ones, which launched at the beginning of 2018, with an Instagram account @The_ONES and a blog called The Stories. In March, Bustle Digital Group announced its partnership with Snkr Inc. to create a weekly series, titled "Blaze," on women in the sneaker and streetwear industries. (Though its debut was expected for mid-summer, the videos are nowhere to be found online.)
Of course, it's great to see such a huge push at one time towards women's sneaker needs, but why now? And why not sooner? Adducci pointed out that the start of the #MeToo movement at the end of 2017 helped catapult feminism marketing this year. "2018 has clearly been a year for women across all industries and aspects, so it's naturally trickled down into the footwear industry," says Ashley Haines, a former Hypebae editor who now works on Foot Locker's global corporate communications and PR team. "Thankfully we have seen brands paying closer attention to us and actually giving us what we want."
Was it enough? While Haines says she's optimistic for the future for the first time ever, there's a still a long way to go within the industry.
"Brands have just started to actually move the needle to cater to the female consumer within the last few years. Just thinking in terms of major collaborations, Vashtie was the first woman to design her own Jordan in 2010 and Aleali was the second in 2017. Seven entire years later," says Haines. "And it's not like the demand or interest from women was not there for nearly a decade. I can assure you as both a sneaker lover and an editor that there was. In part, Hypebae was created as a platform to prove that there was, and to celebrate the female sneakerhead after being overlooked for so long."
Haines is also quick to point out that just last week, a nine-year-old girl wrote a letter to NBA player Stephen Curry, requesting that his Under Armour Curry 5 sneakers be available in girls' sizes, rather than only boys' sizes. The shoe has been added to the "Girls Basketball Athletic Shoes" category on the brand's website.
"There are a lot of brands that are noticing that the women's sneaker market is growing and they're focusing more on releasing smaller sizes or doing a women's release," says Amsterdam-based Sanne Poeze, who runs her own creative business under her online moniker Girl on Kicks. "It's a big market, obviously, and it's not an easy market. Most brands still think the 'shrink it and pink it' method still works for sneakers, which I don't agree [with]. We just want a good basic shoe."

Poeze mentions Nike's M2K Tekno sneaker, a largely successful release that debuted during John Elliott's Fall 2018 runway show, and was initially released for women that later expanded into men's due to high demand. Another example is Nike's Lebron 16 for women in collaboration with Harlem Fashion Row and designed by four Black women. "That was a great example of a men's sneaker as a performance shoe with added feminine elements, as opposed to shrinking it and pinking it," says Brittany Edwards, co-founder of Incorpherated, a network that aims for inclusion throughout male-dominated industries.
"It also comes back down to who [these sneaker brands] are hiring. The amount of women working at these corporations in a producing role is really slim — and on top of that, the minorities that they employ, even men included," adds Edwards. "But if you look at the culture that helped propagate the fashion, styles and trends that these companies are influenced by and directly influencing, there's a major gap between those communities. That's a bigger issue. It does come down to an access and employment issue and the gap that exists."
In order to empower young girls and professionals to aspire to work for the sneaker industry, both Edwards and co-founder Khiana Lowe host a series of "Straight to Feet" events and panels that bring together women who work across fashion, media and more. In November, Incorpherated partnered with Adidas to host students from New York City to workshop with female sneaker designers and recreate their own Stan Smiths, and on Dec. 8, they'll be holding speaker sessions on sustainability in fashion and digital marketing.
"We wanted to bring together a community of women to showcase their work, as well as create an experience for students to be engaged by these women doing these awesome things and opportunities that are available to them," says Edwards.
The two also make sure that their events are inclusive towards men, since they want them to be a part of the conversation, too. "A lot of times, we just don't want a women's only release," says Lowe. "Similarly to having these conversations, it can't just be women in the sneaker industry just among women. We want to be included in the full world."
Homepage image: Sneakers at New York Fashion Week. Photo: Imaxtree
Sign up for our daily newsletter and get the latest industry news in your inbox every day.