Aerie Debuts Its Most Diverse Group of Role Models Yet for Spring 2019
Actresses Busy Philipps, Jameela Jamil and Samira Wiley join gold medal Paralympian snowboarder Brenna Huckaby and Molly Burke in the latest class of #AerieReal Role Models.
When Aerie introduced its first-ever #AerieREAL Role Model, naming plus-size model Iskra Lawrence as face of the brand, it changed expectations for marketing lingerie. No longer did young women want, oh, let's just say a winged, heavenly creature staring at them from ad campaigns; they wanted Role Models, people of all backgrounds who looked like them and had something to say like they did.
That was back in 2016. Since then, Aerie has expanded the Role Model program to include the likes of actress Yara Shahidi, gymnast Aly Raisman, poet Cleo Wade and songwriter Rachel Platten. For Spring 2019, the brand has gathered up its most diverse group of #AerieREAL Role Models yet: Joining alums Lawrence, Raisman and Wade are actresses Busy Philipps, Jameela Jamil and Samira Wiley, as well as gold medal Paralympian snowboarder Brenna Huckaby and creator Molly Burke.
"Aerie has been one of my dream brands to work with; I remember, back in the springtime, saying to my manager, 'I'd really love to work with Aerie and their Real Campaign.' And then just a few months later, they reached out," says Burke, a YouTuber and motivational speaker who also happens to be blind. "I was in disbelief, because looking at the other seven incredible women that they have on this campaign, I was like, 'Really? Me?' There's just so many incredible women that they've picked and there's so many amazing women in this world that they could have chosen, so the fact that they chose me was just such an incredible honor."
Burke also notes how remarkable it is that, with herself and Huckaby, Aerie has two people with physical disabilities in a group of eight, considering how rare it is for people with disabilities to be represented at all in fashion campaigns. It's something Aerie has committed itself to even in its e-commerce photos and in its ad campaigns featuring fans of the brand, and Huckaby is optimistic that this kind of visibility can make a real difference for people, no matter what their personal struggles are.
"They have a million followers and they have millions of people beyond Instagram that see their message and that go into their stores. I just hope everyone knows that there is a place for you in this world," she says. "It doesn't matter what you look like or what limbs you have or what limbs you don't have; whatever your body is, there is a place for you in this world if you keep working for what you believe in. You matter and you're worthy and you're beautiful."
Of course, Aerie has long been committed to racial diversity, but this new group of Role Models also represents a broader range of ages, another way they differ from one of their biggest competitors. Women who are no longer teenagers are attracted to Aerie's photoshop-free campaigns, and seeing women like talk show host and mom Philipps will no doubt only further the brand's appeal. 
And then there's the LGBQT representation. For Wiley, who jokes that she's "every single minority you can think of," ("I'm black, I'm gay. I'm a woman — I just got it!" she says with a big laugh) becoming an #AerieREAL Role Model was a major way she felt she could represent her community. "Anyone else who fits in any of those categories and is lacking someone to look up to that has a positive message, I hope I can fill in the gap," she says. 
"Having three million followers on Instagram, it's not something that I would like to take lightly," Wiley adds. "I want to make sure that the messages that I'm putting out, that I'm hyper aware of who's looking up to me, who's listening to me; they're from all over the world, and so heavily in the LGBT community, which is the community that I am a part of and the community that I champion and I love, and is part of the reason I do why I do."
All of the new Role Models speak highly of each other (and of Burke's seeing-eye dog!) and of the two days they spent on set, getting to chat about their respective projects and causes — and also cheering each other on in front of the camera, encouraging more confidence from everyone. As excited as they are for the campaign to debut, they also expressed the feeling that being an #AerieREAL spokesmodel would give them an even bigger spotlight for their own messages.
"I think that's the thing for me that was the most humbling," says Wiley. "I know in my life and in my career one of the things is to understand the platform that I have, and know that, whether I like it or not, I am a role model. It's my job to choose which kind of role model I'm going to be. I think one of the first steps of that right now is partnering with Aerie; that gives me some direction, because of the message that they're pushing and the messages of the other women who are involved in the campaign are things that I really, really believe in."
"Working with Aerie forces me to stay true to my methods and to commit to not editing my photos," Burke adds. "It's so hard. You can sometimes fall into that trap — it's really easy when people are commenting and giving you their opinions. There's so much body shaming on the internet, especially, which is something I try to fight against with my platform. I really hope that working with a brand that stands so true to this same message just drives it home for my followers and that they can learn to love and embrace their unique shape and who they are, and not feel the need to change it or fit a certain mold."
See the full #AerieReal Spring 2019 campaign below: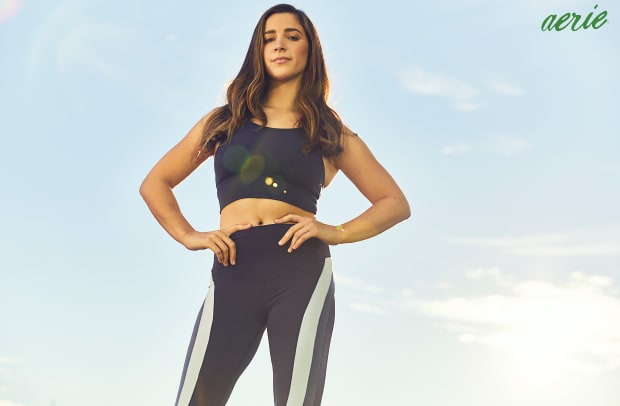 Want the latest fashion industry news first? Sign up for our daily newsletter.