Olivier Rousteing's First Couture Show for Balmain Was a Futuristic Freak-Fest
After a 16-year hiatus, the French house made its return to the couture calendar on Wednesday night in Paris.
Despite whether you consider yourself a loyal member of the Balmain Army, you can't deny the meteoric rise in visibility and brand recognition the French House has seen over the past decade. Under the leadership of Creative Director Olivier Rousteing — the 33-year-old designer who took the helm following Christope Decarnin's sudden departure in 2011, when he was just 25 — Balmain has become a celebrity and social media behemoth. 
The brand currently boasts 9 million Instagram followers (Rousteing has over 5 million of his own) and counts Beyoncé, Michelle Obama, Rihanna, Jennifer Lopez and nearly every member of the Kardashian-Jenner-West clan as loyal clients. This helped Balmain secure a massive amount of funding from Mayhoola, the investment entity that acquired a majority stake in the brand in 2016, and business is booming: According to Business of Fashion, Balmain's 2019 sales are expected to top €240 million.
In addition to a new-ish CEO (Massimo Piombini, who moved over from Valentino in 2017) and a slick new logo that debuted last year, Balmain and Rousteing have just reached another milestone together. On Wednesday night in Paris, the house showed its first couture collection in 16 years as a guest on the Chambre Syndicale de la Haute Couture's Spring 2019 schedule. Considering the brand's ready-to-wear shows are about as flashy as they come — with retail price tags to match — it didn't seem like the couture range would be much of a leap from Rousteing's already luxe aesthetic and sensibilities. The heavy bling, sharp shoulders, nipped-in waists, intricate embroideries and rich textures that we regularly see from the label were all present, but for this special occasion, the volume was turned way, way up, both literally and figuratively. 
Perhaps in keeping with the designer's affinity for all things digital (customers who wanted to live-stream the show were forced to download Balmain's new app), the collection was a funky, futuristic mishmash of typical Rousteing fare with exaggerated, asymmetrical silhouettes. Models in alien-like white makeup and hair paint were dripped in pearls, as well as garments recalling them, including bulbous skirts, bodices and cuffs, as well as round ball-shaped bags emblazoned with the new "B" logo. Soft cotton candy shades of blue, pink and lavender were cut with high-shine silver accents, particularly in the form of thick waist belts, layers of chain and beading.
With giant balloon sleeves, seemingly random placements of sheer fans of (what appeared to be) tulle, all-over logomania prints, sci-fi goggles styled with most looks and either ruffles, bows or cape-like swaths of fabric overwhelming many silhouettes, much of the collection was weirder (and less polished) than we'd expect the Balmain customer to want. Even the full-length evening gowns — particularly the duo of razor-sharp tiered finale gowns and one pink strapless number that resembled some sort of brightly colored sea life — were better suited for a costume party than for most red carpets.
A spot, albeit a guest one, on the couture week calendar marked a huge accomplishment for Rouesteing and his team, and will likely go far in further spreading the brand's message to international customers young and old. But before Balmain spends future time and resources building out a couture business, the house should figure out how to tone down the pageantry if it's going to appeal to its Instagram-savvy fan base. There is such a thing as being too extra, even when it comes to Balmain.
See the full Balmain Couture Spring 2019 collection in the gallery below.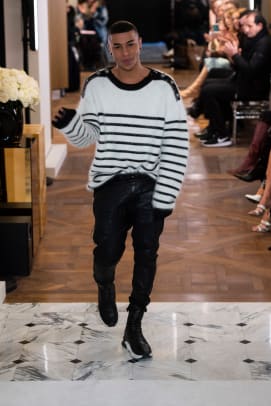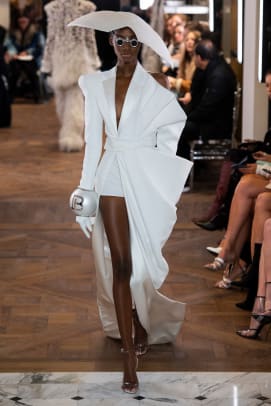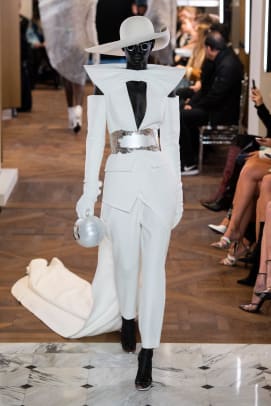 Never miss the latest fashion industry news. Sign up for the Fashionista daily newsletter.