Take a Dive Into Chanel's Spring 2019 Couture Collection
With longtime leader Karl Lagerfeld conspicuously absent, the poolside show went on.
The big news from Tuesday's Chanel Spring 2019 Haute Couture show in Paris wasn't about the new collection or another over-the-top set design (though there was that in the form of a makeshift villa, complete with pool). Rather, it was the mysterious absence of designer Karl Lagerfeld that sent waves of whispers through the fashion industry. 
In an unusual move for the prolific Lagerfeld, the designer did not appear to take his bow at the end of either couture show, instead sending right hand and sometime runway companion, Chanel Fashion Studio Director Virginie Viard in his stead. According to a report from WWD, an announcement made at the 10 a.m. show stated Lagerfeld would appear at the second show slated for noon; at that show, however, the same announcement was made which ended with, "We wish Mr. Lagerfeld to recover quickly." Here's the announcement read at each show in full:
"For the traditional greeting at the end of the show, Mr. Lagerfeld, artistic director of Chanel, who was feeling tired, asked Virginie Viard, director of the creative studio of the house, to represent him and greet the guests alongside the bride. Virginie Viard as creative studio director and Eric Pfrunder as Chanel's director of image continue to work with him and follow through with the brand's collections and image campaigns."
While no official reasoning beyond fatigue was given for Lagerfeld's absence, rumors that he is unwell have been persistent for years. Of course, at 85 years old — at least, that's what common convention holds, though Lagerfeld himself likes to throw even facts as simple as his own birth date into question — and as tirelessly as he works, he certainly has the right to simply be tired. Just last December, Lagerfeld traveled to New York City to present Chanel's Métiers d'Art collection, and he helped conceptualize the Fendi menswear collection which debuted last week in Milan. He also has the Fall 2019 womenswear collections for both Fendi and Chanel looming in front of him for February and early March, so a rest may have been in order.
But Lagerfeld or no Lagerfeld, the show must go on. It opened with the expected Chanel suiting, surely a staple for the brand's dedicated couture clients, in pastel-tinged tweeds. Those looking to make a statement may go for the version trimmed with deep blue feathers. 
Towards the middle, short dresses with bubble hems were folded to reveal splashes of other colors or bright embellishment layered underneath, to quite a pretty effect. Then came the suite of black or navy and white looks, ranging from perfectly traditional (Chanel suiting) to the more unexpected (a cropped leather jacket over a white feathered palazzo pant). Chanel's take on the kinds of delicate white laces which dominate summer months is certainly more elevated than your average sundress; Lagerfeld put lace detailing and pleated white cottons on cocktail dresses and Chanel suiting alike.
More bubble hems and folded dresses came, with explosions of volume coming from layered tulle at the sleeves or piles of bubblegum pink ruffles from the side of a gown, before the explosion of spring-ready pastels. These were some of the downright prettiest pieces in the bunch, like a gown rendered in a neon-tinged lace or a day dress in lavender layers.
For the bride, there was no feather-trimmed suit or voluminous gown, but rather an embellishment-encrusted one piece, complete with bridal swim cap. Even from his rest bed, Lagerfeld made his presence felt.
See the complete Chanel Spring 2019 Couture collection: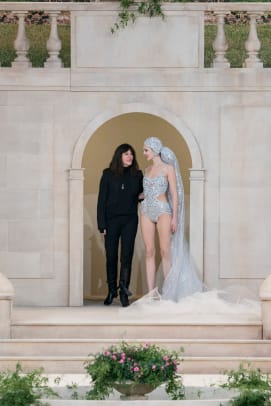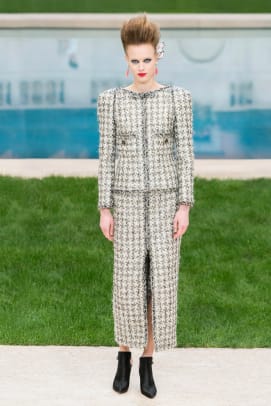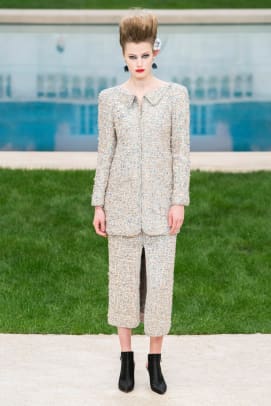 Sign up for our daily newsletter and get the latest industry news in your inbox every day.