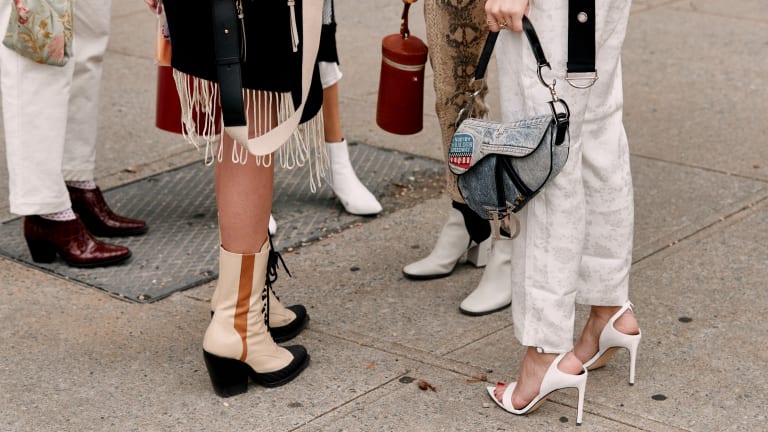 What Is the Future of the 'Fashion Editor' as a Career?
Working your way up the masthead in the magazine business was once a clear career path, but now things are a little more murky.
The role of the fashion editor — the career that's been glamorized on TV, in movies, through literature and, of course, in magazines — is on shaky ground. As the media landscape continues to struggle and shrink, with frequent layoffs and budget cuts becoming the new normal, many editors report being both underpaid and uncertain about their futures.
The integration of print and online staffs at publishing houses like Hearst and Condé Nast is partially to blame: Vogue, the industry's crown jewel and usually one of the last titles standing when it comes to momentous change, has cut 24 positions from its masthead since June 2018, for example. Many of those roles, including the magazine's head creative director and various visuals editors, are unlikely to be refilled, suggesting that the positions themselves may go extinct. For those editors still on staff at fashion glossies, an endless stream of industry events — and the push from the digital side to reach ever-growing traffic goals — has led to a quiet, collective burnout.
Editors, particularly of the fashion and lifestyle variety, have been prominent figures in pop culture for decades: Think Andy Sachs in "The Devil Wears Prada," Lauren Conrad's stint as a Teen Vogue intern on "The Hills" (alongside "super-intern" Emily Weiss, who eventually founded Into the Gloss and Glossier), Jenna Rink in "13 Going on 30," Betty Suarez on "Ugly Betty" and, of course, Carrie Bradshaw on "Sex and the City." On account of this, young people who aspire to a life in the big city and a job that counts world travel, free designer clothing and access to exclusive events as perks can get sucked into the fantasy, thinking that working their way up the masthead in the once-booming magazine business is still a viable career option. Unfortunately, the reality is much more murky, and one that editors working today are struggling to grapple with.
As for what a fashion editor can do when their job is on the chopping block, one option is the much-discussed (and debated) editor-influencer role, which sees staffers with significant reach on social media (Instagram in particular) partnering with brands on paid content creation and product placement that is often more lucrative than their day jobs. While curating products and introducing consumers to what's new and next has long been the duty of market editors, it's now being played out as much on their personal feeds — if not more — than in magazines themselves.
Other editors, perhaps wary of their job security, have jumped ship to work at brands that are looking to develop their own content platforms in the vein of a Glossier or Goop. In the last year, for instance, companies ranging from Rent the Runway to SoulCycle have made hires from traditional media in an effort to build out their own editorial departments. It's not just junior staffers that are leaving, either: Senior talents like Maria Dueñas Jacobs, the former accessories director of Elle, and Linda Wells, the founding editor of Allure, have moved to Stitch Fix and Revlon, respectively.
These shifts beg the question: Has the traditional role of "fashion editor" — one whose coverage is not swayed by gifts or monetary compensation, whose online following is irrelevant and who works behind the scenes for a media company rather than a brand — become a thing of the past?
The industry is decidedly split on how to answer that question. "If I'm looking at someone for a job, I don't look at their social following," says Laura Brown, the editor-in-chief of InStyle who has become an influencer in her own right, thanks to her candid, tongue-in-cheek musings on Instagram. "How many apparent humans follow you on social media is less important to me than how you do your job and what you have to say."
Case in point? When she hired Laurel Pantin to be InStyle's fashion features director last year, she had no idea the editor came with 37,500 Instagram followers on her personal account and brand partnerships to boot — something she claims to have discovered after the fact. "I just thought she was great," Brown explains.
Editors at publications like The Cut and The Zoe Report agreed with Brown that social prowess is less important for on-staff fashion editors than it's often made out to be. "I don't think it's very important at all," says Lauren Caruso, The Zoe Report's managing editor, who has previously contributed to Fashionista. "I'm more concerned with somebody's experience and skill level for the job at hand, which usually surrounds writing, editing, managing a team and cultivating brand relationships."
However, Caruso is an influencer herself — one who has worked with big, corporate brands like Wells Fargo and Vicks on paid posts that look surprisingly chic and right at home in her minimalist feed. Juggling both roles has been a perk, she says; it keeps her abreast of new brands, many of whom reach out to her first, as well as new product launches, which influencers are often tapped to promote before anyone else.
Those who don't boast a sizable social media following like Caruso admit that they do feel the pressure to develop a so-called "personal brand" — and fear that the days of choosing to remain behind-the-scenes are swiftly coming to an end.
"Publishers and brands place value on the scope of your reach and your overall visibility, so by not engaging with social media in that capacity, you could be missing out on opportunities that advance your work," says Nicole Kliest, a freelance writer and editor who was formerly the style director at Who What Wear.
A smaller following often means fewer perks, too: Ad sales departments at legacy publishers have been known to give monetary bonuses to buzzy editors who promote certain advertisers on their personal social feeds, offering them up as added value. Additionally, brands are more inclined to reach out to this cohort for press trips and event invites — often planned specifically around sharable Instagram moments — a reality that can lead to lucrative networking and exclusive content for the chosen few editors.
For Michelle Lee, the editor-in-chief of Allure, editors with a social following are definitely "nice to have," as their success can have a ripple effect on the larger publication, providing it with fresh ways to connect with and grow its audience. "You can parlay their talent for your brand," she says, pointing to her former employee Kristie Dash (who now handles beauty partnerships at Instagram under the leadership Eva Chen, another former Condé Nast editor-in-chief) as an example. "Her personal Instagram and Snapchat accounts were so good that I asked her for help with Allure's as well." But, she notes, it's important for these editor-slash-influencers to avoid conflicts of interest by running any potential paid partnerships by her first.
Brown, for her part, takes a hands-off approach, though she has witnessed editors become too focused on their influencer projects, causing them to take their eyes off the ball at work. "You can't forget that you represent the publication you work for just as much as you represent yourself," she says.
Walking that line is not always easy, and the stress of juggling both roles has led some of these influential editors to strike out on their own. "Many people don't realize the time and effort it takes to run an influencer business, and doing that alongside a demanding full-time senior editor job in digital media was far from easy," explains Alyssa Coscarelli, who left her job as Refinery29's senior market editor late last year. "Add to that the conflicting scheduling and larger conversations with my employer about how to handle it all and, truthfully, it can get a bit complicated."
Coscarelli is hesitant to call the influencer route a better bet for today's aspiring fashion editors, saying it should be evaluated on a case-by-case basis, but admits that she did feel justified in her move given the current state of the industry.
The money isn't bad either: One influencer marketer who has worked with editor-influencers including Coscarelli notes that they can make anywhere from $5,000-$7,500 for a single sponsored post, which is significantly more than the salaries most traditional editors are paid per month. Larger projects that involve numerous deliverables across platforms can reach up to $500,000, depending on follower count and engagement.
Working for brands can also be cushier gigs, and as media jobs dry up, branded editorial work seems to grow in their place as more companies invest in storytelling around their products. "There's never going to be as many jobs in publishing and media as there are talented people, so editors hopping to brands is just a circumstance of that," argues Diana Tsui, senior fashion market editor at The Cut.
Kliest, who worked as the editorial lead for Orchard Mile after leaving Who What Wear, has tried her hand at both worlds and found that there was significant overlap with the work involved. "As more editors go freelance [as a result of] layoffs and an overall ambiguity regarding the publishing world, it behooves them to pitch their journalistic skills to these brands because, as I've learned, they translate," she says.
Indeed, the editorial world is unlikely to return to its Golden Age of bloated mastheads, black cars and ample job opportunities. One publishing expert at the Poynter Institute for Media Studies predicts that, in the fashion magazine world, especially, layoffs and budget cuts will continue apace as audiences continue to shift towards digital-first content. Still, that doesn't mean it's time to kiss your industry aspirations goodbye: The highest-ranking fashion and market editors are likely to remain in place even as their junior counterparts lessen in number — fashion is stubborn, after all. But for those editors who don't qualify — or for young people who still dream of a lifestyle they've watched play out on the big or small screen — it certainly doesn't hurt to get creative and scope out other options. 
Stay current on the latest trends, news and people shaping the fashion industry. Sign up for our daily newsletter.