Clare Waight Keller Boldly Mixes the Old With the New at Givenchy Couture
The Spring 2019 collection was filled with glamorous lace gowns, peppered with unconventional details like bow backpacks and latex.
Now more than a year into her Givenchy tenure, Clare Waight Keller has firmly established her vision and aesthetic for the house, and is proving that she's worthy of attention for reasons beyond her famous client, the Duchess of Sussex Meghan Markle. She's taken an approach that involves mining inspiration from and honoring Givenchy's past while bringing that spirit of timeless glamour into the future, all while ensuring the end result looks smart and inarguably chic. Coming off of a critically acclaimed menswear debut, Waight Keller unveiled a couture collection Tuesday that embodied this ethos excellently (and included a couple men's looks as well).
That the first look included a pair of latex leggings was unexpected, and the whole collection was peppered with these modern, subtly futuristic touches — exciting accompaniments to more classic and feminine garments, from beautifully tailored blazers to stunning embellished lace gowns that are destined for the red carpet. In one case, a strapless black gown was accessorized with a purple, one-sleeve arm holster of sorts that seems unlikely to make it to production, but who knows?
Bows, which we've been seeing a lot of on both the runway and the red carpet, were a common motif — from small ones on the waistband of a dress, to enormous ones that rivaled Victoria's Secret Angel wings in their size and seemed to connect to a branded satin backpack. It was a bold look, as was one pretty over-the-top dress made entirely of rainbow-colored fringe. Other embellishments included feathers and touches of sparkle that shone beautifully during the show's low-lit finale, especially in the case of the last few looks — a men's suit and two dresses — done in a silvery-white hue, with the dresses featuring overlays cut into a harlequin pattern.
See the entire Givenchy Spring 2019 couture collection in the gallery below: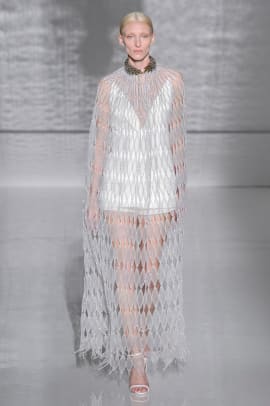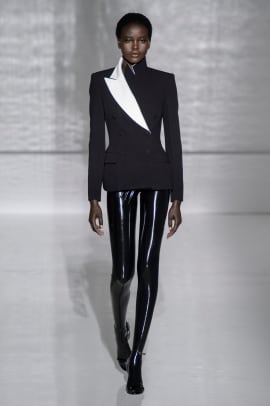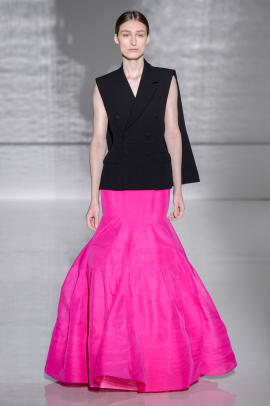 Never miss the latest fashion industry news. Sign up for the Fashionista daily newsletter.