Hedi Slimane's First Men's Collection for Celine Is Exactly What You Expected It to Be
The designer's signature aesthetic of slim-cut tailoring is nothing new, but perhaps it's what we need in a post-streetwear world.
Although Hedi Slimane presented a hint of menswear during his debut as Celine's artistic, creative and image director back in September, Fall 2019 marked the designer's first full-on men's show during Paris Fashion Week on Sunday. And it all felt like déjà vu, right? Slightly reminiscent of (and way less flashy than) his Fall 2014 collection for Saint Laurent, along with a lot of skinny suiting, mostly-white casting and outfits driven by music and youth culture. 
This time around, Slimane paid homage to British youth, as well as No Wave, a post-punk musical genre from New York during the late '70s. (James Chance, a saxophonist and major figure in this movement, performed during the runway finale, while Canada-based, post-punk art and music collective Crack Cloud's "Philosopher's Calling" provided the show's original soundtrack.)
And while Slimane was majorly panned for his first women's collection at Celine, one can't deny his expertise in creating men's clothing. Outerwear particularly stood out among the Fall 2019 collection, especially a yellow tiger-striped coat and patent shearling jacket. Those who refuse to revive their '90s-era baggy cargo pants — a trend that's on the rise among the men's shows this season — can turn to Slimane's slim leather slacks, khakis and blue-wash denim. As for the plethora of bangs, bowl cuts and extreme side parts among the models, well, we doubt men will be asking their barbers for any of that anytime soon.
Of course, Slimane's signature aesthetic of skinny ties and slim-cut suiting is nothing new, but perhaps it's what we need in a post-streetwear world. Even Virgil Abloh, a self-professed "streetwear guy" in the luxury space, focuses on tailoring for Louis Vuitton's men's collections in order to get his young fans to dress themselves outside of their usual sneaker-heavy wardrobes. During a time when high-end designers are suddenly (sometimes desperately) adding sneakers to their retail offerings and experimenting with streetwear's tried-and-true drop culture, Slimane's sartorial persistence will certainly pay off, even if it's nothing particularly surprising or groundbreaking. 
See Slimane's entire Fall 2019 men's collection for Celine in the gallery below.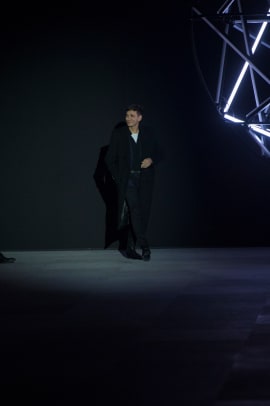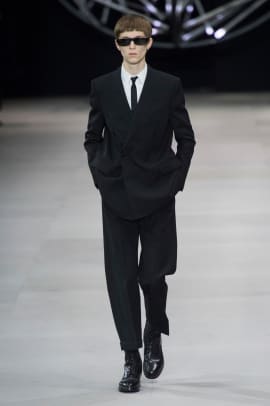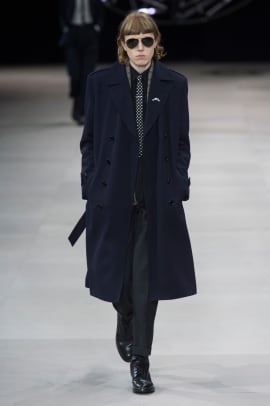 Sign up for our daily newsletter and get the latest industry news in your inbox every day.