See Every Look From Maison Margiela's Spring 2019 Artisanal Collection
John Galliano presented his latest collection during Couture Week in Paris.
Couture Week attendees were in for a visual treat at Maison Margiela's Spring 2019 Artisanal runway show at the French house's headquarters in Paris on Wednesday. Creative Director John Galliano, whose designs focus on glamour in the millennial age, presented his latest co-ed collection in response to altered realities within the digital world. (Perhaps he, too, discovered CGI creation Lil Miquela last year.)
"The overstimulation of computer-generated imagery alters reality and degenerates the truth," stated the show notes. "Chaotic and unsettling, it is a confusion of the senses rooted in an over-satiation that inevitably overspills." 
Indeed, the collection's main visual motif — an almost-hallucinatory Klein-blue poodle — is fabricated from jacquard or placed as a silk print on jackets, skirts and hats. Completely deconstructed garments — a gentleman's coat as a dress, or a skirts and trousers transformed into tops, for example — featured a slew of contrasting fabrics, from faux fur and leather to more menswear-focused materials, such as wool, herringbone and felt. The show's setup, which featured a mirrored runway and the collection's colorful print as a backdrop, only added to the mix-up, challenging viewers to decipher what was real and what wasn't.
See the full Maison Margiela Spring 2019 Artisanal collection in the gallery below.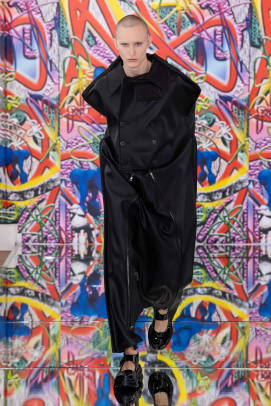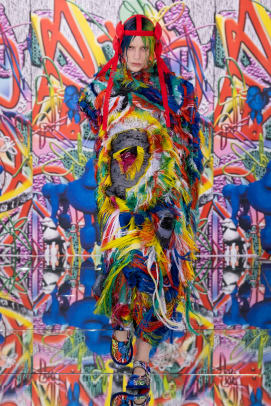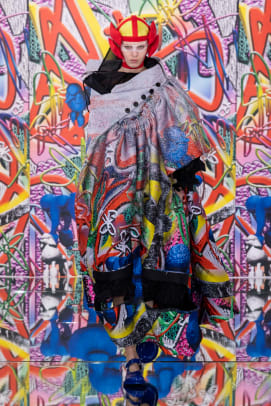 Sign up for our daily newsletter and get the latest industry news in your inbox every day.