How I Shop: Olivia Culpo
The fashion megainfluencer talks about her collaboration with Express and explains why, yes, leather bike shorts are a wardrobe staple.
We all buy clothes, but no two people shop the same. It can be a social experience, and a deeply personal one; at times, it can be impulsive and entertaining, at others, purpose-driven, a chore. Where do you shop? When do you shop? How do you decide what you need, how much to spend and what's "you"? These are some of the questions we're putting to prominent figures in our column "How I Shop."
All things considered, there are not many people on this earth who could convince me that leather bike shorts are, in fact, a wardrobe staple. But Olivia Culpo comes pretty damn close over breakfast at New York City's AbcV restaurant, not just in selling her vision for her collaboration with fashion brand Express, but in how she looks in them herself, paired with a sharp, oversized blazer belted tight at the waist and lace-up, knee-high boots. 
"Everybody needs a good pair of leather biker shorts," she says. "I think that these shorts are definitely one of my favorite [pieces], and then the 'GRL PWR' T-shirt also, I love." 
Just in case leather bike shorts aren't a staple for you, though, Culpo has designed plenty of other items for her capsule with Express, including high-waisted track pants with matching jackets, cropped tees and one spectacularly sparkly minidress. Every piece was inspired by the former Miss Universe-turned-fashion influencer's jet-setting wardrobe — which gave us the perfect in to ask Culpo about her personal style. From her favorite places to shop to her best packing strategies, read on to find out how she shops. 
"I would describe my personal style as classic, but playing with contemporary trends. For me, it's all about the way that I feel. Obviously, we go through different phases in our lives where there are different outfits or looks that we find intriguing, but I do feel like, with me, it was trial and error. There are times when I notice I've been really into accessories and scarves and whatnot, and then others where I like to be very minimal and simple. 
I like to keep exploring, but it's always pretty dialed back and classic. There's always a common thread of simplicity in looks that I wear. I don't really overdo accessories or jewelry. I try to keep things simple and make it more about the silhouette and fit of clothes just as much as the patterns and crazy textures. I've found that, for me, less is more in terms of patterns and overwhelming combinations of different textures and colors and [graphics]. 
For the designs here, I can definitely see a lot of my personal style in the looks because, first of all, the fit was very important to me. I have sizes 00 to 18, so there really is something for everyone, which is very important for me because what I find the most intriguing about clothes is the silhouette. I think of it as art.
I really wanted to make sure the clothes fit well. It's not so much about the pattern, it's about the quality of the fit, so everything has an interesting fit. There are a lot of staples, things that you'll have in your closet for every day — like these biker shorts. A nice staple sweatsuit — I've got four of those, which I think everybody needs these days, because athleisure is trending so much. Everybody needs a blazer; simple black and white crop tops, turtlenecks, everybody needs those things in their closet. I'm definitely very staple-oriented.
I'm hoping that everyone who wears this can feel confident. I'm hoping that these are pieces that they can wear over and over again for multiple different occasions in multiple different ways. My goal is for these clothes to uplift and empower the consumer.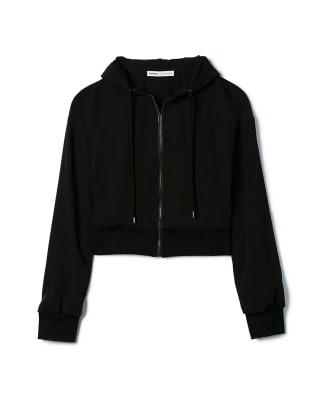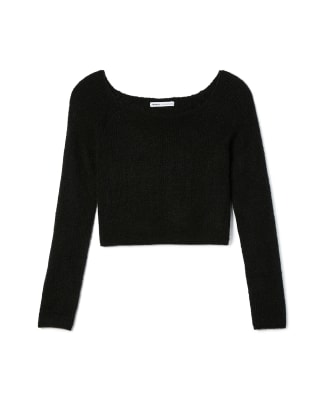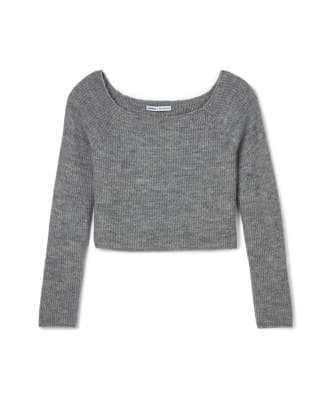 I do a lot of online shopping. I would say 90 percent of my shopping is online, probably because I'm always traveling and working and it's just easier for me at this point than having to pop into a store. I'm also so lazy, and I have to fit clothes so constantly that going to a store and trying something on is daunting. I'd rather just have the box come, then if it doesn't work, I can send it back.
New brands for me, [I'm finding] I would say 50 percent from the places that I typically shop, like FRWD, Net-a-Porter, Revolve, Bloomingdale's, Neiman Marcus, Sak's. I find a lot from browsing on their sites and then also 50 percent from Instagram, seeing what other people are wearing.
I definitely splurge on bags and shoes. Then, for everything else, I think it's easier to find affordable goods. Express has great products that are staple, classic, versatile. That was the reason I was so excited about this collaboration, because I wanted things that people could wear multiple ways for different occasions.
For packing, I do have a strategy that works for me: I usually go with a color [scheme] and then I look at the suitcase to make sure there's pretty much a theme going on there, so I know everything will work together. In the winter, I'll see a lot of black and white. If I'm going in the fall, I'll see a lot of camel and army green and navy, those types of colors. And then if I'm going somewhere tropical, I'll see a lot of bright colors. Sticking to a main theme helps all the pieces go together so you don't over-pack.
I am a purge person. I love giving things to my friends and family. Getting rid of things and giving them to other people makes me genuinely feel very good. Literally — at least once a week, I give stuff away, because I do get a lot and I design so much, too. I get a lot of things that I don't necessarily need for myself. I'd rather see them make somebody else happy. I have a lot of very willing friends and family, and some co-workers, that will take it.
I have this jacket by Acne that is unbelievable. I wore it here. It's so comfortable. It's so warm. And it was definitely an investment but I'm going to have it for literally the rest of my life. Anything that you think you're going to have for the rest of your life and you can pass down to your children, in my opinion, is a good investment.
The worst thing I ever bought — I'm not gonna mention a brand, but I was shopping at this really high-end store with a friend of mine and she convinced me that this bag was really cool and that I needed to buy it. I didn't really listen to myself, I just took her word for it because I thought she was stylish. I thought it was a good decision, but it taught me that you can't always take other people's fashion advice. You have to listen to yourself and know what feels good on you, because I took her advice and I spent so much money on a bag that I hated.
I love the process of collaborating for now because it's a great way to learn and then eventually the goal would be to do something on my own, but as for now, it's fun just learning and every time I feel like I grow so much. I can only imagine what this process is going to teach me."
Want the latest fashion industry news first? Sign up for our daily newsletter.
This interview has been edited and condensed for clarity.