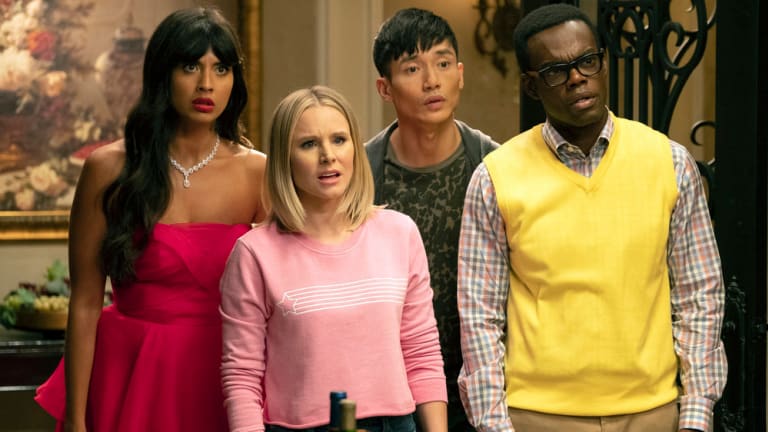 'The Good Place' Costume Designer Drops Easter Eggs into Eleanor's Sweatshirts and Jason's Tracksuits
"We do often wink to something that isn't for everybody to see," says Kirston Mann.
Warning: Spoilers for all seasons of "The Good Place," through the January 10, 2019 episode, "The Book of Dougs," below.
Holy mother forking shirtballs, season three of "The Good Place" has just been a joy — full of bombshell twists, straight fire puns ("We Crumb From a Land Down Under"), more Tahani A-list name-drops ("I gave them all to Goodwill; that's what I call Prince William") and clever, wink-wink Easter eggs peppered throughout the scenery (the Americana-spoofing Cowboy Skyscraper Buffet was A+) — and the costumes, thanks to designer Kirston Mann.
Humanized demon Michael (Ted Danson) and the all-knowing, not-a-robot (or "a girl") Janet (D'Arcy Carden) bring the humans — selfish party girl Eleanor (Kristin Bell), chronically indecisive moral philosophy prof Chidi (William Jackson Harper), British socialite Tahani (Jameela Jamil) and lovably dim failed criminal Jason (Manny Jacinto) — back to life for a redo of sorts. The return to earth and the characters' new journey of self-discovery gave Mann a wealth of opportunity to reflect each of the humans' true characters — and sprinkle some clues into their wardrobes, too.
In the first two seasons, the costumes were providing hints about the big reveal through color: green for "good" and red for "bad." Going into the mind of the architects, obviously demons pretending to be in the Good Place wouldn't wear red, right? But now the old neighborhood has literally dissolved and the ruse is up, so "all bets are off," Mann says, over the phone.
"Now we are trying to have a more ordinary palette," she adds. "We're trying to have a palette that reflects earth and just what it would be." So, unlike me, don't read too much into Chidi in green and Jason in red (and blue) shooting via pneumatic tube into the real Good Place mail depot. Mann says those were purely wardrobe composition choices.
But, she did embed other critical little morsels into the costumes, as she will explain in the breakdown below. Plus, we still have two episodes to go this season and Chidi did charge into the Interdimensional Hole of Pancakes while still wearing his hot mailman shorts of Eleanor's postal worker fantasies.
Eleanor Shellstrop (Kristen Bell)
Quick refresh: Back in the froyo shop-filled faux Good Place, "fake" Eleanor was stuck wearing the supposed "real" Eleanor's altruistism-channeling wardrobe of practical clogs, flannel shirts and University of Michigan Law School sweatshirts. While in flashbacks to her selfish, designated-driver-avoiding life, she rocked a wardrobe of just-too-tight and intentionally basic 'fits depicting her "not a goody good" approach to life. This season, the reformed Arizona dirtbag finds the good place in herself and it shows in her optimistic, collegiate wardrobe.
"She became a person who didn't have a big chip on her shoulder," says Mann. "She wanted to learn to be good and to be a student. So we dressed her like a cute student." Hence, campus-friendly skinny jeans, Adidas Superstars and adorable cropped sweatshirts and stripe-y sweaters, which have caught the attention of fashion fans and conspiracy-theorists alike.
Eleanor's penchant for wearing stripes — like the colorful Kule sweater, above — have generated frenzied speculation. Is it the number of bad things that Eleanor has done? Or some depiction of the non-linear, afterlife time loops à la Jeremy Bearimy? Mann will only divulge that she and Bell are partial to stripes, but otherwise, keep those theories going, benches.
Chidi Anagonye (William Harper Jackson)
Buttoned-up Chidi Anagonye (William Harper Jackson) hasn't gone through much of a costume evolution, per se, as much as a reveal — as in reveal of the actor's low-key hotness. After learning he's destined for The Bad Place, a somewhat hysterical Chidi goes grocery shopping for candy chili ingredients sans shirt — introducing his well-defined torso to the world. Sadly, the moment is brief as an exasperated store clerk orders him to cover up with a too-small pastel pink logo tee.
"It's just a purchase of the quickest thing he could grab and 'who, what, when, where ... wine' was just something Mike thought was really funny," says Mann. The script also called for an "ill-fit" to illustrate Chidi's frenzied purchase. Thankfully for us, the costume designer opted for a snug, muscle-clinging top to showcase Jackson's dedicated workout regimen, instead of an oversize silhouette. But otherwise it's all Jackson. "I wish I could take credit for Will's body," she laughs.
On the flip side, that means that Mann has been been hiding swole Chidi from us this entire time under academic button-downs and sweater vests. "It is so funny," she laughs. "Nobody knows how hot he is. I guess they do now."
Jason Mendoza (Manny Jacinto)
Endearingly dumb Jason's hometown of Jacksonville, Florida — or Florida as a whole, rather — has been a running joke throughout all the seasons. But with Jason on earth (and out of his Jian Yu robes), the show and the costumes can really lean into the Jacksonville burns — especially when Tahani, Jason and Michael land at the Randy "Macho Man" Savage (Non-) International Airport for a Mendoza family reunion. ("I'm sorry — the man you call Donkey Doug is your father?" — Queen Tahani.)
"Jason is obsessed with the Jacksonville Jaguars, so we often use the Jaguars colors [in his costumes]," says Mann. As an example, she points to use of Jaguar teal, white, black and gold weaved into Jason's costumes in the montage of his 60-person dance crew, Dance Dance Resolution, repeatedly losing competitions (above). (A collection of zip-up tracksuits, short-sleeve hoodies and a particularly spectacular pair of cut-off jorts help with the vibe, too.)
 "[The Jacksonville Jaguars] actually embraced Jason as a fan," adds Mann, referring to Jacinto as his Blake Bortles-worshipping character and vice versa. "They've invited him to a few games — in real life, not in fiction." 
Tahani Al-Jamil (Jameela Jamil)
Speaking of a real-life-to-TV crossover, in "The Good Place" podcast Chapter 11, Mann explained that actress Jameela Jamil's own personal style helped establish Tahani's signature ballgown-as-daywear aesthetic. "She came into the fitting with a suitcase. She Ubers, so she dragged it far," says Mann, around the 22:00 mark, as podcast host Marc Evan Jackson, a.k.a. head demon Shawn, laughs. "She brought us lots of dresses to look at." Based on those shapes, Mann then custom-built (and shopped) pieces influenced by what we now know as the Tahani silhouette. 
But there are subtle changes in season three, especially to reflect Tahani's integration into the Soul Squad. "She doesn't feel as separate from the others as she used to," explains Mann. "She's a little more vulnerable." Yes, Tahani did wear a strapless, floral white dress to sit on Donkey Doug's probably dirty pot water- and energy drink/body spray-stained couch. But, she does don more protective, clavicle-covering and long-sleeve blouses — paired with flowing maxi-skirts, of course — for activities like fencing with a pool cue during the demon bar fight and making amends with attention-stealing sister Kamilah. (But will she forgive E! for mis-captioning her as Kamilah during her Golden Globes red carpet moment?!). 
Although, despite one more brief cargo pants moment at the start of the season, Tahani will always be Tahani. "We keep her consistently dressed ... beautifully," says Mann.
All the Janets (D'Arcy Carden)
The mid-season finale, "Janet(s)," allowed Carden to blow our minds with her range by perfectly embodying Chidi, Tahani, Jason and Eleanor (and even Eleanor pretending to be Jason) in her void — and gave Mann the chance to sartorially differentiate each of humans in Janet form via each of their "iconic" costumes. 
Mann first shopped each characters' closet to find each one's most identifiable look, like a cropped fuchsia Cotton Citizen sweatshirt and jeans for Eleanor, a sweater vest and button-down for Chidi and a floral maxi halter dress for Tahani — enhanced by Carden's spot-on British accent. Jason actually wore his red-and-blue tracksuit at the end of season two when the Judge tested him with with playing Madden NFL as the Tennessee Titans against his beloved Jaguars. Mann then custom-built matching versions to fit Carden's frame for the scenes in the void.
Carden pulled extra duty as Neutral Janet in The Good Place accounting office, wearing a sartorially neutral version of her signature purple, '70s flight attendant-inspired skirt ensemble. (Although, the purple actually symbolizes "unity and neutrality:" a color blend of a politically-divided America's red and blue.)  "[Creator Mike Schur and I] wanted her to be the blandest version of herself," she explains. "We used every other color [during all the Janet reboots in season two]. We tapped out. We just felt like beige is the most innocuous color."
But Janet masquerading as Neutral Janet wasn't so into the flat shade, or per the script in "Book of Dougs" anyway: "This beige outfit really washes out my not-skin."
Michael (Ted Danson)
Michael is also enjoying some sartorial shout-outs in the script this season — and not just with The Good Place bureaucrat Kellan "showering" his jaunty navy and pink bow-tied suit ensemble with compliments ("This suit is very flattering. You have a lot of gravitas"). 
While trying to help the humans live better lives on earth, Michael adopts an array of earthbound disguises. But, like the fake names he uses, the outfits feel straight out of an '80s TV series. Highlights: a linen Nehru shirt accessorized with new age beads and crystals as "Gordon Indigo," a too-slick leather jacket and sunglasses atop his head as dance crew talent scout "Zach Pizazz," a plaid blazer and worn tie as reporter "Michael Scoop." Of course, the old time-y P.I. trench and fedora look made for some excellent "Dick Tracy" back-and-forth burns with evil nerd demon Trevor (Adam Scott, always a pleasure). 
"The 'Dick Tracy' look isn't actually what somebody would wear, but what somebody who studied earthlings would think we would wear," explains Mann. "So it's Michael attempting to dress in the most cliché way, which isn't necessarily how people dress anymore. At different phases, we just try to make him fit in, so that he's not standing out. He's smart enough to know that, for instance, when he's meeting Eleanor's parents, he can't be outrageous or trigger their curiosity to think that he might be something that he's not." 
But there will always be Easter eggs. "We do often wink to something that isn't for everybody to see," confirms Mann. But we'll always be looking — be forking sure of that.
The penultimate season three episode of 'The Good Place' airs at 9:30 p.m. on Thurs., January 17 on NBC.
Top photo: Colleen Hayes/NBC
Never miss the latest fashion industry news. Sign up for the Fashionista daily newsletter.