Pierpaolo Piccioli Took 'Florals for Spring' to A New Level for Valentino Couture
They may not be "groundbreaking," but at Valentino they were absolutely show-stopping.
If the success of a couture collection were measured in the number of times we thought, "Wow," while watching it, or perhaps the number of tears shed by Celine Dion, Valentino hit it out of the park on Wednesday. Clearly at the top of his couture game, Pierpaolo Piccioli brought pure, joy-enducing fashion magic to the runway once again with a floral-themed collection that directly confronted the popularly-held notion (immortalized by Meryl Streep) that florals for spring are far from groundbreaking.
For example, how about a pink satin headdress-cape combo folded into rosette-like shapes, like the one that opened the show with a matching floor-length wrap skirt? Following a selection of slightly subdued solid-colored dresses and separates, floral prints of every type made appearances: painterly flowers and bouquets large and small, as well as more precise digital prints; some were embroidered or done in metallics; some were tropical while others looked more traditional; some appeared lifelike while others were more abstract. There were even matching, floral-embellished tights peeking out from under some of the shorter dresses. Ultimately, no two gowns looked quite the same, which is a feat in a 65-look collection made up almost entirely of gowns.
Giant ruffles and tiers were in ample supply and gowns tended to have such wide circumferences that they could barely get down the runway without colliding with another or with front row guests' limbs. The breathtaking final selection of looks eschewed floral prints for bright floral and jewel tones, including Kaia Gerber in a shimmering sequined, tiered green gown; Liya Kebede in a ruched, high-neck pink number; and, finally, the inimitable Naomi Cambell in a ruffled black partially sheer gown, eliciting the biggest "wow" of all.
See the full Valentino Spring 2019 couture collection in the gallery below.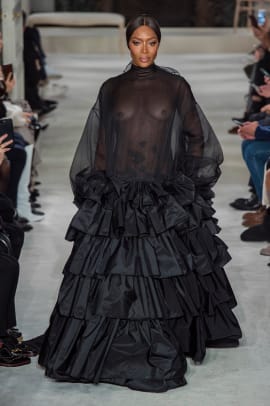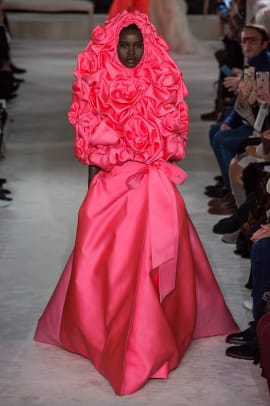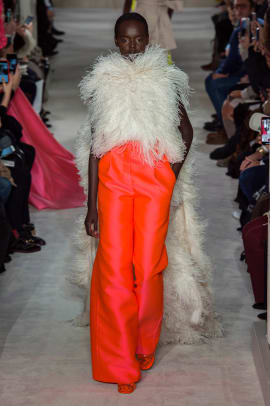 Never miss the latest fashion industry news. Sign up for the Fashionista daily newsletter.