Vetements's Fall 2019 Show Was Inspired by Teenage Dirtbags and our Addiction to Smartphones
From ski masks to baggy cargo pants, there was a lot to take in.
Despite having told numerous fashion outlets in 2017 that Vetements would be abandoning fashion shows because "shows have nothing to do with clothes anymore," Vetements designer Demna Gvasalia is still sending fashion down the runway. On Thursday in Paris, the label presented its Fall 2019 collection on the menswear schedule, though the collection itself felt largely unisex and was modeled by men and women alike. In keeping with Vetements's history, the looks on display contained a mix of bizarre creations and pieces so wearable they were almost mundane.
In the former category, there were puffer coats with exaggerated shoulders that turned the wearers' bodies into an inverted triangle or square, in addition to ski masks and a head-to-toe neon pink spandex 'fit. On the more quotidian side, there were a plethora of hoodies and baggy pants and floral dresses that looked like they could've been picked up at your local thrift store. Despite the inclusion of some suiting, the collection felt more like clothing for a ragtag group of grungy alt high schoolers than anything else.
Adding to the collection's nostalgic energy were smaller details and accessories including anarchy symbols, a VHS tape, a sticker-covered phone case, messenger bags and graphic sweatshirts bearing a number long phrases and niche references. Perhaps the most memorable pieces of all, however, were hood flaps that extended from the front of the head over the wearers' hands, held out in front of them as though looking at a phone (dubbed a "texting hood" by WSJ's Jacob Gallagher) — an interesting move considering how many people will only ever experience the collection through images on their iPhones. 
Click through the gallery below to see the full Vetements Fall 2019 Men's collection.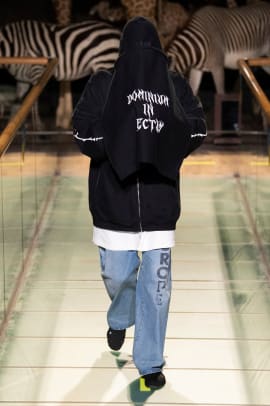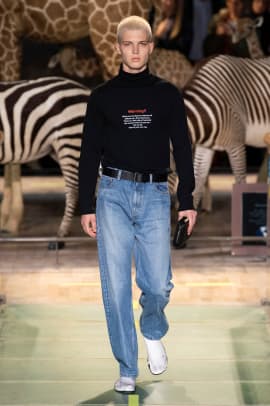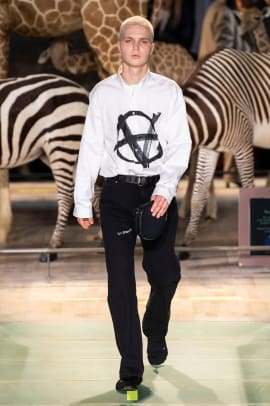 Stay current on the latest trends, news and people shaping the fashion industry. Sign up for our daily newsletter.